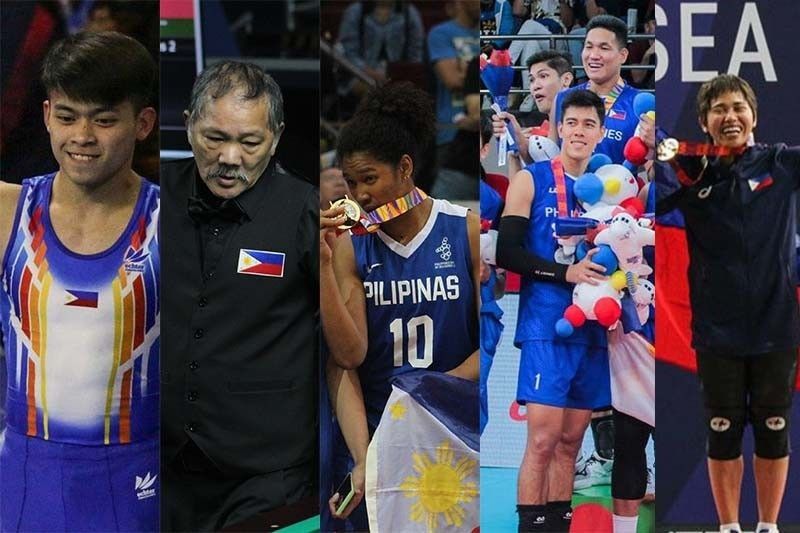 Memorable moments in 30th SEA Games
MANILA, Philippines — Several memorable moments in this year's SEA Games will remain forever etched in the history of Philippine sports. Here are 10 of those moments.
• Breakthrough in compulsory sports. Filipino swimmer James Delparine splashed to a gold medal finish in 100-meter breaststroke, ending a 10-year championship drought for the country in the SEA Games. And in athletics, the Philippines brought in 11 gold medals and smashed four SEA Games records, a testament to the vision of PATAFA president Popoy Juico with secretary-general Terry Capistrano's support. Four SEA Games records were reset in men's pole vault (E. J. Obiena), women's pole vault (Natalie Uy), women's 200-meters (Kristina Knott) and men's shot put (William Morrison). In 2017, athletics booked only five gold medals. It's significant that the Philippines made strides in the two Olympic mandatory sports.
• Sweep in basketball. In 3x3 and 5x5, the Philippines was outstanding. Both the men's and women's teams were undefeated in 5x5. While the men's team was expected to dominate, the women's squad pocketed its first-ever gold medal in 5x5. The SBP and PBA conspired to assemble 3x3 and 5x5 teams that were unbeatable. In women's 3x3, the Philippines overcame a preliminary loss to Thailand to eventually bag the gold and went on to claim the glowing gold in 5x5.
• Casugay's heroism. Sacrificing the gold to save an Indonesian rival's life was surfer Roger Casugay's gift to the SEA Games. What Casugay failed to win on the La Union waves, he won in the heart of every SEA Games athlete. It was a victory for humanity, a priceless feat. But Casugay wouldn't be denied his place on the podium as returning to conquer the waves in a replay, he wound up with the gold in men's longboard open.
• Lim's magic. UP summa cum laude graduate Jamie Lim started karate lessons when she was six and at first, didn't like it. "Three years of joining tournaments, lagi akong talo," she said. Suddenly, the tide turned and she started to dominate. Lim earned her black belt at 18. While she won in a slew of national and international tournaments, Lim was never chosen to represent the country in major competitions such as the SEA Games. She then focused on academics and after graduating this year, decided to try her luck once more in karate. This time, with no politics in the way, Lim got the call to compete in the SEA Games under Turkish coach Okay Arpa. She beat Malaysia's Audrey Japvus, 7-2, in the quarters, Vietnam's Thao Thi Bui, 5-1, in the semis and Indonesia's Ceyco Zefanya, 2-1, in the final to clinch the women's +61 kg kumite gold. Lim dedicated her victory to father and basketball legend Samboy and mother Lelen Berberabe.
• Cray's dramatic comeback. Sprinter Eric Cray was disqualified for two false starts in the men's 100-meter run but recovered to anchor the 4x100 relay mixed team for the gold. Cray, who struck gold in 400-meter hurdles, was brilliant in anchoring the mixed squad. Instead of the men starting for the Philippines like the other competitors, the women ran ahead and left Cray to put the finishing touch, overtaking a Thai female runner down the stretch. The strategic twist earned for the Philippines its only relay gold.
• Nesthy breaks jinx. In three SEA Games, reigning world women's featherweight boxing champion Nesthy Petecio was a bridesmaid, never the bride, in collecting three silvers. But this year, Petecio wouldn't be denied her first-ever SEA Games gold medal, beating her 2013 tormentor Oo Nwe Ni in the final. Petecio's gold was one of seven for the Philippine boxing team. Another first-time SEA Games gold medal winner was 2016 Olympic weightlifting silver medalist Hidilyn Diaz who garnered two silvers and a bronze in three previous editions.
• Silver shone like gold. The Philippine men's volleyball team settled for silver after losing to Indonesia in the final, 25-21, 27-25, 25-17. In the semis, the hometown spikers did the nearly impossible by dethroning heavily-favored Thailand, 17-25, 25-20, 23-25, 27-25, 17-15. The win over Thailand sparked a frenzy among Filipino fans particularly as the fighting ladies team went winless despite several close matches. The Philippines' silver was a significant achievement for the country's volleyball program and signaled new hope for brighter times to come.
• First-ever for squash. The Philippines had never struck gold in squash since the sport was introduced in the SEA Games in 1991. A portent of things to come emerged in the 2017 edition when the Philippines took two silvers in men's team and women's jumbo doubles. This year, three doubles events were scratched from the calendar because the Rizal courts couldn't be finished on time, leaving squash with five gold medals for grabs. Known as Kayod Pilipinas, the country's squash contingent delivered on its promise to bag a medal in every event – gold in mixed team, silvers in men's singles and men's team and bronzes in women's singles and women's team. The mixed team of Robert Garcia, MacMac Begornia, David Pelino, Myca Aribado and Aysah Dalida took out Indonesia and Thailand in the preliminaries before blanking Singapore for the crown.
• Yulo mesmerizes. Gymnast Caloy Yulo was the star attraction as fans packed the Rizal Memorial Coliseum whenever he competed. Yulo, 19, captivated his audience with world-class maneuvers that brought him golds in the men's individual all-around and his favorite floor exercise. Performing before Federation Internationale de Gymnastique president Morinari Watanabe who flew in for the SEA Games, Yulo finished with a haul of two golds and five silvers. As world floor exercise champion, he was expected to sweep his events but found it difficult to focus with a loud audience and the pressure of trying to impress the home crowd. Yulo has now qualified for the 2020 Tokyo Games and his SEA Games experience was invaluable in preparing him for his Olympic debut. It was his first-ever SEA Games and Yulo was amazing. Another gymnastics wunderkind Daniela de la Pisa, 16, was a picture of courage as the ovarian cancer survivor gained the gold in rhythmic hoop.
• Opening and closing ceremonies. The SEA Games got off to a spectacular start and ended on a resounding note. The light-and-sound shows were incredible. The choreography was extraordinary. And both programs left spectators breathless. Even the lighting of the cauldron at Clark with the opening ceremony at the Philippine Arena was a brilliant innovation. It was a magnificent display of Filipino ingenuity, proficiency and talent, going down in history as arguably the best opening and closing ceremonies of the SEA Games ever.
(In yesterday's "Report Card by Numbers," the 70 gold medals that the Philippines harvested from 26 Olympic sports included three from cycling – Lea Belgira in women's mountain bike downhill, John Farr in men's mountain bike downhill and Jermyn Prado in women's individual time trial.)