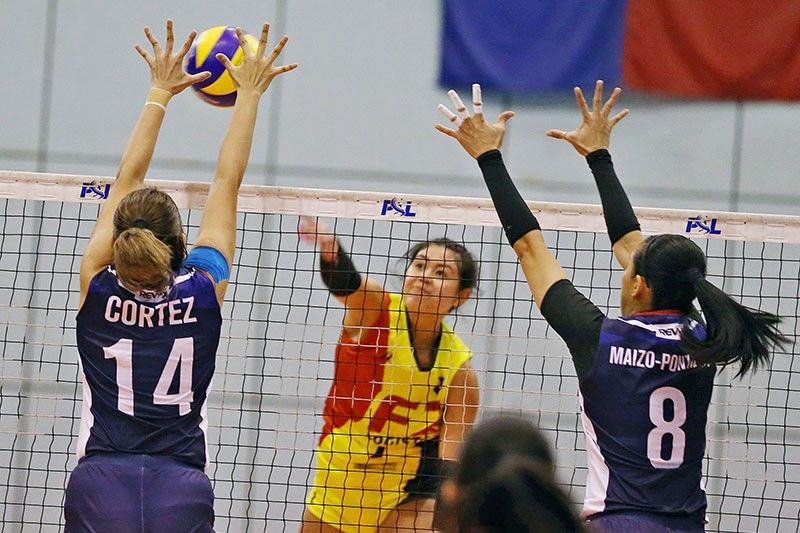 F2 Logistics' Tyler Mau takes a shot against the well-covered net defense of Aiza Maizo-Pontillas and Chlodia Cortez of Petron.
Joey Mendoza
Cargo Movers bag diadem in five-set grind
MANILA, Philippines — F2 Logistics averted a meltdown and escaped with a thrilling 25-22, 25-19, 17-25, 22-25, 15-12 win over arch enemy Petron to defend its crown in the Philippine Superliga Invitational Conference knockout finale last night at the Ynares Sports Arena in Pasig City.
Kalei Mau proved to be the biggest difference anew as she exploded for 30 points and 21 digs as the Cargo Movers annexed a second straight title in this Invitational tourney that was fast-tracked to give way to the national team's preparation for the 30th Southeast Asian Games.
Majoy Baron (15), Kim Dy (14) and Aby Marano (10) threw in solid support for F2 which bagged its fifth overall title since joining the league in 2016, one away from matching the Blaze Spikers' haul.
"It's the most incredible feeling ever for me but I would not be here without my team and my coaching staff. It's amazing," said Mau who also embraced her second straight title with F2 since joining the squad this season.
Determined to follow up their All-Filipino Conference conquest, the Cargo Movers grinded out a close 25-22 win in the opening salvo before stepping on the gas in a 24-19 second-set triumph for a commanding 2-0 lead.
But the Blaze Spikers, behind the troika of Aiza Maizo-Pontillas, Sisi Rondina and Bernadeth Pons, refused to call it a night as they conspired in a scorching 7-0 closeout to turn a slim 18-17 lead to a huge 25-17 win that dragged the epic match to a fourth frame.
And Petron rode the momentum to forge a rubber with a 25-22 escape act.
F2, however, had enough gas left in the tank as Mau rediscovered her touch in the nick of time with back-to-back hits to propel the defending champion into a close 15-12 win in the decider.
Maizo-Pontillas, Pons and Rondina piled up 23, 18 and 14 markers, respectively, in a wasted effort as the previously unbeaten Blaze Spikers suffered their lone but bitter loss in this Invitational tourney.