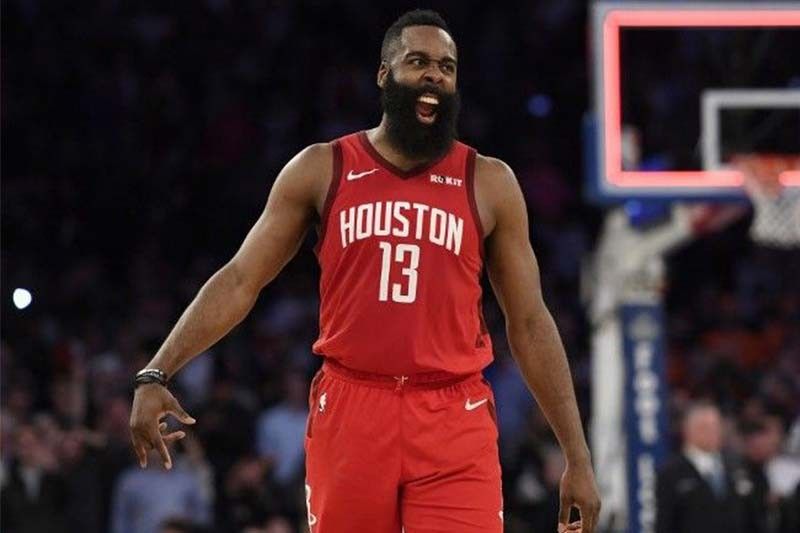 James Harden #13 of the Houston Rockets celebrates the 114-110 over the New York Knicks at the end of the game at Madison Square Garden on January 23, 2019 (January 24, 2019 Manila Time) in New York City. James Harden took his high-scoring act to Madison Square Garden on Wednesday (Thursday Manila Time) where he dazzled his way to a season-high 61-points as the Houston Rockets edged the hapless New York Knicks 114-110.
SARAH STIER / GETTY IMAGES NORTH AMERICA / AFP
Media's 'narrative' helped Antetokounmpo win NBA MVP, says runner-up Harden
MANILA, Philippines — James Harden thinks a media narrative may have played a role in helping Giannis Antetokounmpo beat him in last season's MVP race.
In an interview with GQ about his newest signature sneaker, Harden got candid on his thoughts about the results.
"You can't pout or be mad, and the kid had an unbelievable season, so did his team. But the things I was putting up were legendary," Harden said.
The Houston star's numbers were unbelievable, including a 32-game 30-point streak, eight 50-point games and two 60-point outings in one season.
"And all the talk was about [Giannis Antetokounmpo]? There's no way," he said.
Harden had lamented during an interview with a radio station in Houston about how the media allegedly goes into the season with an MVP candidate in mind.
The 30-year-old shooting guard believes this mindset plays a big role in determining the winner.
"It hasn't happened yet [now], it's too early. Wait until the preseason and when the regular season starts up again. But they [the media] for sure got some teams they locked in on," he said.
Harden will hope to win back the award this year and lead the Houston Rockets to a championship after reuniting with former Oklahoma City Thunder teammate Russell Westbrook.