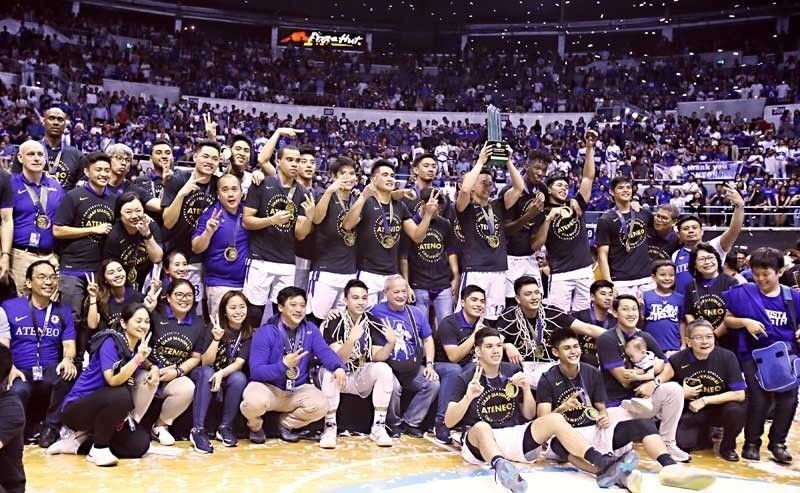 Members, officials and supporters of the Ateneo Blue Eagles flash the 2-sign as they pose with their championship medals after the Eagles win in Game 2 of their best-of-three title series to retain the UAAP seniors basketball diadem.
The STAR/Joey Mendoza
UAAP 82 Preview: Can Ateneo nail a three-peat?
MANILA, Philippines – No team has had the success of these current Ateneo Blue Eagles. Since they bagged the UAAP Season 80 title, they have romped away with seven titles in seven tournaments, the most recent being the PBA D-League trophy. Juggernaut? Yes, but there are cracks in the armor.
And you can bet that all seven other UAAP schools are raring to blow those cracks into a big hole and snatch that crown atop Ateneo's head. With teams significantly improving their lineup, Ateneo has lost four players who played massive roles in their recent success.
Key losses: Anton Asistio has graduated. Aaron Black opted out of his final playing year of eligibility while Jolo Mendoza and Raffy Verano are not available due to academic concerns
This will hurt because the three are highly experienced. Black could not only score, he also helps on the boards. Plus, like Verano and Asistio, he is fearless.
Verano is even more crucial because without him and Asistio, those are two lost from the starting unit. Raffy brings a game intelligence and a willingness to get things done on both ends of the court. Plus, he's tough.
Mendoza, on the other hand, provides instant offense.
How do you replace all that?
Additions and returnees: Troy Mallillin, Jason Credo, Geo Chiu, Pat Maagdenberg
Troy sat out last season on account of academics. He's fixed them and now he's back. To be honest, I still wonder how his skills — which in my opinion are more suitable in an open-court style of balling — fit. But if there is anything I have learned in the past few years, it is to trust what Tab Baldwin is doing. Having said that, you need to give Troy minutes to get his confidence going.
Credo is like a taller Gian Mamuyac and is a better defensive stopper and an outstanding passer. He needs to be more aggressive on offense, but he will grow into that. He will help this year. The more he plays, the better he gets.
Geo Chiu…. Now this kid is willing to learn. Having covered Isaac Go in high school and comparing his game to Chiu's, I think that Geo was even better. The key to Isaac's incredible development is his intelligence and willingness to work hard. If Chiu adopts the same work ethic and work on that jumper (because Isaac has a nice stroke and could always shoot) then I don't see how he cannot be like Go.
Maagdenberg, for his part, has had his moments, but he still needs to work on his passing, which I am not a fan of. I heard about his attitude. Let's see if they can work that out because this team does not have that.
As we pointed out earlier, Ateneo has won everything in sight the past two years. How do they keep that going? Are they still hungry for more?
No, doubt, they are. They have the coaching genius, talent, depth, and experience to pull it off. Furthermore, this will be the last ride for five players — Matt and Mike Nieto, Thirdy Ravena, Go and Adrian Wong, who will all want to go out with a title.
Last year, their amount of preparation saw them participate in a number of tournaments including the high-profile William Jones Cup. They were supposed to participate again this year in the latter but were asked to field two foreign players which does not work with their plans so that was out of the window.
Yes, there was the PBA D-League, but that was it. Tune-up games are different. No one feels band about losing tune-up games unlike tournaments where there are win-loss records. They did go to Europe but am not quite sure what came out of it or even if it was even necessary.
Seeing them now after the D-League stint, I am surprised not to see their bodies ripped and all. They even look thinner. And since I have not seen them since the D-League, I noticed that right away.
So I am concerned.
This, however, is a very good team. It is a team of winners which is perhaps more important. They have winners up and down that line.
Now, they did not make any significant splashes in the off-season in terms of pick-ups. They stood pat and worked on the material they have (although there are players waiting in the wings) and that is good. Nothing like good ole chemistry to get you through.
They've got size.
Ange Kouame. Go. Maagdenberg. Matthew Daves (who has improved and will be dynamite one day). Will Navarro. And Troy Mallillin. Expect Daves to be a much better player. If Navarro starts out strong, watch out too.
They can rebound.
Aside from the bigs, Ravena, Mike Nieto, SJ Belangel and the others are tenacious rebounders.
They have shooters.
Sure they lost pure shooters in Asistio and Mendoza, but they have others who can knock down that outside shot like Matt Nieto, Tyler Tio, the much-improved BJ Andrade and Wong, who has found his way through the system.
Plus, they've got the heart and mind of a champion. That is a massive plus because they know how to get it done.
Everyone knows what you are getting when you play Ateneo — unselfish team basketball with players called up every now and then to do their part.
Ateneo will get it done through their defense and their opportunistic and unselfish offense.
They will be challenged for sure. But if they roll over everyone in the elims, bag this title for the blue side of Katipunan.