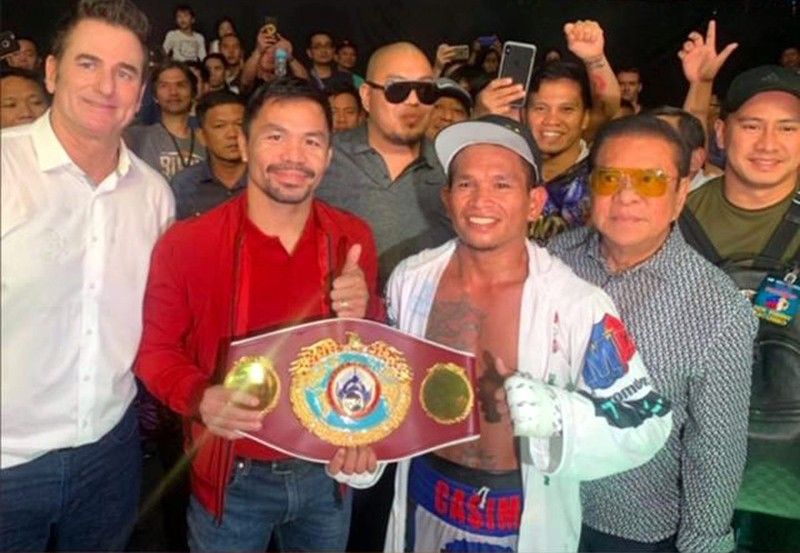 Sen. Manny Pacquiao with interim WBO bantamweight champion Johnriel Casimero, Mayor Chavit Singson and MP Promotions head Sean Gibbons at the San Andres Sports Complex Saturday night.
Johnriel Casimero vows no more weight woes
MANILA, Philippines — Interim WBO bantamweight champion Johnriel Casimero downplayed his battle with the scales shortly after dismantling Mexican challenger Cesar Ramirez in brutal fashion at the San Andres Sports Complex, Manila, last Saturday night and vowed never again to make it an issue.
Casimero, 30, scaled 0.8 over the 118-pound limit at the weigh-in on the eve of the fight and was under threat to be stripped of the crown. But on his second attempt to make weight two hours later, Casimero was on the dot. It will be recalled that in 2014, Casimero lost the IBF lightflyweight title on the scales when he weighed in 5 3/4 pounds over the limit.
But Casimero has promised to turn a new leaf. Two months ago, he walked around at 147. Casimero shed off the excess poundage bit by bit, training alongside Sen. Manny Pacquiao in Los Angeles then working in isolation with chief handler Nonoy Neri in Davao before landing in Manila last week.
Casimero said he was just a fraction of a pound over the limit on his first try at the scales and knew he would make weight on his second attempt. However, the concern was dehydration because Casimero looked spent bringing down his weight to 118. "Hindi na mangyayari 'yan," he said. "Hindi na ako lolobo ng 147. Up to 130 na lang kung walang laban so hindi na ako mahihirapan humabol ng timbang."
Neri, who's with Pacquiao's training staff, said there will be no more concessions for Casimero. "Kung minsan kasi nakakapuslit at kumakain," he said, shaking his head. "Pero alam ko desidido siyang manalo. Sabi niya sa akin bago ng laban, papatayin niya si Ramirez. Sabi ko sa kaniya, kung hindi niya gawin 'yan, ako ang papatay sa kaniya." Neri said it was embarrassing that Casimero failed to make weight on his first try. "Nakakahiya kay Senator at lubus-lubos ang tulong niya kay Casimero," said Neri.
When the bell rang, Casimero didn't disappoint. With Pacquiao watching at ringside beside Narvacan, Ilocos Sur Mayor Chavit Singson, Casimero put on a ferocious display of aggression and his vaunted killer's instinct. He dropped Ramirez in rounds three, five and seven before finishing off the Mexican with a vicious right uppercut to the chin at 2:23 of the 10th. Puerto Rican referee Ramon Pena didn't bother to count as Ramirez collapsed flat on his back, his eyes rolling. It took at least five minutes before Ramirez was helped back on his feet.
Casimero paced himself in the contest and made sure he had enough gas in his tank down the stretch. "Hindi ako nagmadali," he said. "Sabi ni coach Nonoy, pacing muna at hintayin kong mapagod si Ramirez. Inunti-unti ko. Mahaba si Ramirez kaya dinikitan ko hangga't maari. Isa na siya sa mga pinakamagaling na kalaban ko." That patience is a clear sign of Casimero's maturity, something that will come in handy when he challenges WBO bantamweight titlist Zolani Tete of South Africa before the year ends.
MP Promotions head Sean Gibbons said the Tete-Casimero fight will likely go to a purse bid with England an option to host the much-awaited showdown. Casimero, known as a road warrior, has won fights in England, Panama, Nicaragua, Mexico, Argentina and the US so fighting on foreign soil isn't a problem. Tete, 31, will be a tough nut to crack with a 28-3 record, including 21 KOs. He has never lost to a Filipino and his victims include five Filipinos – Rexon Flores, Richard Garcia, Eduard Penerio, Jether Oliva and Arthur Villanueva. Casimero's record is 28-4, with 19 KOs.
Gibbons and Casimero go back a long way. In 2012, they were together when Casimero halted hometown hero Luis Lazarte in a fight that sparked a riot among the loser's truck union colleagues in Mar del Plata, Argentina. Now, Gibbons is paving the way for Casimero to win a third world title.