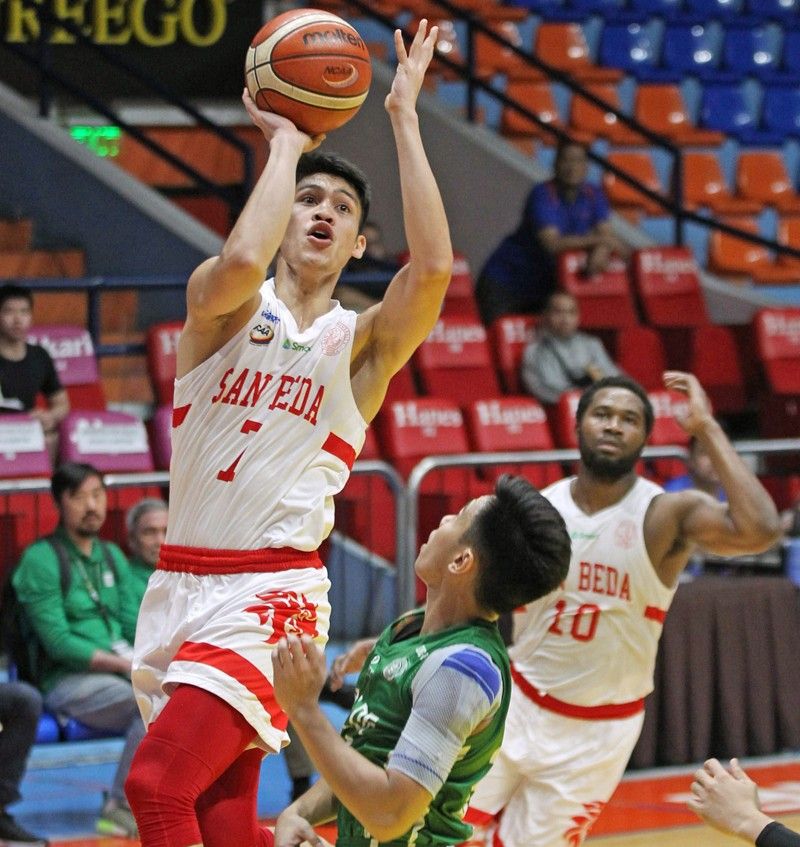 San Beda's Calvin Oftana takes a floater versus St. Benilde's James Pasturan.
Jun Mendoza
Oftana explodes for 27, Lions roar past Blazers
Joey Villar
(The Philippine Star) - August 24, 2019 - 12:00am
Games Tuesday (Flying V Centre, San Juan)
12 noon – Letran vs St. Benilde
2 p.m. – San Beda vs Mapua
4 p.m. – AU vs San Sebastian
MANILA, Philippines — San Beda drew a career performance from Calvin Oftana as it overpowered St. Benilde, 88-57, yesterday to move a step closer to sweeping the first round in the 95th NCAA basketball tournament at the Flying V Centre in San Juan.
Oftana exploded for 27 points after sinking 10 of the 13 shots including three booming triples as the Lions booked their eighth straight victory, and would complete a nine-game first round sweep if they could hurdle the resurgent Mapua Cardinals Tuesday.
The Dumaguete native surpassed his previous high of 17 points, and has clearly stepped up this season with an average of 11 points a game, another career-best that impressed San Beda coach Boyet Fernandez.
"He has truly stepped up this season and we need him to do that on a regular basis if we want to win again," said Fernandez of Oftana.
San Beda also extended its win streak to 22 including 14 from last year when it completed a three-peat feat.
It was Oftana who sparked San Beda's early breakaway when it seized a 20-9 lead at the end of the opening quarter and kept the same torrid pace in the second half when the Lions buried the Blazers for good.
San Beda's winning margin matched the second highest score put up by San Sebastian in an 82-51 triumph over Jose Rizal on July 9.
The Lions owned the record for the season – a 46-point (102-56) annihilation of Perpetual Help last week.
It was a bad day for the Blazers, whose coach TY Tang was tossed out late in the first half for confronting a referee.
The scores:
First Game
San Beda 88 – Oftana 27, Soberano 14, Canlas 11, Nelle 8, Tankoua 7, Doliguez 5, Bahio 4, Visser 4, Abuda 2, Etrata 2, Alfaro 2, Cuntapay 2, Cariño 0, Obenza 0, Noah 0.
St. Benilde 57 – Gutang 10, Pasturan 10, Nayve 8, Leutcheu 7, Naboa 6, Sangco 6, Flores 4, Carlos 3, Dixon 2, Belgica 1, Haruna 0, Young 0, Lepalam 0.
Quarterscores: 20-9, 44-25, 67-39, 88-57
Second Game
San Sebastian 107 – Bulanadi 31, Capobres 18, Ilagan 17, Calma 14, Calahat 7, Desoyo 6, Dela Cruz 5, Sumoda 4, Villapando 3, Cosari 2, Altamirano 0, Isidro 0, Tero 0.
Perpetual 90 – Egan 20, Aurin 14, Adamos 14, Razon 11, Peralta 10, Charcos 10, Lucero 5, Tamayo 3, Martel 2, Sese 1, Cuevas 0, Barasi 0.
Quarterscores: 25-19, 54-43, 82-66, 107-90
Third Game
Arellano 87 – Arana 24, Salado 16, Concepcion 11, Talampas 10, Bayla 9, Sablan 6, Oliva 6, Gayosa 5, Alcoriza 0, Espiritu 0, Sunga 0, De Guzman 0
LPU 81 – Nzeusseu 17, Marcelino JV 12, Ibanez 11, Marcelino JC 10, Santos 10, Tansingco 9, David 6, Valdez 6, Navarro 0, Yong 0, Pretta 0, Remulla 0
Quarterscores: 22-19; 41-47; 65-65; 87-81