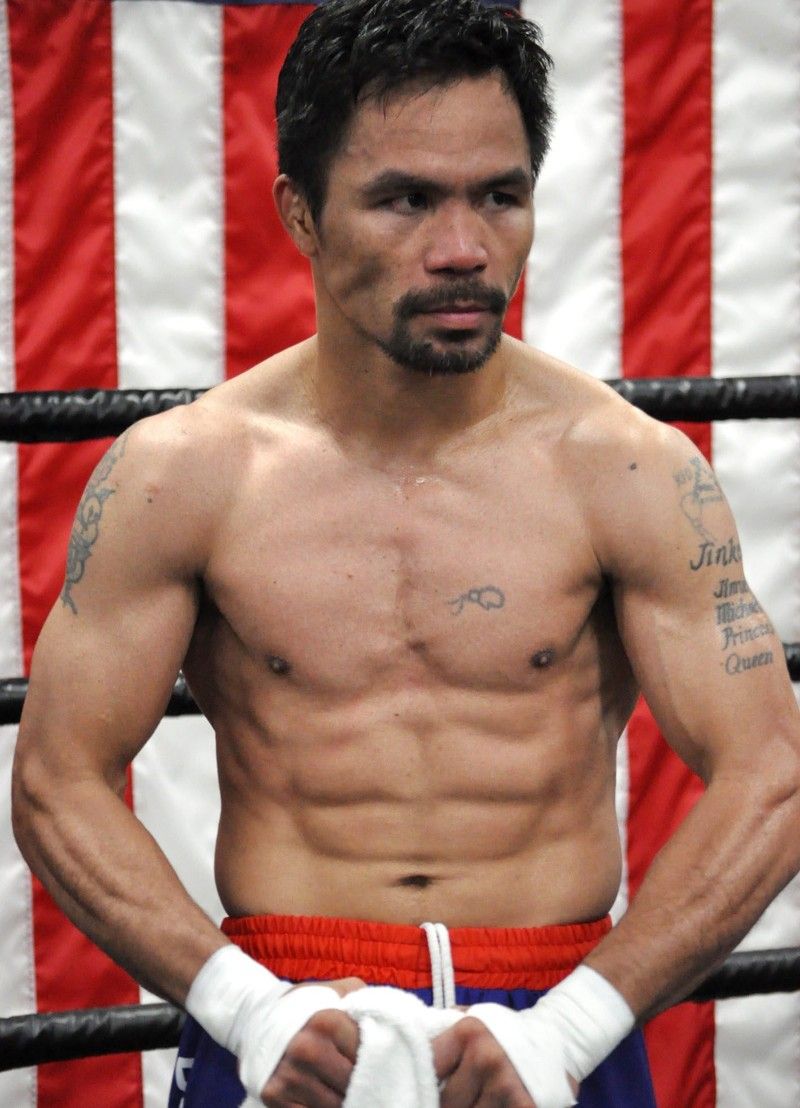 Manny Pacquiao flexes his muscles after Saturday's workout.
Abac Cordero
Pacquiao heads for oven-hot Vegas
Abac Cordero
(The Philippine Star) - July 16, 2019 - 12:00am
HOLLYWOOD – Manny Pacquiao heads to Las Vegas Monday afternoon with nothing else to do but stay sharp, focused and hydrated.
July is the hottest month of the year in Sin City. Forecast for fight week shows a high of 43 on the day Pacquiao sets foot, and 41 on Saturday (Sunday in Manila) when he fights unbeaten Keith Thurman at the MGM.
It's just oven-hot. Even if the temperature drops to the mid or high 20s at night or by the time he climbs the ring, Pacquiao will feel the heat when he trains or moves around during the day.
"Vegas is so hot so he needs to hydrate well," said strength and conditioning coach Justine Fortune, who has Pacquiao's itinerary laid out.
Pacquiao has never fought in Vegas in July.
All the hard work in training is done, including a quick sparring session set Monday noon at the Wild Card Gym. It's exactly a month since Pacquiao flew into town after a month of training in Manila.
Fortune said things will be light and easy in the days heading to the fight. Then it's time to unleash the tiger.
"Tuesday it's just running and mitt work, Wednesday running and mitt work, Thursday just a walk, Friday is weigh-in, fight is on Saturday then go home Sunday and report for Senate on Monday," said Fortune.
Pacquiao leaves for Vegas with his family and perhaps an entourage of a hundred or more, the bulk boarding a rented bus that can seat no less than 50.
The Pacquiaos may opt to ride a customized family van for the road trip that may take no more than five hours.
NOTES: The experts, great boxers and legends as well, have issued their respective forecasts on Saturday's big event. Sugar Ray Leonard, the five-division champion and star of the 80s, picked Keith Thurman to win. "Keith Thurman has a ton of talent, power, speed. I like Keith Thurman," said Leonard. His chief rival then, Roberto Duran, is on Pacquiao's side. "I like Pacquiao because Pacquiao is very tough. For me, win, win Pacquiao," the legend from Panama told FOX Sports. Heavyweight legend Lennox Lewis is for Thurman, too. "I'm going to go with the young buck. I have to go with Thurman," he said. Former pound-for-pound king Roy Jones Jr. likes Pacquiao "because he's older and more experienced" while Shane Mosley, who fought and lost to Pacquiao in 2011, is rooting for the Filipino "because he has the experience, the speed and great power." Pacquiao is the favorite here.