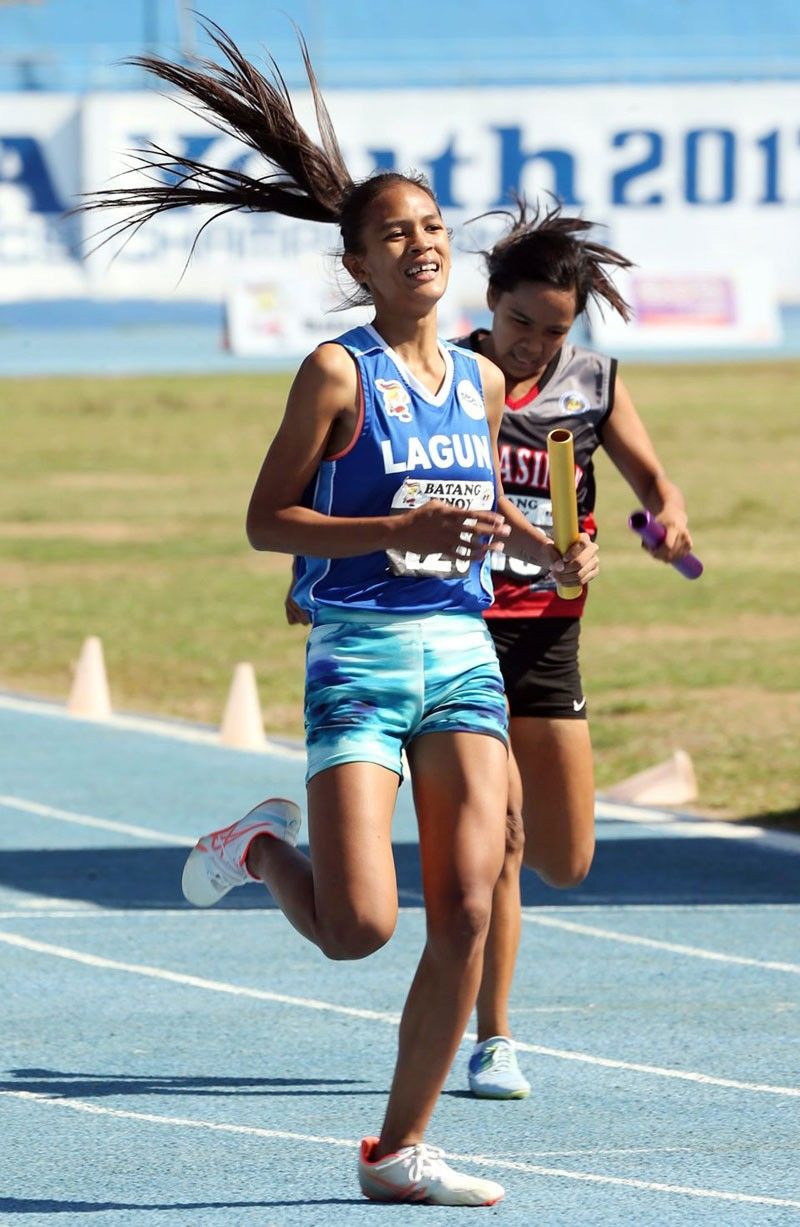 Evita Ruth Belloso of Laguna anchors the girls team in the 4x100m relay final of the Batang Pinoy Luzon qualifying leg at the Ilagan Sports Complex at Ilagan, Isabela.
Joey Mendoza
Raguine makes it a treble in Batang Pinoy
(The Philippine Star) - March 23, 2019 - 12:00am
ILAGAN CITY, Isabela, Philippines — Rufo Aidan Raguine bucked a left ankle sprain as he powered Pangasinan to the 4x100m relay gold and became the first triple-gold medalist at the track even as Gio Troy Ventura lifted Dasmariñas to a four-gold sweep of chess' standard events in the Luzon leg of the 2019 Philippine National Youth Games-Batang Pinoy yesterday.
Erica Marie Ruto of Calamba joined Raguine in the triple-gold group by ruling the girls' 400m in one minute flat. Her other gold medals were in the 100m Wednesday and 200m the next day.
Raguine, 14, skipped the heats the day before after tweaking an ankle but made it back to the finals to help his team which included Redz Jeronimo Banaag, Irish Vergel Cabanayan and Justine Angelo Muñoz, claim the gold in 46 seconds.
It was Raguine's third mint after he also prevailed in long jump Wednesday and triple jump the next day.
Minus the eighth-grader from St. Anthony Abbot Academy of Villasis, who was replaced by Christian Lance Sibucao at the last minute, Pangasinan struggled in the heats and barely made it to the eight-team finale after Banaag, the first runner, dropped the baton in the first 50m – a miscue that almost cost the team the race.
Good thing Banaag was quick to scoop it up while Sibucao, Cabanayan and Muñoz picked up the pace to claim the eighth and last spot in the finals where they were eventually joined by Raguine in carving out the masterful win.
Franz Michael Matoz, Justin Cain Lingat, Adrei Bautista and Marvin Ramos of San Fernando, Pampanga settled for the silver in 46.8 and Louis Gabriel Razo, Raymond Panganiban, Mailbert Bactal and John Dave Magtangob of Pasig took the bronze in 47.4.
Cabanayan claimed his second mint after he also became the fastest boy here with his century dash triumph.
Ventura, 11, displayed impressive endgame technique when he sacrificed a pawn to launch a kingside attack that he clinically converted into a win in 55 moves of a Sicilian Defense over Tayabas' Eowyn Jullado and a gold in the 12-under section.
Michael Concio (boys' 15-under), Daren dela Cruz (girls' 12-under) and Jerlyn Me San Diego (15-under) also won their respective divisions to hike Dasmariñas' chess totals to six including two in the rapid event from Ventura and Mark Jay Bacojo.
Other athletics winners were Baguio City's Hussein Lorana (boys' 5000m), Camarines Sur's Gilbert Andrei Velasco (boys' high jump), Pangasinan's Gennalyn Estrada (girls' shot put), Biñan's Laurize Jeante Wangkay (girls' 2000m walk) and Pangasinan's Janine Dauba, Kyla Elona, Magvrylle Chrause Matchino and Evita Ruth Belloso (girls' 4x100m).