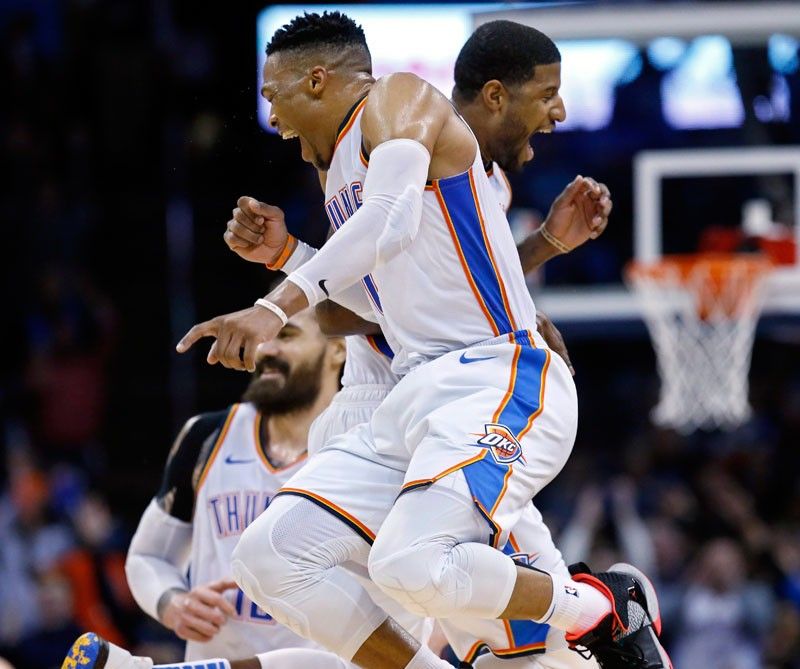 Oklahoma City Thunder's Russell Westbrook and Paul George celebrate late in the second half of their game against Portland.
AP
Thunder roll over Blazers
(Associated Press) - February 13, 2019 - 12:00am
Westbrook, George score triple-double; Aching Harden continues streak for 30+
OKLAHOMA CITY – Paul George had a 47-point triple-double, and Russell Westbrook set an NBA record for consecutive triple-doubles as the Oklahoma City Thunder beat the Portland Trail Blazers 120-111 on Monday night.
George's 3-pointer with 3:52 to play came on the 10th assist by Westbrook, who clinched his 10th consecutive triple-double. Westbrook finished with 21 points, 14 rebounds and 11 assists. Wilt Chamberlain had nine consecutive triple-doubles in 1968.
George, who contributed 12 rebounds and 10 assists, has scored 92 points over the last two games.
The win was the fourth consecutive and 11th in 12 games for the Thunder.
Hampered by a strained left shoulder, James Harden nearly had his streak of consecutive 30-point games end before coming alive down the stretch as host Houston defeated Dallas 120-104.
Harden finished with a game-high 31 points on 9-for-23 shooting that went with eight rebounds, seven assists and five steals.
The Rockets relied on a collective effort to build a lead against Dallas, with four others scoring in double figures, including guard Gerald Green, who poured in 19 points in 22 minutes off the bench. Luka Doncic posted 21 points, 10 rebounds and eight assists to pace the Mavericks.
In Cleveland, New York saw its late comeback bid fall short at Cleveland and took its 17th straight defeat – the longest single-season losing streak in franchise history.
Other results: Detroit 121, Washington 112; Indiana 99, Charlotte 90; Toronto 127, Brooklyn 125; Milwaukee 112, Chicago 99, Minnesota 130, LA Clippers 120; Denver 103, Miami 87.