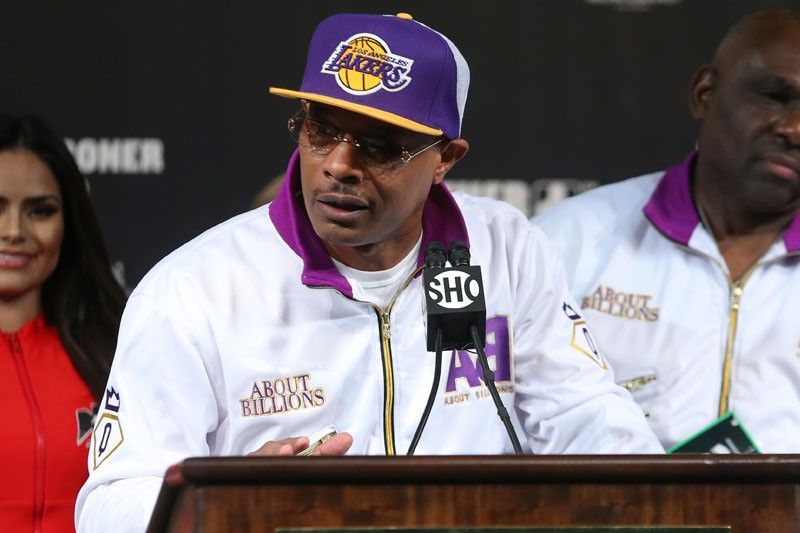 Kevin Cunningham, Adrien Broner's trainer
Wendell Rupert Alinea/MP Promotions
Pacquiao to go home 'beltless' – Broner trainer
LAS VEGAS – The camp of Adrien Broner sees no result other than a victory over Manny Pacquiao in Saturday's big fight at the MGM Grand Garden Arena here (Sunday Manila time).
Broner, 29, will try to dethrone Pacquiao, 40, saying losing is not an option.
Kevin Cunningham, Broner's trainer, promised that his ward will send the Filipino icon back home empty-handed.
"Basically I'm just gonna go straight to the point. We've had a tremendous training camp. AB is ready to go," the challenger's lead cornerman said in the final press conference Wednesday at the David Copperfield Theater inside the MGM Grand here (Thursday Manila time).
I'm giving you my word that AB will put on a spectacular performance on Saturday night," he added.
Sporting a Lakers cap, Cunningham said he isn't fooling around and that his word is gold.
For him, the Manny Pacquiao era will be over by Sunday and Broner will be crowned king.
"Most of you know me. All I have in this world is my word and my balls, and I don't break them for nobody," Cunningham continued.
"And I guarantee that he will send Manny back to the senate, beltless. Without the WBA title," he said.
Broner will enter the ring armed with youth and a counterpunching style that could pose problems for Pacquiao, who thrives against forward-fighting opponents.
Pacquiao, for his part, is fueled by a newfound desire to knock opponents out.
Broner hardly cares.
"I ain't coming here to lose. I ain't coming to lay down. I'm coming to get this victory. Real talk," said Broner.
Related video: