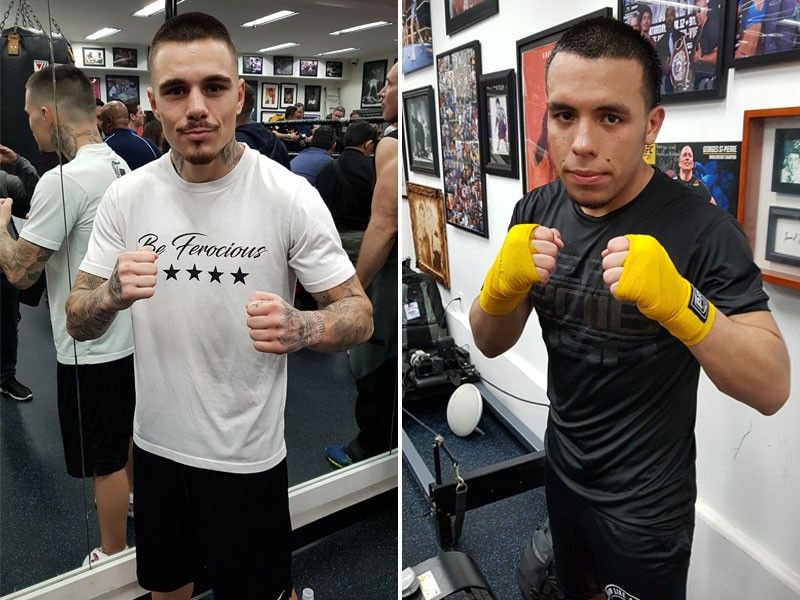 George Kambosos Jr. (left) and Arnold Gonzalez were Manny Pacquiao's sparring partners for the Adrien Broner fight.
Philstar.com/Dino Maragay
Sparmates rave over 40-year-old Pacquiao
LOS ANGELES – Manny Pacquiao's sparring partners are one in saying that the Filipino icon still fights like he's much younger than 40.
Pacquiao, who will defend his WBA welterweight strap against Adrien Broner seven days from now, wrapped up the final day of sparring at the Wild Card Gym here Saturday (Sunday Manila time).
All in all, Pacquiao has logged at least 150 rounds in sparring, the majority of them against Australian prospect George Kambosos Jr. and more than 20 versus amateur fighter Arnold Gonzalez.
Kambosos and Gonzalez, both 25, agree that Pacquiao hasn't gotten old.
"He's like a 31 or a 32-year-old. Manny's more relaxed, more focused, and he's ready to do the job against the younger Broner," Kambosos, who has also helped Pacquiao prepare for Jeff Horn in 2017 and Lucas Matthysse last year, told a couple of Filipino scribes.
"I think he has a new life at 40," he added.
For Kambosos (15-0, with 9 KOs), this is the best version of Pacquiao that he's sparred with.
"The camp for the Matthysse fight was very, very good, but I feel that this one's just great," said the rising Australian fighter, who will see action in the undercard at the MGM Grand in Las Vegas next Saturday (Sunday Manila time).
On Sunday, Pacquiao went four more rounds with Gonzalez, whose burly frame resembles that of Broner.
And like Kambosos before him, Gonzalez was left in awe.
"It's like I'm fighting a kid, a young person like myself. He's fast and still hits hard. His footwork is incredible," said Gonzalez, who is set to turn professional with a fight on February 23.
"Manny's too busy. The problem with Broner is he'll not be able to keep up with Manny's punches. Manny punches too much. Broner slows down. Manny? A hundred percent guy," he continued.
Pacquiao is coming off a long-awaited stoppage win over Matthysse last July, and plans to start a knockout streak by doing the same to Broner. It will be interesting to see if a 40-year-old man can take out a 29-year-old opponent who's in his prime and has never been knocked out.
But Pacquiao's sparmates are so impressed with the fighting senator's form that they are expecting a lopsided fight in his favor.
"Manny will be dominant. Either it's a knockout or a points decision. He's gonna win pretty much every single round," said Kambosos.
"Manny, all the way," Gonzalez added.