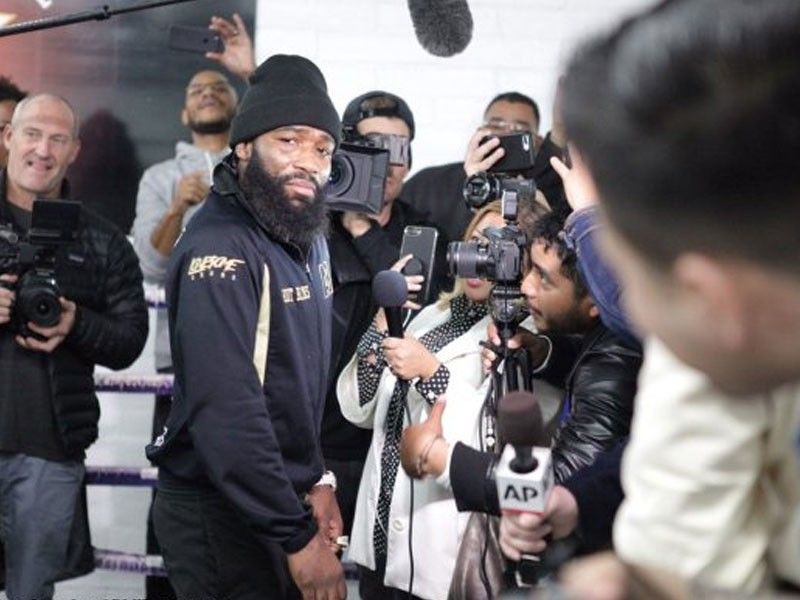 Adrien Broner during his media workout at the 10 Goose Boxing Gym in Los Angeles' Van Nuys neighborhood Wednesday (Thursday Manila time).
Jhay Otamias/Philboxing.com
Broner to shock fans with conditioning, says promoter
LOS ANGELES – Given the various controversies hounding Adrien Broner outside the ring right now, it would be easy to question the American boxer's commitment on conditioning for his upcoming fight with Manny Pacquiao.
That's not the case though, and critics will be in for a surprise come fight night, according to Broner's promoter.
"I think that fans are going to be surprised at how incredibly in shape Broner is," said Mayweather Promotions CEO Leonard Ellerbe, who promotes the 29-year-old fighter.
Ellerbe fielded questions from the media during Wednesday's well-attended media workout at Freddie Roach's Wild Card Gym here. Broner, curiously, held a separate session at the 10 Goose Boxing Gym in this city's Van Nuys neighborhood.
A recurring topic of conversation throughout the fight's promotion is Broner's recent brushes with the law. Broner is facing, among others, allegations of sexual misconduct, and with the bout just around the corner, Pacquiao's challenger could have problems focusing on the task at hand.
But Ellerbe insists Broner poses a genuine risk to the 40-year-old Pacquiao, who will put his WBA welterweight title on the line the MGM Grand in Las Vegas on January 19 (January 20 Manila time).
"There's danger for Manny, what Broner brings to the table. He brings youth, power and a tremendous skill set," added Ellerbe, confident of Broner's chances to pull off a massive upset.
"It's nothing Manny has seen before."