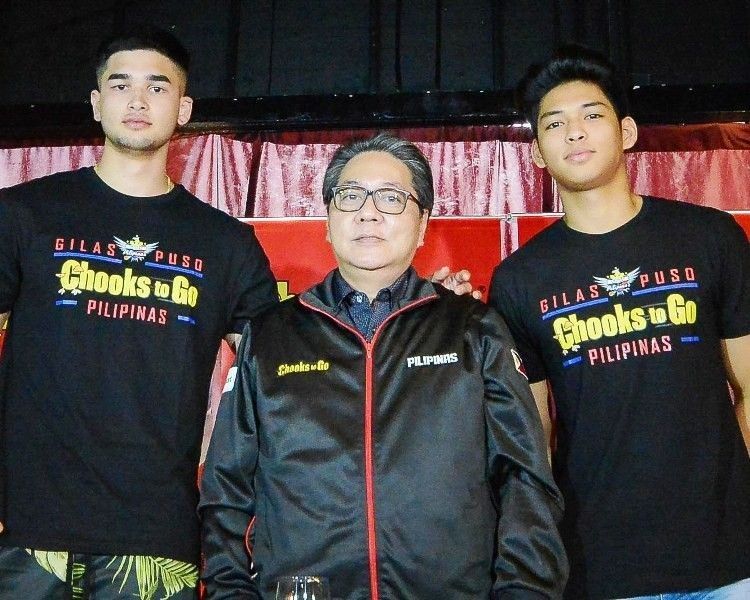 Kobe Paras (left) and Ricci Rivero (right) are set to make their debut for the UP Fighting Maroons.
Courtesy of Bounty Sports/Joaqui Flores
Rivero, Paras to make UP debut vs Ateneo in BBI cagefest
MANILA, Philippines – Everyone is going to get their first look at Ricci Rivero and Kobe Paras in a University of the Philippines jersey when the Fighting Maroons' Team B battles their Ateneo counterparts on Sunday, November 18, at the tip-off of the sulit.ph Breakdown Basketball InvitationalsUnder-25 Men's Basketball tournament at 8am at the Moro Lorenzo Sports Center.
Rivero left DLSU under a cloud of controversy at the end of UAAP Season 80 and after a period of reflection, opted to transfer to UP. Paras, for his part, has constantly transferred schools after leaving La Salle Greenhills for Middlebrooks Academy. He was first tabbed to go to the University of California-Los Angeles but de-committed. He moved to NCAA Division One school Creighton where he was benched. He then transferred to North Cal State Northridge but left when head coach Reggie Theus, who recruited him from Creighton, was fired.
Paras, the youngest son of former UP and pro basketball star Benjie Paras, then said he would turn pro but declined to say where. After a summer playing for the Gilas cadets with Rivero, Paras has decided to finish his college career with his father's college alma mater.
Along with Rivero, they are both expected to bolster the Fighting Maroons' drive for a UAAP championship.
Listed in UP Team B's lineup is another refugee from La Salle in Jboy Gob. Others who were on UP's UAAP lineup last season include Noah Webb, Evyn Santiago and Enzo Battad. Other newcomers include foreign student Bruel Kamga, former Ateneo Blue Eaglet Migo Santos, former UP Junior Fighting Maroon Jaggie Gregorio, former LSGH's Junior Blazers AJ Madrigal and Price Ollano, Enzo Arreza and Ashven Nortega.
The 20-year-old Kamga, who hails from Cameroon, stands 6'8" and is being eyed to replace Bright Akhuetie when he plays out his last year of eligibility after next UAAP season.
Arrayed against the Maroons in Ateneo Team B are former Team A player Jawuan White; Fil-Kiwi Pat Maagdenberg; former Ateneo Blue Eaglets Amchel Angeles, brothers JM and RV Berjay, Jason Credo, Andre Flores, Raja Gusi, Jeco Laud, Martin Mendoza, and Sandro Soriano; former Ateneo de Cebu Magis Eagles Andre Chua and Eroll Pastor; former Xavier Golden Stallion Nathan Chan; formerDe La Salle Zobel Junior Archers Miguel Fortuna — younger brother of Jeric Fortuna — Gabe Natividad, and Andre Santos; former La Salle Greenhills standout Rodney Manuel, and Cebuano Sean Quitevis.
Former San Sebastian Stags star Rodney Santos will coach UP while Yuri Escueta will handle Ateneo.
After the Ateneo-UP clash, De La Salle University's Team B clashes with San Sebastian College-Recoletos' Team B at 11 a.m.
The sulit.ph Breakdown Basketball Invitationals, now in its fourth season, is one of the biggest grassroots basketball programs with tournaments in six age groups, including women's basketball. The matches are primarily played at the Moro Lorenzo Sports Center inside the Ateneo de Manila University campus in Quezon City. They held their first ever national finals last season with Xavier School emerging triumphant.