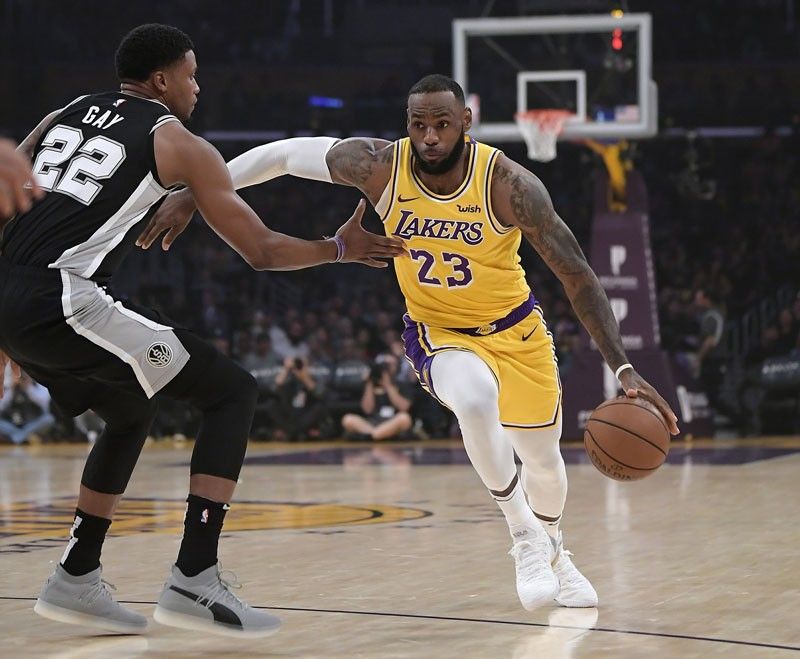 Los Angeles Lakers forward LeBron James, right, drives toward the basket as San Antonio Spurs forward Rudy Gay defends during the first half of an NBA basketball game Monday in Los Angeles.
AP/Mark J. Terrill
LeBron James' lakers start 0-3, bow to Spurs
(Associated Press) - October 24, 2018 - 12:00am
Raptors sting Hornets, go 4-0
Patty Mills drilled a jumper with seven seconds remaining in overtime to cap a 7-0 run in the final 55 seconds and lift the San Antonio Spurs to a wild 143-142 win over the host Los Angeles Lakers on Monday.
The result kept LeBron James winless over his first three games with his new team, even though he produced 32 points, 14 assists and eight rebounds.
James canned a game-tying, 28-foot 3-pointer with 3.3 seconds to play in the fourth quarter to cap an 8-0 run in the last 64 seconds and send the game into overtime. However, he missed two free throws in the last minute of overtime, then missed a 20-foot jumper in the final second.
LaMarcus Aldridge led the Spurs with 37 points and grabbed 10 rebounds, while DeMar DeRozan poured in 32 points and dished out a career-high 14 assists. Kyle Kuzma had 37 points for the Lakers.
In Toronto, Kawhi Leonard scored 22 points, Kyle Lowry had 16 points and a season-high 14 assists, and Toronto never trailed in a 127-106 victory over the Charlotte Hornets on Monday night, the Raptors' fourth straight win to open the season.
Jonas Valanciunas scored 17 points, Danny Green had 16, and Serge Ibaka added 15 as the Raptors won for the ninth time in 11 meetings with the Hornets.
Toronto is the first NBA team to reach four wins. Denver (3-0) can match the Raptors when it hosts Sacramento on Tuesday.
In Boston, Nikola Vucevic had 24 points and 12 rebounds while the Orlando Magic survived two 3-point attempts by Boston in the closing seconds to beat the Celtics, 93-90.
Trailing 91-90 with 14.2 seconds to play, Boston was forced to foul Evan Fournier after Orlando inbounded the ball. He stepped to the line and made both free throws with 7.8 seconds left.
In Minneapolis, Jimmy Butler returned to Minnesota's lineup and scored 20 points to lead the Timberwolves to a 101-91 win over the Pacers.
Butler, who received a mix of boos and cheers during player introductions, sat out Saturday due to precautionary rest. Karl-Anthony Towns added 17 points and 12 rebounds for Minnesota, while rookie guard Josh Okogie scored 12 points off the bench.
In Milwaukee,Giannis Antetokounmpo had 31 points and 15 rebounds, Khris Middleton sank a pair of late 3-pointers and the Bucks survived a furious second-half rally to hold off the Knicks, 124-113.
Middleton was efficient in scoring 30 points, going 7 of 8 from 3-point range. Antetokounmpo only had one 3, but it came in a big spot, giving unbeaten Milwaukee the lead for good midway through the fourth period.
Tim Hardaway Jr. led the Knicks with 24 points. Trey Burke added 19 and Mario Hezonja had 18.
In Dallas, DeAndre Jordan became the first Dallas player in 24 years to start a season with three straight double-doubles, getting 18 points and 16 rebounds to help the Mavericks beat the Bulls, 115-109.