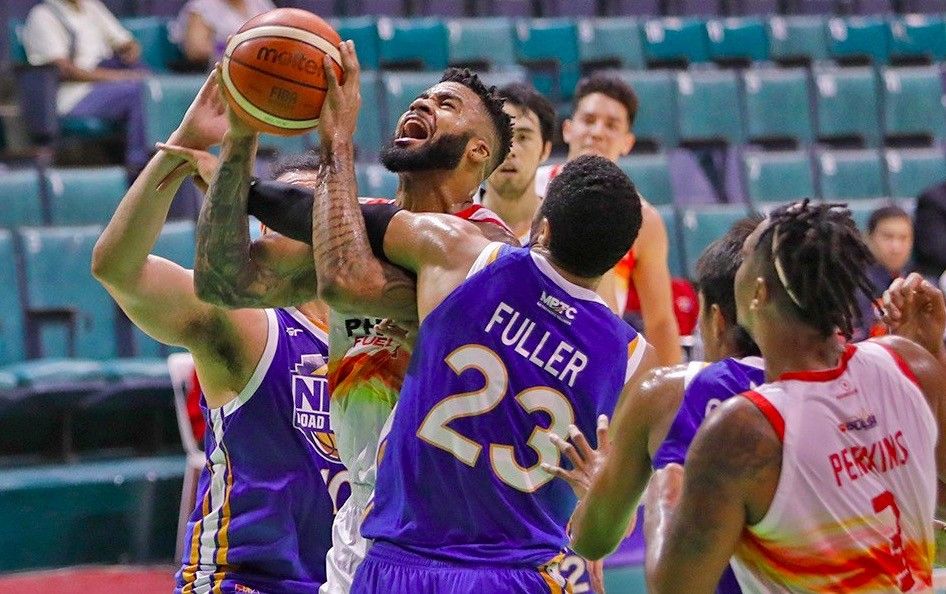 Eugene Phelps muscles his way to the basket during Phoenix's game against NLEX, Wednesday night at the Cuneta Astrodome.
PBA Media Bureau
Phoenix's Phelps downplays another 50-plus-point performance: 'It's the win that matters'
MANILA, Philippines — Eugene Phelps has got a knack for scoring 50 in the PBA.

Especially at the Cuneta Astrodome.

But even after what seemed an encore of his 53-point explosion from March last year at the Pasay City venue, the Phoenix Fuel Masters import would take a victory. Any day.

"Me and this gym got a love-hate relationship. It's my second 50-ball here but the last time we played Alaska here, I was drained and I was so tired," Phelps told the press shortly after hanging 51 markers over the heads of the NLEX Road Warriors.

"This time it's different … it's a love-hate relationship with this gym. As I said, we got the win. I don't really care about the 50-ball because if I got 50 [then] we lost, it [wouldn't] matter, you know?" he went on.

Aside from his brilliant scoring showcase, Phelps proved to be a beast in the rebounding department. He was true to his moniker "El Destructor," in wreaking havoc in the paint, scoring and corralling rebounds. By the game's end, he had 20 boards — the most by any not only from the Fuel Masters' camp but also over at the Road Warriors'.

The once burly Phelps shot a staggeringly efficient clip in 67.7 percent. The Wednesday outing marks the fourth time he finished with at least 50 points in the Philippine Basketball Association.

Phelps' most points (53) came in the game against Blackwater Elite in Mar. 18, 2017. Before that, he debuted with a bang, scattering 52 against the then-GlobalPort Batang Pier.

We caught up with Eugene Phelps (@daTATTEDBEAST) and asked him about:
????His latest 50-piece
????@austrialeo's praise as 'most dominant underneath'
????Almost gifting @CoachLouieAlas 55 pts for his 55th birthday

Also, that bit midway the clip is telling. ???????? Allen Durham #PBA2018 pic.twitter.com/IvJ7LJCNkJ

— Denison Dalupang (@sonrd) October 10, 2018

Although he noted that his dominant showing wouldn't have been possible if not for his team's collective growth.

"I think it's maturity," he pointed out. "We just keep playing as a team. It's just not me, there's Calvin (Abueva), Matt (Wright), we got [Jason Perkins], rookie of the year. So it's just a team effort, you know."

Phoenix's latest win comes days after Louie Alas' 55th birthday —quite a fitting tribute to the first-year Phoenix head coach.

"[If we keep] on working, keep on going, (let's) see where [we'll] go," he closed.