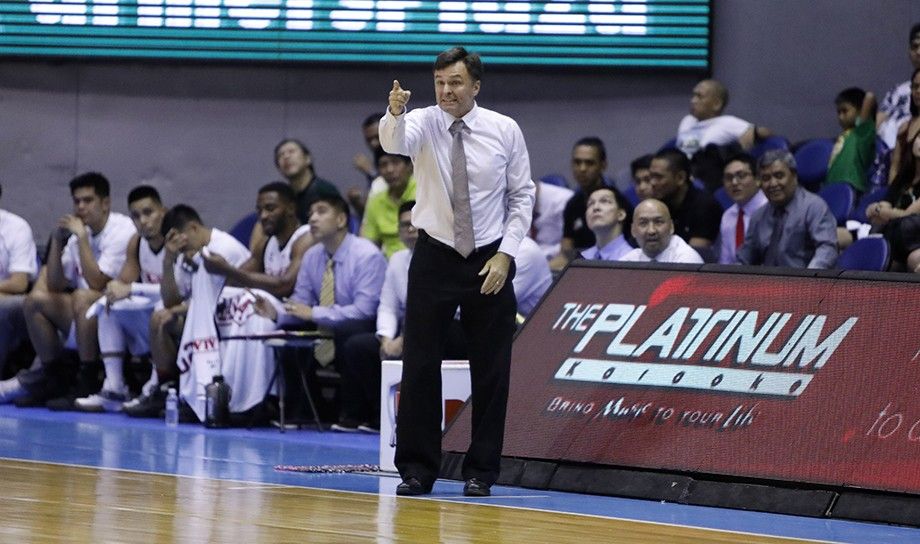 Alex Compton of the Alaska Aces during the game against Rain or Shine, Wednesday night at the Araneta Coliseum.
PBA Media Bureau
Compton, Aces rue long layoff
MANILA, Philippines — Before the win over Rain or Shine, Alaska lost its last game. The gap between the Aces' last two outings was a little over a month, and Alex Compton couldn't help but rue how tentative he and his wards became during that period.
"Pati ako, rusty ako sa ganito eh," he said in jest, referring to the post-game presser reserved for the winning coach.
Compton, a 12-year veteran tactician in the Philippine Basketball Association, shared that he had been grappling with "signs of rust" on his way to the game against the Elasto Painters.
"Even when I was dropping my son off at school this morning, I saw I billboard and it said 'rusty'—it was a Rusty Lopez," he shared. "I said, 'Oh no, signs!' All I can pick up is rusty. I see a piece of metal, it's rusty."
And it couldn't be more evident against a winless team on Wednesday night. For thee quarters, Alaska was struggling against a Rain or Shine squad scrambling for any semblance of stability and cohesion.
"I thought we were a little bit rusty but they kept going and fought through it. Obviously there's a lot of things we need to clean up but our guys really fought through it. That was kind of our theme for today – you might be rusty for a minute, for 5 minutes, for a quarter, for a half, just keep going," Compton added.
True enough, the Aces played through the monthlong rust. With Mike Harris figuring as spearhead, they pulled away in the fourth. The foreign reinforcement's performance was so commendable, it seemd to have rubbed off of his teammates.
"Michael was great, Simon (Enciso) and Chris (Banchero) did a really good job and I thought Ping (Excminiano) was great actually," Compton noted.
Compton, who can now let out a sigh of relieve after bouncing back from a heartbreaking loss to Ginebra in September, heavily credited Harris, who had a rather monstrous outing with 39 points and 25 rebounds.
"[The] biggest thing, I thought, is we had the best player on the floor today," Compton said.
"We really needed him in the first half when we were struggling. Especially in the first quarter when he put up like more than half our points—I think 16 in the first," he closed.