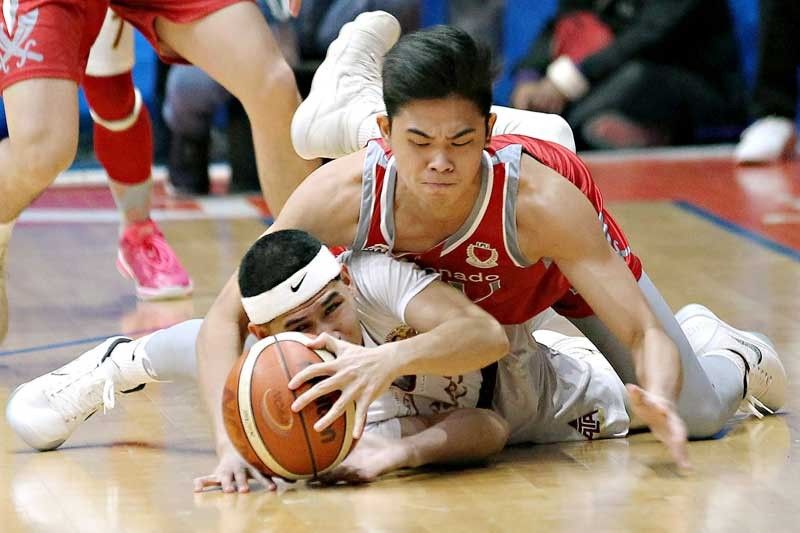 Edgar Charcos of Perpetual tries to secure the ball as he goes down with Niño Ibañez of Lyceum in their NCAA game yesterday at the Filoil Flying V Arena.
Jun Mendoza
Amazing Altas stop Pirates; Knights trample Cardinals
Joey Villar
(The Philippine Star) - September 22, 2018 - 12:00am
Games Tuesday
10 a.m. – CSJL vs EAC (jrs)
12 noon – UPHSD vs JRU (jrs)
2 p.m. – CSJL vs EAC (srs)
4 p.m. – UPHSD vs JRU (srs)
MANILA, Philippines — Prince Eze hit a putback at the buzzer as Perpetual Help rallied from big deficits to shock erstwhile unbeaten Lyceum of the Philippines University, 83-81, yesterday and deny the Pirates' sweep bid in the 94th NCAA seniors basketball tournament at the Filoil Flying V Center in San Juan.
Eze plucked the offensive rebound off a missed Tonton Peralta triple from the right baseline and banged in the basket with a quarter of a second to go, triggering a wild celebration at the Altas' bench.
The victory thus kept Perpetual's Final Four bid alive at 7-5 while stopping the Pirates' winning run at 12, foiling the latter's drive for an elims sweep for the second straight year.
The loss also enabled idle San Beda to tie LPU at the helm.
Eze's big shot capped what had been a dominating effort by the 6-9 Nigerian, who finished with 25 points, 23 rebounds and two blocks.
It was the second buzzer-beater for Eze, who also lifted the Altas to a 78-76 win over San Sebastian last Aug. 9 at the Perpetual Help Gym.
"He had done it before and I'm not surprised he did it again," said Perpetual Help coach Frankie Lim of Eze.
Edgar Charcos fired 20 points, including four points that tied the count at 81 with less than a minute to go.
Earlier, Letran rode on Bong Quinto's triple-double effort and JP Calvo's career scoring game as it dumped Mapua, 84-69, to keep the third spot at 8-4.
Quinto fired 11 points, plucked 14 rebounds and dished out 11 assists while JP Calvo fired a career-high 26 points as the Knights stayed half a game ahead of the College of St. Benilde Blazers, who later routed the Arellano U Chiefs, 89-73, to improve to 8-5.
The scores:
UPHSD 83 – Eze 25, Charcos 20, Coronel 11, Aurin 10, Jimenez 8, Peralta 7, Magalino 2, Cuevas 0, Pasia 0.
LPU 81 – Marcelino JC. 16, Nzeusseu 14, Ayaay 13, Perez 11, Pretta 9, Santos 6, Caduyac 5, Valdez 4, Marcelino JV. 3, Ibañez 0, Yong 0, Serrano 0, Tansingco 0.
Quarterscores: 19-20, 39-43, 60-68, 83-81