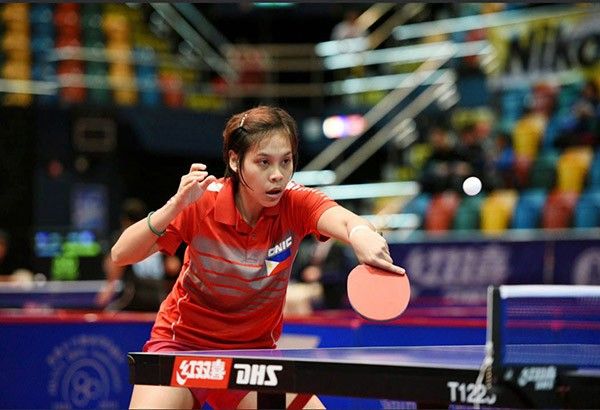 Ian "Yani" Lariba (1994-2018)
Photo via www.ittf.com
Filipino Olympian Yan Lariba passes away
(Philstar.com) - September 3, 2018 - 12:43am
MANILA, Philippines – Ian "Yanyan" Lariba, who represented the Philippines in the table tennis competition of the 2016 Olympics in Rio de Janeiro, Brazil, died late Sunday after a long battle with leukemia. She was 23.
The Philippine Sports Commission broke the news of Lariba's passing in its official Twitter account.
Our deepest condolences to the family of Olympian and Table Tennis national athlete Yanyan Lariba (@supersaiYAAAN) who passed away tonight after a brave fight against cancer.

You are truly loved and shall be greatly missed. pic.twitter.com/B37CbtQNqt

— Philippine Sports Commission (@psc_gov) September 2, 2018
Lariba was diagnosed with leukemia in May 2016, a few months after her Olympic stint. A standout of the De La Salle University table tennis squad, she led the Green Archers to the UAAP title in Season 77.
Over the course of her UAAP career, Lariba has been named MVP thrice (Seasons 75, 77 and 78) and was the recipient of the Athlete of the Year award in Seasons 77 and 78.
News of Lariba's health condition prompted an outpour of moral and financial support both from the local and international sports communities.
Now her death has sent shockwaves among Filipino fans, many of whom took to social media to offer their condolences.
It is with regret that we announce the death of Ian Lariba, she was a fighter in and out of court, she was truly an inspiration. Her funeral service will be announced soon. We pray for her and we give her family our sincere condolences.

We will miss you, Yan. pic.twitter.com/0gixp2tNf0

— DLSU Sports (@dlsusports) September 2, 2018
I still remember interviewing you before and what a beautiful soul you had! Rest In Peace our Olympian, Yan Lariba. #AN1MO

— Jennifer Mizzi (@jennifer_maria) September 2, 2018
RIP Yan Lariba
The only olympian table tennis
Ng pilipinas yan ehh

— Kortess (@marcoowcrtz) September 2, 2018
Rest easy, Yan Lariba. You will forever be remembered. Thank you. https://t.co/mzNgXAJQmR

— (@_beyuhtriz) September 2, 2018
Ian "Yanyan" Nietes Lariba passed away tonight

But her name and legacy will live on. The light she gave will live on in the hearts of people whom she touched, like me.

Lord ang sakit. Everyone has only good words for Yan. But she completed Your purpose here.

— Rosella Jane (RJ) T. Vargas (@rj1421) September 2, 2018
Yan Lariba may you rest in peace after months of battling w leukemia. At such a young age andami mo ng napatunayan, what more in the nxt few years if ever #Animo

— (@fiveincheshand) September 2, 2018
Sad day for the La Salle and Philippine sports community as table tennis hero and former team captain, UAAP MVP and many time champion, & 2016 Rio de Janeiro Olympian Yan Lariba @supersaiYAAAN passed away tonight from leukemia. May she rest in eternal peace. #lasalle #tabletennis

— Teddy Dario (@teddydario) September 2, 2018
Heard the sad news about Yan Lariba...apparently, even a champion of champions can lose a battle to cancer #RIPyan

"For my thoughts are not your thoughts, neither are your ways my ways," declares the Lord. ISAIAH 55:8

— Erika Caitlin T. Dy (@bossbear16) September 2, 2018