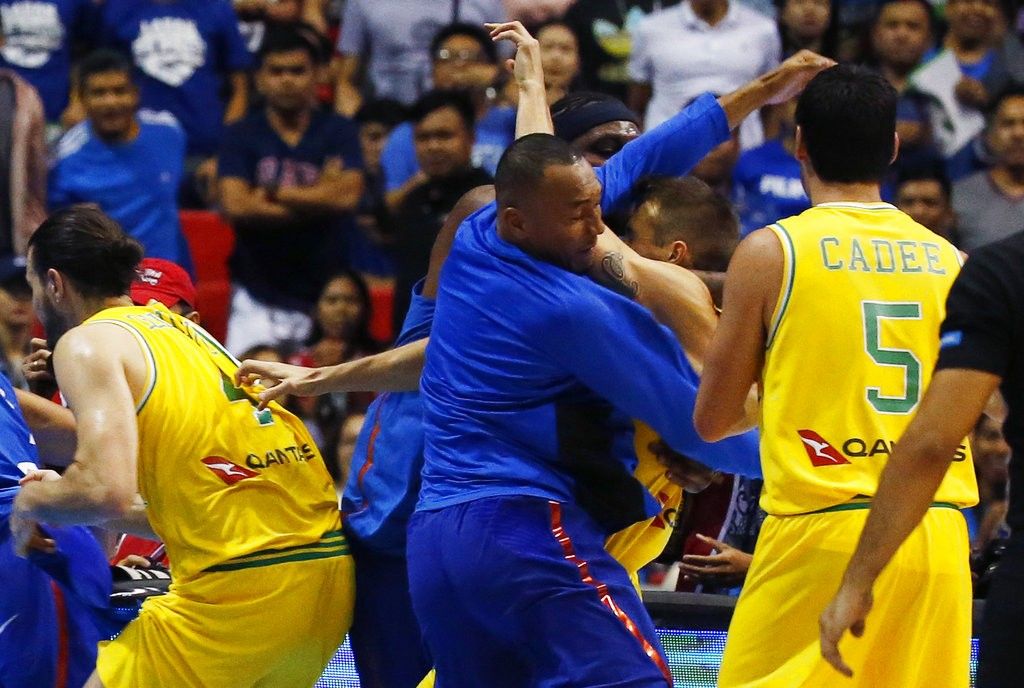 Calvin Abueva and Andray Blatche gang up on Nathan Sobey during the FIBA World Cup Qualifiers Monday, July 2, 2018, at the Philippine Arena in Bocaue, Bulacan. Australia defeated the Philippines 89-53 via default following a brawl in the third quarter.
AP Photo/Bullit Marquez
'Repeat offender' Abueva hit hardest by FIBA sanctions
MANILA, Philippines — Amid the various sanctions slapped against the Philippines' basketball federation and members of the men's national team was the glaring penalty meted out for Calvin Abueva.
The forward, known for his raging-bull play both at home and overseas, bore the brunt of the punishments with a six-game supension, basically rendering him unable to lend his wares for Gilas in the whole second round of the FIBA World Cup Asian qualifiers.
Al Panlilio, the Samahang Basketbol ng Pilipinas' president, on Thursday walked the press through Abueva's penalty which eclipses that of Rogoy Pogoy's — who was regarded by FIBA to have incited "unsportsmanlike behavior."
"It was very clear on Calvin's side," the executive said during a 40-minute presser in Makati. "I think these are the things we need to clarify based on the [FIBA] decision."
"There was a commotion during the warm-ups. On top of that, I think there was a previous altercation in FIBA Asia Cup 2017 that saw him headbutt an opponent," he shared.
Abueva was indeed ejected from a game against China in the aforementioned tournament for an extra motion against the hosts' Li Gen. The deed came in the opening period of the match.
Abueva's six-game ban is the heftiest in all of the personalities facing sanctions from both Gilas and the Boomers.
Though it is worth noting that Allein Maliksi, who himself was caught on camera uncorking punches before getting tangled with Aussie player Chris Goulding, emerged unscathed form FIBA's hand of judgment.
"I think they looked at it at as violating the same article of regulations of FIBA," Panlilio said of Abueva's case.
"Siguro, kumbaga, he (Abueva) was a repeat offender so that added a little bit of weight," Panlilio pointed out.
Among the players, Calvin Abueva absorbed the harshest punishment. @FIBA said it's suspending the forward for six games for "prior unsportsmanlike behavior." #FIBAWC #GilasPilipinas pic.twitter.com/1QQWq1p1MA

— Philstar Sports Hub (@StarSportsHub) July 19, 2018
Abueva will definitely have tougher days ahead as he is also suspended by his Philippine Basketball Association team Alaska Aces for going AWOL multiple times.
The 30-year-old forward is norming 4.3 points, three boards and 1.3 assists in the Asian qualifiers.
Related video: