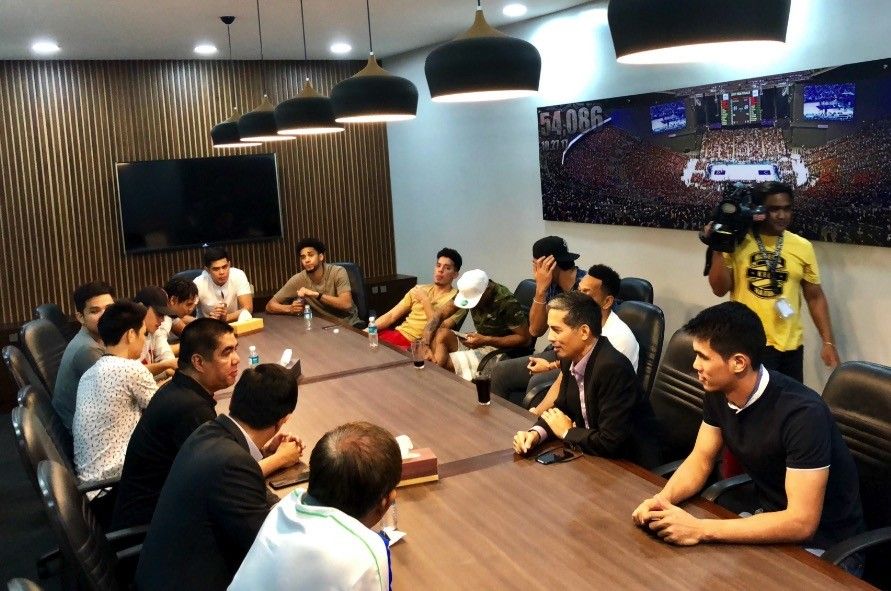 Members of the Philippine national basketball team Gilas Pilipinas with PBA commissioner Willie Marcial, SBP president Al Panlilio, and POC secretary general Pato Gregorio before a closed-door meeting at the league's office in Libis.
PhilStar.com/Denison Rey A. Dalupang
SBP, Gilas bracing for worst after skirmish
MANILA, Philippines — Samahang Basketbol ng Pilipinas (SBP) president Al Panlilio said they, along with the members of the Gilas Pilipinas program, are preparing for the worst.
The basketball executive made the revelation to the press after their short, closed-door meeting with Philippine Basketball Association commissioner Willie Marcial and Philippine Olympic Committee secretary general Pato Gregorio in the league's office in Libis on Thursday night.
"We actually don't know yet what will be the sanctions. So there can be none, or there can be," he pointed out.
"If you look at, you always prepare for the worst as they say. So we're hoping that our position can be heard when we submit it, and hopefully, the sanctions are not very heavy. Again, expect the worst that there will be sanctions," Panlilio said.
And while they patiently await the decision of basketball's international governing body FIBA, Panlilio shared that Gilas' predicament involves historical precedents.
In 2010, Nenad Kristic — then a player for the NBA's Oklahoma City — and his Serbian teammates figured in a brawl with Greek players in a FIBA tournament in Athens. A chair was hurled by the big man which led to his suspension for three games along with a hefty fine. The Serbian and Greek basketball federations were also slapped with respective fines.
In the same year, Chinese and Brazilian cagers figured in a melee during a friendly showcase in Henand that also led to multiple suspensions and monetary penalties handed out.
American Bob Donewald, then China's head coach, was suspended for three games and slapped with a fine. The Chinese Basketball Association, to which many of the Chinese players play in, was dealt with a fine.
The case that transpired in the Chinese province led to the banning of the three match referees who presided the game. Their punishment lasted for one year.
"As you all know, there is a panel formed by the FIBA. We got the letter Tuesday night and we're given until July 10, midnight Swiss time, to submit our position," Panlilio shared.
"Since it's an ongoing investigation, we'd rather keep it at that in the meantime. We hope you understand that it will be difficult for us to comment until the investigation is happening," he closed.
"There are precedents so I guess you can expect same sanctions that would happen to the players and even the federation," Panlilio noted. "But if you look at, you always prepare for the worst — as they say."