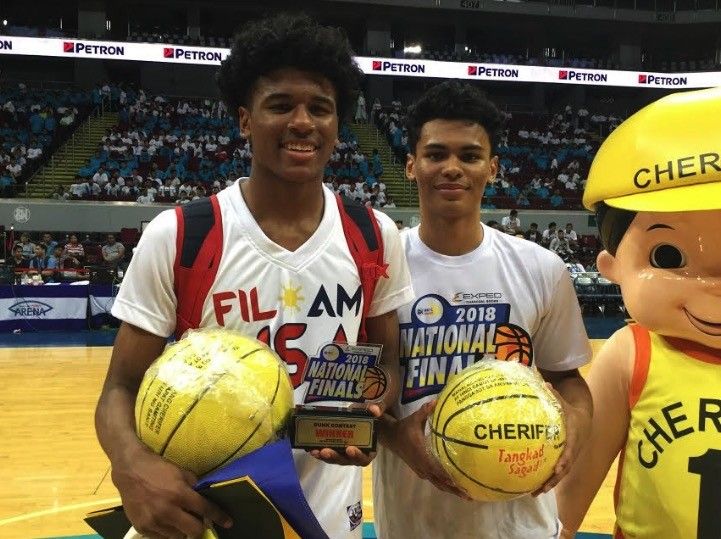 Green with fellow Fil-Am Elijah Jackson racking up trophies in the last NBTC tourney.
Contributed Photo/Rick Olivares
Fil-Am Jalen Green included in US FIBA U-17 World Cup roster
MANILA, Philippines — Filipino-American Jalen Green, who made waves in the recent SM-NBTC National Championships playing for Fil-Am Sports, will represent the Stars and Stripes in the upcoming FIBA Under-17 World Cup in Argentina.

During the national finals where the 6'5" Green led the Fil-Am team to the Elite Eight, he averaged 33.0 points, 7.0 rebounds, 2.5 steals and 1.5 assists, including posting a tournament-high 51 points against eventual champion*National University.

The 16-year-old's dunk over seven-foot Kai Sotto during the All-Star Game went viral.

Named to Team USA were Scottie Barnes, Vernon Carey Jr., RJ Hampton, De'Vion Harmon, Evan Mobley, Wendell Moore Jr., Isaac Okoro, Jeremy Roach, Isaiah Stewart, Jalen Suggs, Romeo Weems and Green. The 12-man squad will be coach by Don Showalter, USA Basketball Youth Division coach director. Assisting him are Scott Fitch and Stan Waterman.

The Fresno-born Green, who is currently enrolled at San Joaquin Memorial High School, was named to the four-time gold medalists. The Americans will open their defense of the U-17 crown when they face China on June 30, followed by Mali on July 1 and Serbia on July 3.

Bong Ulep, his coach for Fil-Am Sports, was ecstatic about Green being named to the US roster.

"I'm proud of Jalen! He's blessed to be part of Team USA at the world stage in Argentina. He's been grinding hard while staying low key," he said.