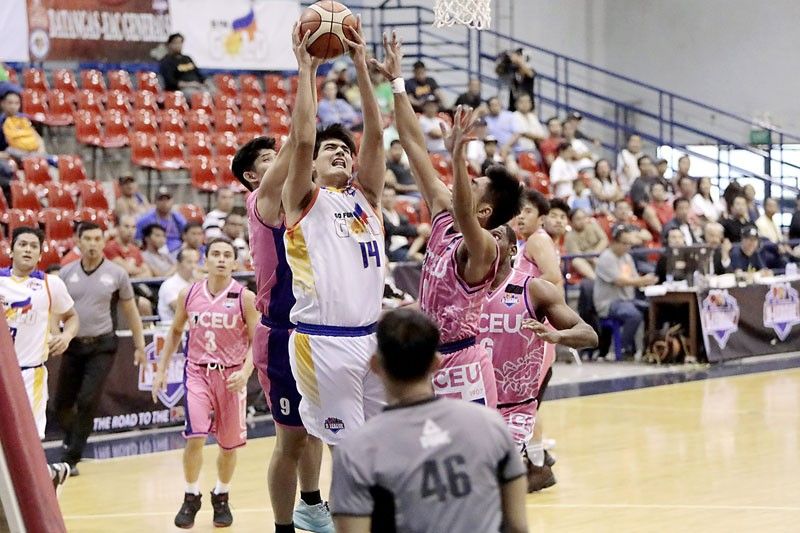 Kris Porter of Go For Gold fights off Christian Uri and Rich Guinitaran of the CEU Scorpions in a rebound play in their showdown in the PBA D-League.
Scratchers rip Scorpions for 3rd win
MANILA, Philippines — Go for Gold pulled away in the second quarter then sustained its charge to the finish to blast Centro Escolar U, 92-83, and stay on top in the PBA D-League Foundation Cup at the Ynares Sports Arena in Pasig yesterday.
Vince Tolentino led Go for Gold's early assault and went on to finish with 20 points next to Gab Banal's game-high 21 markers as the Scratchers chalked up their third straight victory.
"Vince (Tolentino) is a really smart player. He has a great feel for the game. He does a lot of good things for our team," said coach Charles Tiu.
Tolentino went seven-of-13 from the field and drilled in all his five charities. He also dished out six assists and collared five boards against four turnovers.
The Scorpions cut the Scratchers' 12-point lead on a trey by Orlan Wamar to close in at 71-77 at the 8:09 mark of the fourth but Jai Reyes countered with his own to spark a run that doubled Go for Gold's lead anew.
Reyes and Jerwin Gaco chipped in 11 points to back up Banal and Tolentino.