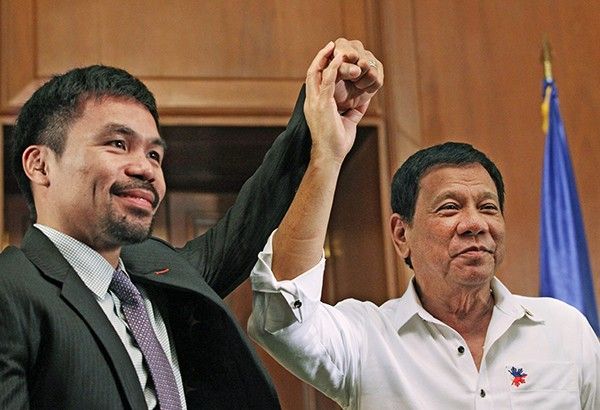 President Rodrigo Duterte raises the hand of Sen. Manny Pacquiao during a courtesy call at Malacañan in December 2016.
The STAR, File
Pacquiao wants Duterte at ringside for Matthysse fight
MANILA, Philippines – Manny Pacquiao wants President Duterte to be at ringside when the Filipino boxing icon challenges Argentina's Lucas Matthysse on July 15 in Kuala Lumpur, Malaysia.
"If the President is not busy," said Pacquiao in Wednesday's press conference at the City of Dreams.
No sitting President has ever come to watch Pacquiao fight overseas, and Duterte, his close friend, could be the first.
"I want to invite him," said Pacquiao.
The line was drawn heading to the July 15 title clash in Malaysia when Matthysse, who's in the biggest fight of his career, said Pacquiao's "time is over."
But Pacquiao is not to be carried away, and in his business suit accorded the champion from Argentina a warm welcome.
During the customary staredown, in front of all the cameras, Pacquiao smiled at Matthysse.
Face to face, they sized each other up, with the WBA belt in between them. They shook hands afterwards.
On Thursday night, they will board the same plane that will take them to Kuala Lumpur for another press conference scheduled on Friday.
Then on Saturday, they fly back to Manila, and go separate ways. The next time they meet again will be on fight week.
Matthysse arrived in Manila Wednesday morning, joined by his manager and promoter, Mario Arano, Golden Boy Promotions president Eric Gomez and PR director Ramiro Gonzalez.
"It was good. It was nice. It was a long trip obviously but it was nice. It's the normal. I'm a little tired. But we were comfortable," said Matthysse of the journey that took over 30 hours.
Matthysse said he knows little about the Philippines but came to the press conference in Barong.
"Out of respect," he said.
"I don't know too much about the Philippines. I know it's a beautiful country. And the people have been so nice to me since I got here," added Matthysse.
It was the first time, too, that he met Pacquiao face to face.
"I've seen many of his fights on TV. But I've never met him in person," he said.
They're just getting to know each other.
Related video: