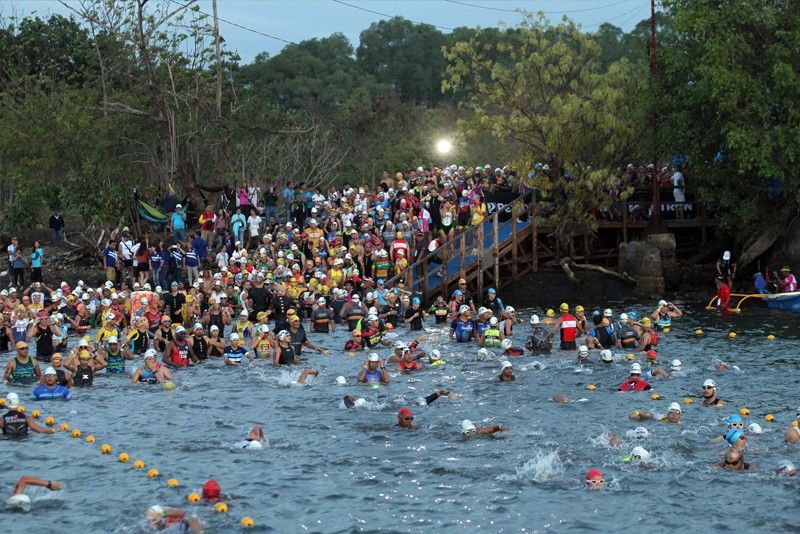 The record field of triathletes (above) braves the cold water of Azuela Cove in Davao City in the swim segment of the Alveo Ironman 70.3. Jun Mendoza
Abac Cordero
(The Philippine Star) - March 26, 2018 - 12:00am
Mendez gets taste of 1st major win in Alveo 70.3
DAVAO CITY, Philippines — Mexico's Mauricio Mendez got his first taste of victory on Philippine soil yesterday, ruling the Alveo Ironman 70.3 against a crack field and under the scorching heat.
The 22-year-old Mendez crossed the finish line at the Azuela Cove all by himself, cheered on by Davaoeños, who had witnessed for the first time a world-class triathlon event.
Mendez pumped his right fist close to the finish. Then he paused for a while and turned his back to check if there were any pursuers. Seeing no one, he punched the air and breasted the tape.
The digital clock read three hours, 50 minutes, 32 seconds when the reigning XTerra (trail running) world champion finished the race that covered 1.9 kms of swim, 90 kms of bike and 21 kms of run.
"That was a hard battle," said Mendez when he made it all look easy.
After cooling down, dipping his legs on ice-cold water and enjoying a quick Swedish massage, Mendez appeared ready to be fired off for another race.
"I just did my best. I was in second place until the final 13 kilometers. The effort was just too hard," he said.
Tim Reed of Australia, winner of three straight Ironman 70.3 races in the Philippines, was a distant second. It was the first time since 2015 he'd seen someone in front of him heading to the finish.
In the pro female side, Radka Kahlefeldt of Czechoslovakia nailed the victory just 10 weeks after giving birth to her first child with husband Brad Kahlefeldt, a fellow professional triathlete.
Radka, 34, topped the race in 4:25:38, followed by Naomi Washizu of Japan (4:36:53) and Aussies Dimity Lee Duke (4:39:12), Lisa Tyack (4:41:01), Kirralee Seidel (4:43:36) and Sarah Lester (4:53:04).
Reed was more than two minutes behind Mendez at 3:52:26. In third and fourth were two of his countrymen, Tim Van Berkel (3:53:45) and five-time world champion Craig Alexander (3:56:24).
Mendez trailed Reed in the early part of the run leg, and took the lead with only seven or eight kilometers to go.
"When I passed him, I never looked back," said Mendez of Reed, who lost his precious bottle of power drink when it fell off his bike in one of the bumps early in the bike leg.
"I think I lost all my power there," said Reed of the long stretch where he had nothing to drink and no time to stop.
"I couldn't afford to stop," said Reed, adding that if not for Berkel, his countryman, he wouldn't have finished the race.
"Tim Berkel gave me a couple of his (power) gels)," said Reed, who admitted that heading to the run leg, he knew he was in trouble because Mendez had always been the stronger runner.
Rounding out the top 10 of the elite pros were South Africa's Bradley Weiss (3:58:37) and Kyle Buckingham (4:01:43), Australians Sam Betten (4:03:36), Eric Watson (4:13:59) and Ben Allen (4:18:08) and Canada's Brent McMahon (4:20:38).
Jorry Ycong emerged as the top Filipino in the race that created a greater awareness for triathlon and a bumper-to-bumper traffic in and around the city on race day.
Ycong clocked 4:24:15, followed in the Filipino elite category by August Benedicto (4:25:02), Banjo Norte (4:25:07), Jumalil Paul (4:36:24) and Benjamin Rana (4:40:42).