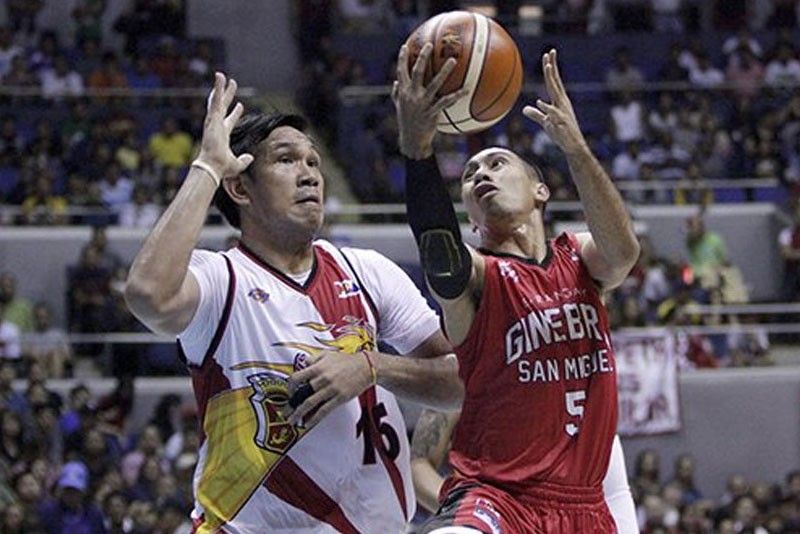 Aguilar fought June Mar Fajardo stride for stride, Tenorio held his own against San Miguel's ace guards and Caperal came through with another stellar game as the Kings stopped the Beermen from putting the series away. Philstar.com/File Photo
Barangay Ginebra Kings get back at San Miguel Beermen, trail 1-2
MANILA, Philippines — Barangay Ginebra, riding high on Japeth Aguilar's dunking spree, LA Tenorio's brilliant playmaking and Prince Caperal's clutch job, finally pulled one over San Miguel Beer with a crucial 95-87 win in Game Three of their PBA Philippine Cup best-of-seven semifinal showdown at the MOA Arena last night.
Aguilar fought June Mar Fajardo stride for stride, Tenorio held his own against San Miguel's ace guards and Caperal came through with another stellar game as the Kings stopped the Beermen from putting the series away.
Joe Devance, Scottie Thompson, Sol Mercado and Jervy Cruz also played important roles in helping the Kings sustain a solid effort throughout and reduce a 1-2 deficit, with a chance to possibly level up the series in Game Four tomorrow at the same venue.
NLEX and Magnolia, tied after their first two games, dispute the 2-1 lead in their side of the Final Four series over at the Smart Araneta Coliseum tonight.
"I have to give credit to our guys. A lesser character team could not have responded the same way they did coming from a painful loss. It's hard," said coach Tim Cone of the Kings' turnaround effort after blowing away what had looked like a won game Sunday.
"We're happy but we're not satisfied. Hopefully, we can continue to play our 'A plus plus game' and we'll see," Cone added.
Cone rued Greg Slaughter's status would remain day-to-day for the rest of the series, but he's thankful they have found a special young guy in Caperal who's filling a huge gap for the team in the series.
After seeing his 26-point game go down the drain in their 102-104 loss in overtime in Game Two, Caperal came back and put up a clutch performance that included a big trey and a crucial defensive stop at endgame.
"He's got a high basketball IQ and he's using that. His last game was a revelation, and his game tonight is again a revelation," said Cone.
Caperal collected 12 points, including 2-of-2 three-pointers, the last one he made when the Beermen had come to within three, 80-83, on a bristling 11-0 attack.
And with the Beermen still trying to wage a fight inside the final minute, Caperal tapped away a crucial SMB throw-in from Fajardo, and the Kings eventually sealed the important win.
The Kings played with a great sense of urgency, taking control almost throughout, and came through with the finishing kick they could not execute in Game Two.
"We really have to be aggressive the whole game. We can't be passive against this team. We have to contain their guards, of course June Mar and even their bench. That's why they're the best team in the league," said Tenorio, sizzling with 18 points, five rebounds and two assists.
The scores:
Barangay Ginebra 95 – Aguilar 25, Tenorio 18, Caperal 12, Cruz 12, Devance 11, Thompson 9, Mercado 8, Ferrer 0, Manuel 0.
San Miguel 87 – Fajardo 23, Lassiter 14, Santos 13, Cabagnot 13, Ganuelas-Rosser 8, Ross 6, Lanete 5, Heruela 3, Espinas 2, Mamaril 0, De Ocampo 0, Pessumal 0.
Quarterscores: 19-15, 45-39, 79-65, 95-87.