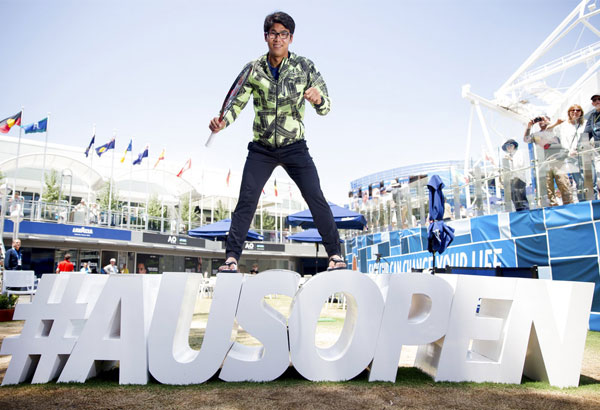 South Korea's Hyeon Chung poses for a photo at the Australian Open tennis championships in Melbourne, Australia, Thursday, Jan. 25, 2018. Chung will play Switzerland's Roger Federer in a men's singles semifinal in Melbourne on Friday, January 26. | Fiona Hamilton/Tennis Australia via AP
Hyeon Chung's profile on rise with Aussie Open breakthrough
MELBOURNE, Australia — Hyeon Chung wasn't on Twitter before he began his historic run at the Australian Open, becoming the first Korean player, male or female, to reach the semifinals of a Grand Slam.
Now, thanks to a breakout performance at Melbourne Park that has included a win over childhood idol and six-time champion Novak Djokovic, he's achieving the kind of instant celebrity in South Korea usually reserved for K-Pop stars.
Chung has only tweeted four times since setting up the account on Wednesday, but had 11,000 followers within 24 hours. And counting.
"From what I've heard, it's blowing up in Korea pretty big," Chung's coach, Neville Godwin, said Thursday at Melbourne Park. "The day after the Djokovic match, he was front page in every single Korean newspaper. And deservedly so."
One can only imagine the celebrations that will ensue if he gets past his next opponent, 19-time major winner Roger Federer, to reach his first major final. The two meet in the semifinals on Friday — a match sure to be watched by millions in Chung's homeland.
"I think all the people is watching Australian Open now because we make history in Korea," Chung said following his quarterfinal win.
Tennis has never had the sort of popularity that sports such as golf, taekwondo, baseball and soccer enjoy in South Korea. Unlike Japan and China, which have marketable tennis stars, well-funded coaching systems and a number of lucrative professional tournaments, South Korea's tennis infrastructure is still relatively undeveloped.
The 21-year-old Chung is the result of an effort to try to change this. Born with poor eyesight, he took up the sport as a young child after doctors said it would benefit him to focus on the color green. After showing promise, Chung became part of a junior tennis program funded by the electronics giant Samsung to develop the game in South Korea.
"They would pay for his coach, they actually selected the coach, then obviously as he progressed it got to different levels and a different structure," said his agent at IMG, Stuart Duguid. "That's how it started."
Chung had decent results as a junior player, finishing runner-up at Wimbledon in 2013, but his future potential really became apparent last year. He notched wins over Alexander Zverev, David Goffin and Gael Monfils, and then captured the much-hyped first installment of the Next Gen ATP Finals in November.
It was about this time that Duguid recommended Chung try a new coach. US Open finalist Kevin Anderson had just split with Godwin, his long-time South African coach, and Duguid thought he might be a good fit for Chung.
Chung, however, needed some convincing. He's worked hard on his English in recent years, but was hesitant to take on a Western coach due to the potential language barrier.
"Then he did a trial (with Godwin) and the trial went well," Duguid said.
Godwin had seen Chung play a few times and was excited by the prospect of working with him.
"I thought he was an incredible athlete and a very good ball-striker," Godwin said. "He's one of the most exciting movers to hit this court since Novak Djokovic broke out the slides on hard courts."
This shouldn't be surprising given that Chung grew up idolizing Djokovic and modeled his game after the former No. 1. Chung grew up dreaming of playing on center court at Melbourne Park because this is where Djokovic won the first of his 12 majors in 2008.
"I'm just trying to play (like) Novak because he playing good in baseline and he's mentally really strong," Chung said after beating Djokovic in the fourth round. "I'm just honored to see him again on the tour. Today my dreams come true."
Now, Chung has another big test in the semifinals: Federer. The Swiss great is playing in his 43rd Grand Slam semifinal; Chung his first. Godwin said Chung just has to focus on his own game plan and try not to think about Federer's presence across the net.
"It's a big moment, it's an enjoyable moment," he said. "The way he's playing, I'm sure there's going to be more, but for right now, you've got to embrace it."
Win or lose, Chung's profile will certainly only continue to grow. With the Australian Open promoting itself as the Grand Slam of Asia-Pacific, Duguid said it's a perfect opportunity for Chung to pursue opportunities with companies back home.
"Now, rather than us calling them, they're calling us," he said. "I can't remember the last time that something happened so suddenly, overnight."