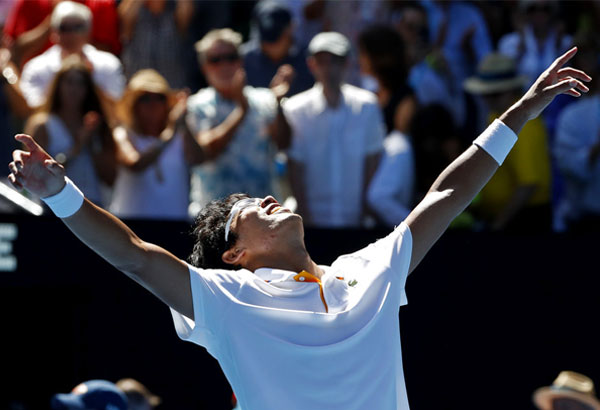 South Korea's Chung Hyeon celebrates after defeating United States' Tennys Sandgren in their quarterfinal at the Australian Open tennis championships in Melbourne, Australia, Wednesday, Jan. 24, 2018. | AP Photo/Ng Han Guan
Chung's amazing run continues into Australian Open semis
John Pye
(Associated Press) - January 24, 2018 - 1:28pm
MELBOURNE, Australia — Hyeon Chung has reached the semifinals of a Grand Slam for the first time, following up his upset victory over six-time Australian Open champion Novak Djokovic in the fourth round with a 6-4, 7-6 (5), 6-3 win Wednesday over Tennys Sandgren.
The No. 58-ranked Chung is the first Korean player to reach the last four of a major, and the lowest-ranked man to reach the Australian Open semifinals since Marat Safin in 2004.
After taking out No. 4 Alexander Zverev and 12-time major winner Djokovic in back-to-back rounds, Chung could next face defending champion Roger Federer for a spot in the final. Federer was playing Tomas Berdych later Wednesday in the quarterfinals.
After missing a match point on Sandgren's serve and earning three more at 40-0 while serving for the match, the 21-year-old Chung got a bit tight. He missed four match points in the final game in all and had to fend off two break points as the pressure increased.
"In last game, I'm thinking to start what I had to do in ceremony or something like that," he said, explaining how he got slightly ahead of himself. "After deuce, break point. Nothing to do with ceremony. Just keep focused."
Until the last game, Chung had been simply too consistent for No. 97-ranked Sandgren, the 26-year-old American who had never won a match at a Grand Slam tournament or beaten a top 10 player until last week.
Sandgren's unexpected run — he beat 2014 champion Stan Wawrinka and No. 5 Dominic Thiem en route to the quarterfinals — was overshadowed by heavy scrutiny of his social media accounts and his follows and retweets of far-right activists. He deleted his Twitter history before the quarterfinals, but must have been distracted by the fallout.
There were no distractions for 2016 champion Angelique Kerber, who routed US Open finalist Madison Keys 6-1, 6-2 to reach the semifinals.
Kerber had a breakout year in 2016, winning the Australian and US Open titles and reaching the No. 1 ranking, but slipped into the 20s last year. She didn't win a title between the 2016 US Open and the Sydney International earlier this month.
Her third-round victory over Maria Sharapova made her the only singles Grand Slam winner remaining in the women's draw. But a struggling fourth-round win over No. 88 Hsieh Su-wei had commentators wondering if Kerber was in 2016, or 2017 form.
Against No. 17-seeded Keys, she responded by winning the first four games to take control of the quarterfinal — her first at a major since the 2016 US Open. Keys held in the fifth game of the first set, but Kerber went on another roll to lead 3-0 in the second set.
Keys slowed the momentum by holding and then getting her first service break of the match, but Kerber responded quickly to finish it off in 51 minutes. She broke Keys six times in the match and now owns a 7-1 record again the American.
"I'm just trying to enjoy myself again on court," Kerber said of change of fortunes. "I know that I was working hard in the offseason, and I know that I can play good matches. I know that I can win close matches and also, yeah, going out there and playing good in the bigger tournaments.
"I just try to find the feeling back that I had, like 2016, and just enjoying my time. I mean, on and off court."
For Keys, it was another disappointing loss in a major. She lost the US Open final to Sloane Stephens last September but said she was learning with every experience in the majors.
"I'm not going to walk away from this tournament and think it was terrible because I had one bad match," Keys said. "I definitely think I have taken a lot of steps in the right direction and feel good about my game and feel like I'm thinking a lot clearer out there. I think it's just going to take a little bit of time."
Kerber's semifinal opponent will be decided later Wednesday in a quarterfinal match between top-ranked Simona Halep and No. 6 Karolina Pliskova.