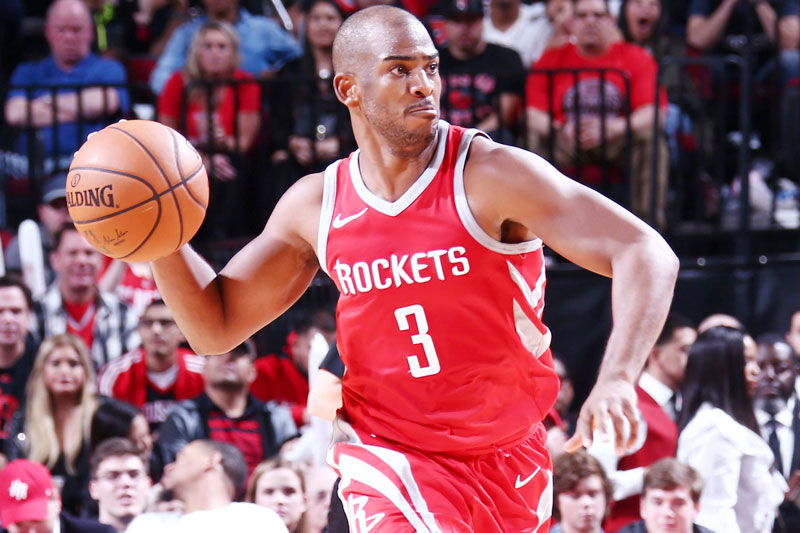 Chris Paul of the Houston Rockets passes the ball against the Golden State Warriors in a game at the Toyota Center in Houston, Texas. AFP

Paul, Rockets end Warriors' road run; Thunder crush James, Cavs
(Associated Press) - January 22, 2018 - 12:00am
HOUSTON – Chris Paul scored 33 points and 11 rebounds, James Harden had 22 points and the Houston Rockets held off the Golden State Warriors 116-108 on Saturday night to snap their 14-game road winning streak.
Harden stepped back from Stephen Curry for a 3-pointer as the shot clock expired to make it 114-108 with 1:10 left. Harden then blocked Curry's 3-point attempt after a timeout, and Paul made two free throws with 28 seconds left.
Golden State lost away from home for the first time since Nov. 22. The Warriors had won seven straight in Houston.
Kevin Durant led Golden State with 26 points, Draymond Green had 21 and Curry added 19 on a night he went 5 of 15 on 3-point attempts.
The Warriors were wrapping up a five-game road trip and had won the first four games to tie a franchise record for consecutive road wins. But they struggled from the outset Saturday and trailed by double digits for most of the first half.
It was Harden's second game back after missing seven with a strained hamstring. He was in a much better rhythm than in his return Thursday night, when he scored a season-low 10 points. He had eight assists, two steals and two blocks Saturday.
In Cleveland, LeBron James came up just short of 30,000 points.
Oklahoma City nearly got there, too.
Unable to stop Paul George, Russell Westbrook or Carmelo Anthony, the Cavaliers were embarrassed 148-124 by the Thunder, who not only rolled to their fourth straight win but kept James shy of a historic milestone.
George scored 36 points, Westbrook had 23 and 20 assists and Anthony dropped a season-high 29 points as the Thunder tied the record for the most points given up by a Cleveland team in a regulation game. Philadelphia scored 148 on the Cavs back in 1972.
"I've never in my basketball life gave up 148 points, not even probably playing video games," James said. "They got everything that they wanted. Inside, outside, they had it moving."
In other results, Miami nipped Charlotte, 106-105; New Orleans turned back Memphis, 111-104; Philadelphia routed Milwaukee, 116-94; Minnesota upended Toronto, 115-109; Portland downed Dallas, 117-108; and the Utah Jazz ripped the Los Angeles Clippers, 125-113.