Clippers nip Rockets for 5th win in a row
January 16, 2018 | 3:30pm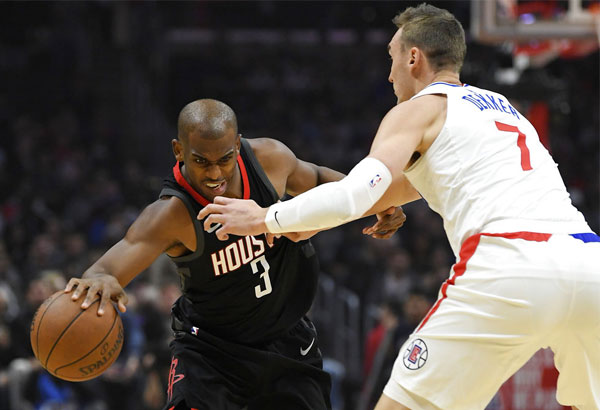 LOS ANGELES — Lou Williams scored 31 points, Blake Griffin added 29 before his ejection, and the Los Angeles Clippers defeated the Houston Rockets, 113-102, on Monday night (Tuesday Manila time) in Chris Paul's heated return to Staples Center against his old team.
Buoyed by Williams' 13th straight game of 20 or more points, the Clippers won their fifth in a row.
Paul had 19 points, six rebounds and seven assists.
Things got testy with 3½ minutes to go. Griffin scored under the basket and Paul was called for a foul. Paul ran over to the referees in disbelief, while Rockets coach Mike D'Antoni appeared to unleash expletives in Griffin's direction.
The referees reviewed video of the play and confirmed the foul on Paul, while also assessing double technicals to Griffin and D'Antoni.
The crowd was on its feet with 1:12 to go after Griffin caught the ball near the midcourt sideline and slammed it off Eric Gordon's back in order to keep it from going out of bounds. Nine seconds later, Griffin and Trevor Ariza received double technicals after exchanging words, and both were ejected.
Griffin high-fived players on the Clippers' bench as he stormed off the court, tearing off his jersey in the process.
Paul got booed when he brought the ball up court for the first time. Some fans stood and applauded a video tribute to him during a timeout in the first quarter, when Paul waved from the bench, but most appeared to not have forgotten Paul's desire to leave last summer after six years without a title in Los Angeles.
Gordon, another ex-Clipper, had 19 points and Ariza added 17. Houston's three-game winning streak ended with 40 percent shooting and injured star James Harden out.
Griffin and Williams dominated the third quarter, combining for 20 points while extending the Clippers' lead to 92-84. Griffin ran off nine in a row and Williams added two 3-pointers.
The Rockets controlled play in the first quarter and halfway into the second, going up by 10 points.
But the Clippers' bench — nicknamed the "Goon Squad" — gave them their first lead on a three-point play by Wesley Johnson in the second. He dunked off an alley-oop pass from Williams and made the free throw after getting fouled by Paul for a 47-46 lead.
Williams scored nine in a row, capped by a 3-pointer, and Jawun Evans added a basket that sent the Clippers into the fourth leading 59-56.