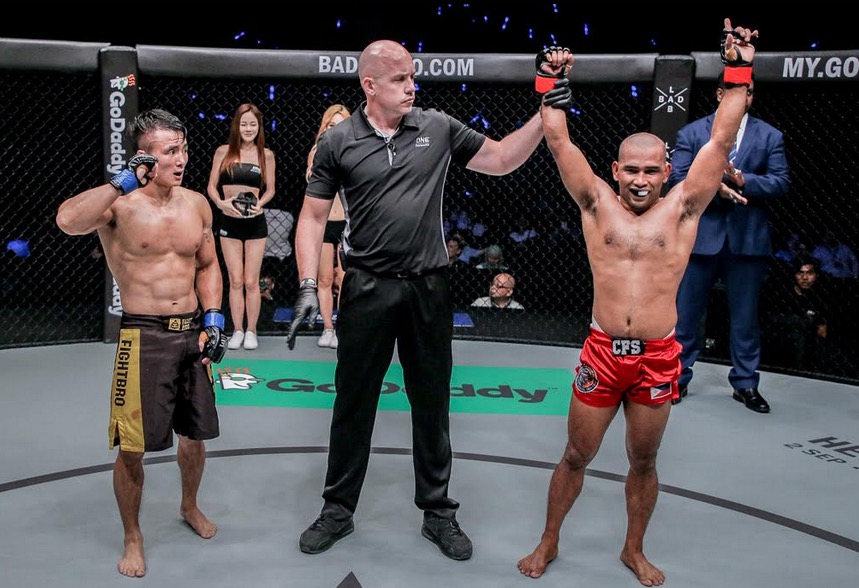 Rene Catalan (right) shortly after defeating Huo You Ga Bu of China August last year. | ONE Championship Photo
Catalan aims to get streak going in ONE's Jakarta card
(philstar.com) - January 12, 2018 - 12:00pm
MANILA, Philippines — After picking up two noteworthy victories in 2017, Rene Catalan hopes he could ride on the momentum in the new year.

The highly decorated Wushu practitioner seeks to extend his winning ways when he squares off with Peng Zue Wen of China in a three-round strawweight clash at ONE Championship's firs card of the new season, "Kings of Courage," at the Jakarta Convention Center on January 20.

"I am exerting a tremendous amount of effort in training. I want to keep on winning," he said. "I am inspired to win my match because I am representing the Philippines and it's always an honor to fight for country. My goal in this bout is to win and bring pride to my nation."

For Catalan, his first trip to the ONE Championship cage this 2018 is another step in his evolution as a martial artist, and he hopes to keep up his winning streak and inch closer to a potential shot at the ONE strawweight title.

"My goal is to compete for the ONE strawweight world championship. I know before I get to that stage, I still have a lot of work ahead of me," he stated.

But before getting to the level required for that grand stage, Catalan has to crack the upper echelon. And standing on his way is Peng — a 2014 Chinese National Youth Grecco champ who made his debut in the promotions here in Manila last November.

The Chinese standout leaned on his impeccable grappling to overwhelm Cambodia's Phat Soda before knocking him out with an awe-inspiring suplex halfway through the opening stanza.

"For this match, I think the strategy will flow once I am in the cage. I will just do my best to get the win, but also provide an exciting bout for the audience to enjoy," the Iloilo native added.

"I am preparing a solid defense against him, but of course I am mixing in some offense as well. I am not sure if he will expect that I will add a twist to my game, but most of my preparation is in strength and conditioning," Catalan explained.

The 39-year-old fighter is currently on a three-match win streak. He is the lone Filipino competing in the showpiece in Indonesia.

"Every fighter dreams to become a world champion. I really hope that ONE Championship will give me an opportunity to vie for the title in the future. This bout might be the door to a world title contest. Let us all hope for the best," the Catalan closed.