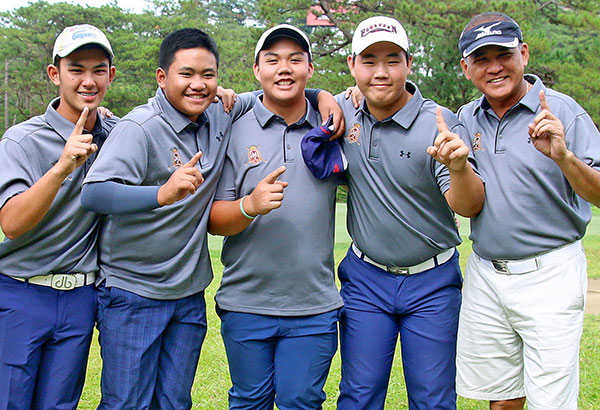 Members of the triumphant Manila Southwoods team are Aidric Chan, Carl Corpus, Luigi Paolo Wong, Joo Hyung Kim and team captain Jun Plana. Andy Zapata Jr.
Southwoods reasserts supremacy in Fil-Am tiff
(The Philippine Star) - December 16, 2017 - 4:00pm
BAGUIO, Philippines — Manila Southwoods kept its domination in the Department of Tourism Fil-Am Invitational Golf Tournament, completing another double-championship in the 68th edition of this annual event at the Baguio Country Club and Camp John Hay courses here.
Joo Hyuk Kim recorded the only sub-par game at the short and tricky BCC course with a two-under 67 worth 38 points to lead Southwoods' closing round of 137 for a 561 total and a whopping 29-point victory in the Fil Championships.
At the CJH course, Kristoffer Arevalo made an even par worth 36 points to power the Carmona, Cavite-based parbusters to 134 and 501 total for an even bigger 50-point margin in Am Championships.
"We're so much relieved our boys delivered the win," said non-playing co-captain Jerome Delariarte.
"We know that they could play well because these are the best amateur players, the cream of the crop," added Delariarte, a part of the grand slam winning Southwoods team in 1998.
Junjun Plana, a Southwoods mainstay from the 90s, shot a 33 along with youngsters Carl Corpus and Aidric Chan as Southwoods matched its three-peat in 1998.
Joo, 15, emerged as the best performer with an even par worth 144 in the par 61 and 69 BCC and CJH courses. He went home with the individual championship.
Jude Eustaquio closed out with a three-over for 33 points, with Luis Antonio Asistio adding 30, Inigo Raymundo 28 and Dan Cruz 26, for 117 and a three-round total of 532.
Nik Gatmaytan carded 31 to lead Royal Northwoo9ds to 116 and a 501 total, 12 off Mizuno X-1R which shot a closing round of 121.
Southwoods won in 2015 behind a team led by Justin Quiban. Last year, Yuto Katsuragawa had an eight-under to lead the team to the crown.
All in all, Southwoods has won 15 of the last 21 years it has played in the Fil-Am, the most for any club.