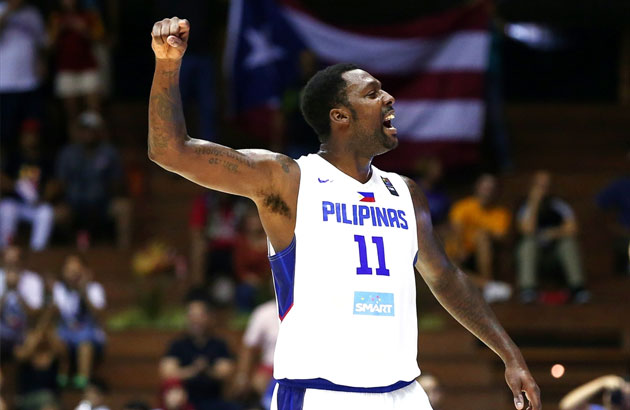 Andray Blatche is finally back for Gilas Pilipinas | FIBA.com
Gilas finally at full force with Blatche's arrival
MANILA, Philippines – Gilas Pilipinas will be in full steam in practice in the next few days as naturalized player Andray Blatche finally arrived Saturday night, looking in perfect shape six days before Team Philippine clashes with Japan in the opener of the FIBA Asia World Cup home-and-away qualifying series at the Komazawa Gymnasium in Tokyo.
Blatche immediately buckled down to work yesterday as he joined the Gilas pool in two practice sessions — a morning workout at the Meralco Gym and an evening practice at the Smart Araneta Coliseum — with their preparation focused for their face-off with Japan Friday and then their home game versus Chinese Taipei Monday at the Big Dome.
Gilas is determined to jumpstart its bid to build momentum for an expected uphill battle versus Australia in February.
No doubt, Blatche's arrival is a big morale boost for everybody.
In three major events — 2014 World Cup, 2015 FIBA Asia and 2016 OQT — he has played with Gilas, the 6-foot-11 New York native averaged 19.8 points, 10.4 rebounds, 1.5 steals and 1.1 assists.
The nine-year NBA veteran normed 17.8 markers and 9.2 boards in the 2015 FIBA Asia Championship in Changsha where they walloped the Japanese twice — first in the elims, then in the semifinals.
The Gilas coach was impressed by the sight of Blatche, unlike in 2015 when he was terribly overweight in showing up in training for the Asian meet.
"He looks good," said Reyes of Blatche, obviously in competitive form with the Chinese league where he's a part of now in its regular season.
"He had 26 (points) and 13 (rebounds) the last game, and another 24 and 12 in the previous game playing 30-32 minutes. So he's in pretty good shape based on those numbers," Reyes pointed out.
Blatche, however, has a lot of catching up to do in training.
"We had to go very slow. We basically had to go to almost square one because we did some things he's just picking up now," said Reyes.
Still missing in training among the 16-man pool was point guard Terrence Romeo.
A surprise guest in their morning practice was all-time Alaska Milk great import Sean Chambers, who's invited by the Gilas coach to say some piece.
"What you're doing here is much bigger than you can imagine. Even in the US, we follow everything Gilas. So make us proud," Chambers was quoted as saying by the Gilas coach.
Chambers is back in the country to serve as consultant to the Alaska Milk Aces.