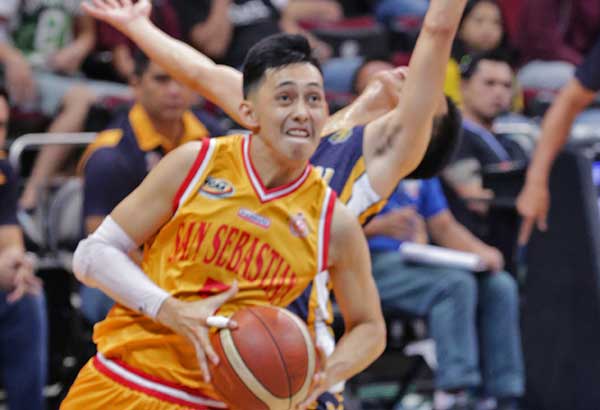 SSC's Alyn Bulanadi gets past JRU's Mark dela Virgen as he drives to the basket during their NCAA knockout match. ERNIE PEÑAREDONDO
Stags sink Bombers, target final vs Lions
Abac Cordero
(The Philippine Star) - October 27, 2017 - 4:00pm
MANILA, Philippines — San Sebastian finally found the way to beat Jose Rizal University yesterday, 85-73, and moved one win away from making it to the finals of the 93rd NCAA seniors basketball tournament.
With its season once again on the line, the Stags blew the Heavy Bombers off the court, breaking loose in the third quarter to win with plenty to spare at the Mall of Asia Arena in Pasay.
It was the first win by San Sebastian against JRU this season following two defeats in the elimination round.
It was the victory that mattered.
San Sebastian, which stayed in the finals race with a big win over Letran last Tuesday, advanced to another knockout match against defending champion San Beda on Nov. 7.
The winner of that match will advance to the best-of-three finals against unbeaten Lyceum, which won all its 18 games in the elims.
"Konti na lang (Just a little more)," SSC coach Egay Macaraya said as he entered the pressroom.
"One more game," he added.
Lyceum coach Topex Robinson was at ringside yesterday, scouting the opposition. He rose from his seat and left early in the final quarter and the Stags ahead by 20 points.
From a tight first quarter, the Stags took control in the second, and pulled away in the third period by scoring 30 points, anchored on Regille Ilagan's five three-pointers.
The Stags scored 16 unanswered points to turn a 49-43 lead into a commanding 65-43 advantage, and scored on a couple more easy baskets to make it 71-45.
The Heavy Bombers tried to put up a fight in the final quarter but couldn't overcome the deficit. Coach Vergel Meneses ran out of instructions for his players in the end, scratching his head as he stared at the giant scoreboard.
Ilagan finished with 21 points while Mike Calisaan and Allyn Bulanadi backed him up with 13 apiece.
"We focused on defense," said Ilagan.
Jed Mendoza scored 20 for the Heavy Bombers, who left the court not knowing what hit them.
In the juniors division, defending champion Mapua moved on to the finals with an 82-80 win over Letran while La Salle Greenhills forced a rubber match against San Beda with an 83-72 win.
The scores:
First game (Jrs)
CSB-LSGH 83 – Cagulangan 27, Marcos 7, Fornilos 11, Lao 11, David 7, Sangco 5, Mosqueda 3, Perez 2, Morales 0, Cruz 0, Lepalam 0, Pedrosa 0.
San Beda 72 – Mahinay 13, Nelle 11, Velasquez 9, Sese 8, Obenza 7, Tagala 6, Abu Hijleh 6, Alfaro 5, Etrata 4, Dela Rosa 3, Garcia 0, Lagumen 0, Oliva 0.
Quarterscores: 28-27, 48-44, 67-55, 83-72
Second game (Jrs)
Mapua 82 – Gozum 24, Bonifacio 16, Escamis 13, Lacap 12, Enriquez 7, Garcia 4, Jabel 4, Socias 2, Arches 0.
Letran 80 – Cordero 16, Monje 15, Guarino 12, Aniban 10, Tolentino 9, Peralta 6, Labrador 6, Tamayo 4, Fuentes 2, Reyson 0, Ganapathy 0, Culanay 0, Tabajen 0, Montes 0.
Quarterscores: 24-20, 44-39, 57-58, 82-80
The scores:
San Sebastian 85 – Ilagan 21, Calisaan 13, Bulanadi 13, David 10, Calma 9, Gayosa 7, Costelo 5, Navarro 3, Baetiong 2, Mercado 2, Capobres 0, Valdez 0.
JRU 73 – Mendoza 20, Teodoro 12, Dela Virgen 11, Poutouochi 8, AbdulRazak 6, Sawat 3, Lasquety 2, Bordon 0.
Quarterscores: 12-15, 41-34, 71-45, 85-73