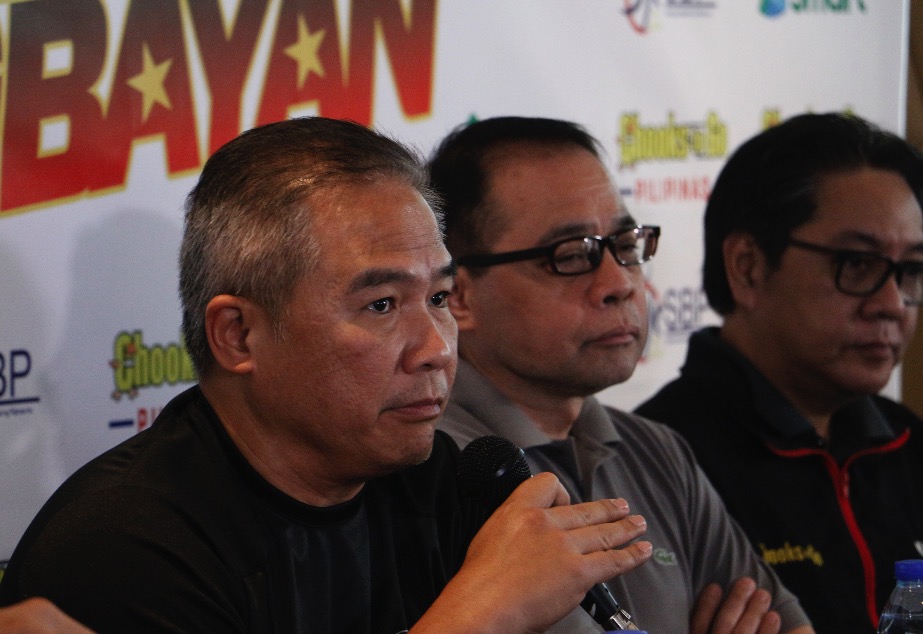 From left: Chooks-to-Go Pilipinas' head coach Chot Reyes with SBP's Robbie Puno and BAVI's Ronald Mascariñas | Philstar.com/Efigenio Toledo IV
Ebondo ruled out for Chooks Pilipinas in FIBA Asia Champions Cup
(philstar.com) - September 22, 2017 - 7:00am
MANILA, Philippines — The Red Ebondo for Chooks-to-Go Pilipinas episode has taken another turn.

Head coach Chot Reyes revealed on Twitter Friday that the Congolese cager will be unable to make it to the FIBA Asia Champions Cup in Chenzou China.

Just got word Ebondo wont make it na. Tamang-tama, Kazak has 4 imports here. @FIBAAsiaCC has given no final rosters yet. Wonder who'll play

— Chot Reyes (@coachot) September 22, 2017
Ebondo was one of the options to fill the second import slot for Chooks going into the club skirmish. Bright Akhuetie was ruled out due to the possible complications on bid for a UAAP residency.
The update came a day after the national team mentor retracted an earlier Tweet saying that Ebondo and Isaiah Austin have successfully secured their Chinese visas.

Just got word that both @IsaiahAustin & Rod Ebondo have gotten their Chinese visas!

— Chot Reyes (@coachot) September 20, 2017
Spoke too soon. Hindi pa pala na-issue yung kay Ebondo #smh

— Chot Reyes (@coachot) September 21, 2017

Chooks-to-Go Pilipinas will be leaning on the 7-foot-1 American Austin as its only foreign reinforcement in the skirmish that opens tonight. They take on Kazakhstan first.

The tournament only allows two foreign reinforcements for each team.

Hope is not for lost for Chooks, though, as two more cagers in Gab Banal and Andre Paras are listed and on standby as reserves.