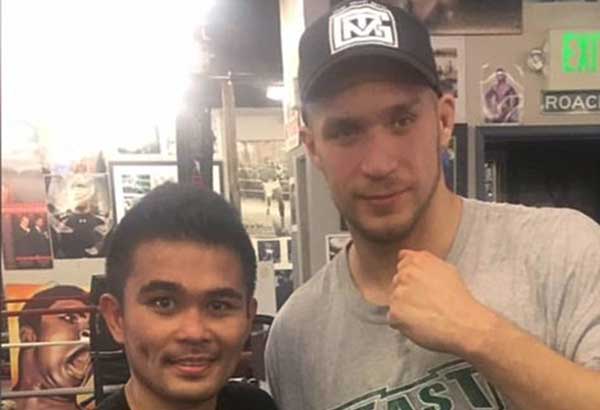 Brian Viloria (left) with undefeated blind MMA fighter Antoine Rosas who senses an opponent's location in the cage only through sounds and vibrations.
Viloria on track for title shot
MANILA, Philippines — Former WBC/IBF lightflyweight and WBO/WBA flyweight champion Brian Viloria is in line for a shot at another world title with his Los Angeles manager Gary Gittelsohn now evaluating options to seal the deal next year.
Last Saturday, Viloria stopped tough Miguel Cartagena, an American of Puerto Rican descent, at 0:44 of the fifth round to post the sixth win in his last seven outings since 2014 at the StubHub Center in Carson City. It was the Hawaiian Punch's second straight triumph after losing to Chocolatito Gonzalez at Madison Square Garden in New York in 2015. He previously outpointed Ruben Montoya in Tokyo last March.
The win over Cartagena was far from easy. Late in the first round, Viloria was rocked by a left hook and shaken up. Cartagena also dominated the action in the second round before Viloria turned it around. "I got a little too excited in the first couple of rounds," Viloria told The Star. "I eventually settled down, picked my shots and boxed."
Cartagena, 25, began to wilt in the fourth and reeled across the ring on his heels as Viloria stepped up his attack. Early in the fifth, referee Raul Caiz Sr. stoppage the carnage as a defenseless Cartagena took every blow that Viloria threw. Freddie Roach's Filipino chief assistant Marvin Somodio, who worked Viloria's corner with long-time cutman Ruben Gomez, said composure did the trick.
"Brian took a good left hook at the end of the first round because he got too excited and wanted to show a great fight," said Somodio. "He got careless a bit but managed to stay composed in the third and so forth until he got the stoppage." Somodio said Viloria's ready for another world title fight. "At flyweight, he wants to fight whomever," he went on. "And for me, sooner is better."
Somodio said Viloria's preparation was uncompromising. "Brian started training a week after his Japan fight," he said. "I can't remember all the boxers he sparred with because there were so many of them." Viloria's work ethic is exemplary and at 36, he remains a top contender in the 112-pound division.
"Cartagena was a dangerous opponent," said Gittelsohn. "He came to fight and pressure Brian. But he ate some horrific shots, painful left hooks to the body followed by strong right hands to the head. The flyweight division is definitely where Brian will stay and he still makes 112 comfortably."
Gittelsohn called the fight "a beautiful outing." "Brian looked solid, very solid," he said. "Brian closed the show strong and delivered a beautiful TKO. He was never badly hurt but got caught with a good punch at the end of round one because of carelessness. I'll be evaluating options with Mr. (Akihiko) Honda of Teiken Promotions. Brian will definitely have a world title fight in 2018."