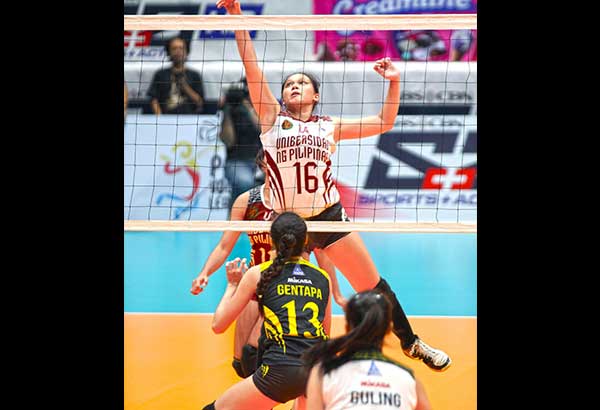 UP's Rose Mary Cailing's (16) unmolested hit against TIP's Jade Gentapa underscores the Lady Maroons' domination of the Lady Engineers. JUN MENDOZA
Lady Maroons rout Engineers
MANILA, Philippines — University of the Philippines smothered Technological Institute of the Philippines, 25-20, 25-9, 25-13, to rebound in Group B play of the Premier Volleyball League Collegiate Conference at the Filoil Flying V Center in San Juan yesterday.
The Lady Maroons faced little resistance from the Lady Engineers, storming to an 8-1 lead in the third frame, which they doubled to a 17-3 on their way to completing the sweep and bouncing back from their sorry five-set defeat to the Adamson Lady Falcons last week in the season-ending conference organized by Sports Vision.
Diana Carlos and Isa Molde combined for 26 points for UP, which outgunned TIP in attacks, 35-18.
The Lady Maroons also pounced on the Lady Engineers' poor service reception and came up with 10 aces with Molde accounting for six. They also put up a better net defense with eight blocks against TIP's two.
National U, starring hitters Aiko Urdas and Jaja Santiago and ace playmaker Jasmine Nabor, disposed of San Sebastian, 25-21, 21-25, 25-11, 25-18, in the second game to tie idle Far Eastern U at the helm of Group A play with 2-0 cards.
The Lady Stags dropped to 1-2.
"We just told them that they need to change their mindset not just because we're coming from a loss but for the changes in our system since coach's (Jerry Yee) resignation," said UP assistant coach Rald Ricafort. "We're helping them to stay focused as we work on what we need to do in the games."
Ashley Jinon scored six points while Alyssa Layug had five for TIP, which also dropped a four-set setback to San Beda last week to fall to 0-2.
UP's solid defense and floor coverage also held TIP's hitters to single-digit outputs with Ashley Jinon's six markers proving to be the team's best.
Gayle Layug had five, Eunice Mabayao made four, Jade Gentapa scored three and Aixel Cahigao and Khem Consencino combined for three hits for TIP, which dropped a four-setter to San Beda last week and in danger of missing the semis in the season-ending conference of the league backed by Mikasa and Asics.
Earlier, La Salle blew a two-set lead but fought back and outhit National U in the decider to carve out a 31-29, 25-23, 20-25, 19-25, 15-6 decision in men's play.