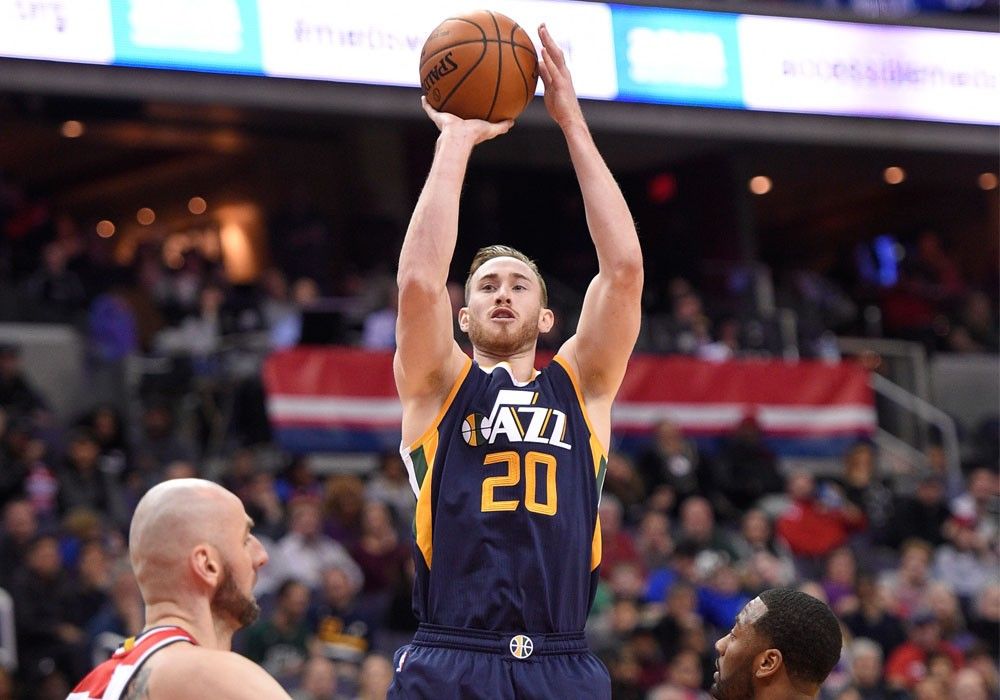 Utah Jazz forward Gordon Hayward (20) shoots against Washington Wizards center Marcin Gortat, left, of Poland, and guard John Wall, right, during the second half of an NBA basketball game, Sunday, Feb. 26, 2017, in Washington.
AP Photo/Nick Wass
Hayward powers Utah over Washington for 3rd straight win
(Associated Press) - February 27, 2017 - 3:03pm
WASHINGTON — Gordon Hayward scored 30 points while Rudy Gobert added 15 points and 20 rebounds as Utah beat Washington 102-92 for its third straight NBA victory on Sunday (Monday Manila time).
Northwest Division-leading Utah led by as many as 24 points before Washington got within six with just over 2 minutes left. Hayward hit a pair of jumpers to seal the win.
George Hill added 21 points for Utah.
Washington, the Southeast Division leader, has lost two in a row for the first time since early January. John Wall led the Wizards with 23 points and 11 assists. Bradley Beal, who was scoreless in the first half, added 22 points.
Utah converted 23 of 32 free throws, while Washington made 10 of 13. The Jazz out-rebounded the Wizards 52-27.
In Los Angeles, Kawhi Leonard scored 25 points as the San Antonio Spurs routed the Lakers, 119-98 in Los Angeles' first home game since Magic Johnson took over the franchise's basketball operations.
LaMarcus Aldridge had 16 points for the Spurs, who have won four straight and nine of 11.
Pau Gasol added 15 points against his former team, and the Southwest Division leaders had little trouble with the Lakers, who have lost four straight and 15 of 19.
Five days after owner Jeanie Buss put Johnson in charge of basketball operations, the Lakers' dismal season still hasn't changed much, although new Lakers acquisitions Corey Brewer and Tyler Ennis got limited playing time.
Rookie Brandon Ingram scored a season-high 22 points as the Lakers fell to 19-41, ensuring their fourth consecutive non-winning season.
In Milwaukee, Greece's Giannis Antetokounmpo scored 28 points and Tony Snell made a clinching 3-pointer from the corner in the closing seconds as Milwaukee held on to beat Phoenix, 100-96.
Michael Beasley added 17 points and Malcolm Brogdon had 15 as the Bucks swept the two-game season series with the Suns. Greg Monroe finished with 14 points and Snell had 13.
TJ Warren led the Suns with 23 points. Alan Williams scored a career-high 17 points and tied his career high with 15 rebounds, while Devin Booker added 15 points and Eric Bledsoe had 11.
Clinging to a one-point lead, the Bucks came out of a timeout with Monroe inbounding the ball to Antetokounmpo. He dribbled the clock down before passing to Brogdon, who whipped the ball to Snell in the corner. Snell hit a 3 with a defender flying at him.
In Toronto, DeMar DeRozan scored 33 points, Serge Ibaka added 18 and Toronto beat Portland, 112-106.
The Raptors won their third in a row and wrapped up a second straight season sweep of Portland. They previously had beaten the Trail Blazers 95-91 in Portland on December 26.
Damian Lillard scored 28 points for the Trail Blazers, who got 18 from Maurice Harkless.
Up 98-96 with 4:41 remaining, the Raptors scored the next six points, with back-to-back jump shots from Ibaka and a pair of free throws from DeRozan putting them up by eight with 3:16 remaining.
In Auburn Hills, Michigan, Jaylen Brown sank a 3-pointer from the right corner while being fouled with 37.6 seconds remaining, part of a five-point possession for Boston that lifted the Celtics over Detroit, 104-98.
The Celtics were down 96-95 when Brown connected while being fouled by Marcus Morris. Brown missed the ensuing free throw, but Detroit couldn't come up with the rebound, and Tobias Harris was called for a loose-ball foul. Marcus Smart added two free throws to put Boston up 100-96.
Isaiah Thomas led the Celtics with 33 points. Andre Drummond had 17 points and 15 rebounds for the Pistons, but he went 1 of 11 on free throws and was taken out for some key possessions toward the end to prevent Boston from fouling him.
In Denver, Mike Conley scored 31 points including 13 in the fourth quarter to help Memphis hold off Denver, 105-98.
Zach Randolph finished with 20 points and 11 rebounds for Memphis, which snapped a two-game skid. Marc Gasol chipped in 23 points and found his mark from long range by hitting three 3-pointers.
The Grizzlies have now won four straight in Denver — an intriguing run, considering they're just 9-32 all-time in the Mile High City.
Danilo Gallinari had 24 points as Denver dropped to 0-12 this season when failing to reach the 100-point plateau.
The Grizzlies outscored the Nuggets 21-13 in second-chance points and out-rebounded them by a 49-39 margin. What's more, Memphis finished 22 of 25 from the free throw line.
In Oklahoma City, Russell Westbrook scored 41 points in his 29th triple-double of the season to help the Oklahoma City Thunder beat the New Orleans Pelicans, 118-110.
Westbrook had 21 points in the fourth quarter. He shot 7 for 19 from the field the first three quarters and was 7 for 10 in the fourth. He also had 11 rebounds and 11 assists in the 66th triple-double of his career.
Enes Kanter had 20 points and nine rebounds, and Steven Adams added 13 points and 10 boards for the Thunder, who won their third straight.
Anthony Davis scored 38 points and DeMarcus Cousins had 31 points and 10 rebounds, but he played just 22 minutes and fouled out while getting dunked on by Westbrook. The Pelicans fell to 0-3 since acquiring Cousins in a trade with Sacramento.
In Los Angeles, Blake Griffin scored a season-high 43 points and Chris Paul had 15 points and 17 assists as Los Angeles held off Charlotte in overtime, 124-121.
The Hornets lost despite getting 34 points from Kemba Walker and 31 from Nicolas Batum, who shot 8 of 13 on 3-pointers.
Charlotte had a chance to win at the end, trailing by one late in overtime, but a poor pass by Walker was picked off by center DeAndre Jordan with six seconds to go. He followed Paul's miss on the other end with a dunk that all but sealed the victory.
J.J. Redick had 22 points for the Clippers.