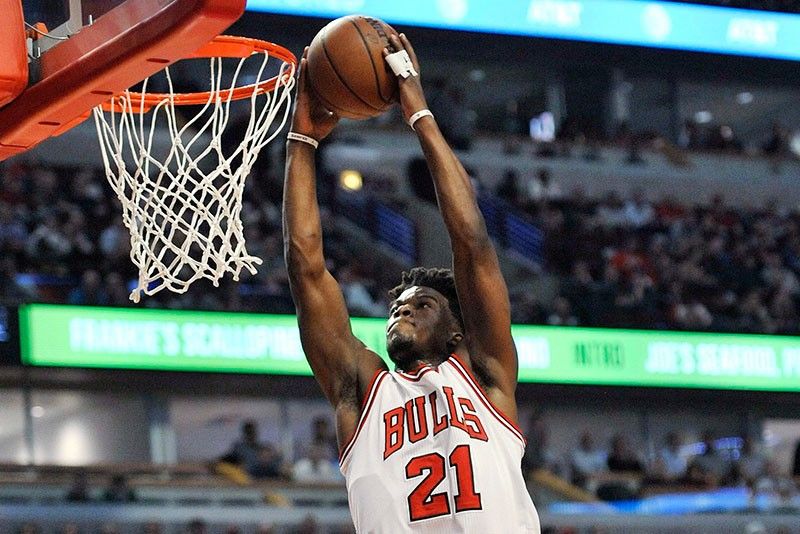 Chicago Bulls' Jimmy Butler (21) dunks against Boston Celtics' Jae Crowder (99) during their game in Chicago.
AP
Hot Butler delivers clincher vs Celtics
(Associated Press) - February 18, 2017 - 11:46pm
CHICAGO – Jimmy Butler and Isaiah Thomas should have plenty to talk about when they see each other in New Orleans this weekend.
Butler made two free throws with 0.9 seconds left, sending the Chicago Bulls to a 104-103 victory over Thomas and the Boston Celtics on Thursday night.
Butler's clutch foul shots capped a memorable duel with fellow All-Star Thomas in the NBA's final game before the break. Butler and Thomas both finished with 29 points and seven assists.
Butler was touched on the right elbow by Marcus Smart on a turnaround jumper as the horn sounded, drawing a foul. Butler calmly patted his elbow and then walked toward the line while an incredulous Smart danced up the court in disbelief.
"He got a piece of the elbow," Butler said. "People are going to say 'Aw, he didn't foul him,' but he did. So at the end of the day they made the right call."
Said Thomas: "That's horrible when it costs you a game you should have won. That's a bad call."
After Butler's free throws, Al Horford air-balled a baseline jumper on the Celtics' last shot, giving Chicago (28-29) consecutive wins against Eastern Conference powers Toronto and Boston (37-20).
"I'm excited about these two wins over two very good teams," coach Fred Hoiberg said. "Hopefully, we can build off of these coming back off the break."
In the only other game, Washington thumped Indiana, 111-98.
Back in Chicago, Bobby Portis had a season-high 19 points for the Bulls, who went 22 for 22 at the line. Robin Lopez had 15 points and eight rebounds, and Taj Gibson finished with 12 points and nine boards.
"It's big for us. It's going to propel us to the second half of the season, which our team really needs," Portis said.
Thomas went 8 for 18 from the field in his 41st straight game with at least 20 points, breaking the team record set by John Havlicek during the 1971-72 season. He made two free throws with 1:30 left to make it 103-100, but he was blocked by Butler on a layup attempt and missed a jumper down the stretch.
Boston also was outrebounded 51-31, leading to a 22-4 deficit in second-chance points.
"They were bigger than us at almost every position and then we didn't do a good job running down balls. So rebounding was an issue," coach Brad Stevens said.
Kelly Olynyk had 17 points and seven boards for the Celtics, who had won four in a row and 11 of 12. Terry Rozier made three 3-pointers and finished with 11 points.