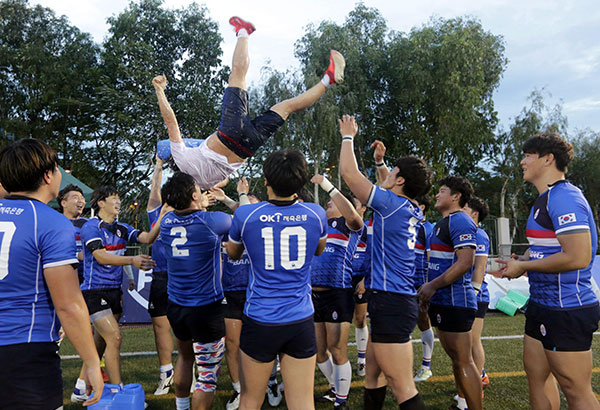 Champion Team Korea celebrates after winning the Rugby U-19 Cup over United Arab Emirates at the International School of Manila field. ERNIE PEÑAREDONDO
Jr Volcanoes 4th in Asian U-19 rugby
Olmin Leyba
(The Philippine Star) - December 18, 2016 - 12:00am
MANILA, Philippines - Host Philippines failed to sustain a fiery start and conceded a 15-35 defeat to Singapore to wind up fourth in the Asia Rugby U19 Division 1 Championship yesterday at International School of Manila field.
The Junior Volcanoes held a 15-9 margin but the Singaporeans came through with a converted try in the last play of the first half to wrest the upperhand at 16-15 then shut out the home side in the final 35 minutes to romp off with the bronze.
Korea later captured the Cup title after eking out a hard-earned 14-13 squeaker over UAE in a pulsating finale.
Joonbeam Park struck with a huge try and Kimim Kim converted in the last 2:30 as the Koreans completed their fightback from a 0-10 deficit and crowned themselves champs.
The First Pacific-backed Junior Volcanoes settled for fourth in the four-country tourney.
"We fell short," Phl assistant Jake Letts said after the loss to Singapore. "I think the momentum swung just before the second half. We were up and they scored, it could've been the turning point,"
The Singaporeans punched in 19 unanswered points in the second half, pouncing further on the hole in the Phl formation left by exit of Phl co-captain Robert McCafferty due to a leg injury, to seal the win.
"That (McCafferty's injury) didn't help but credit Singapore, they were the better team today," said Letts."They played well especially in the second half. That's probably our weakness in this tournament; we can play very well in the first half but in the second half, we tended to fade."
James Ryan put the Junior Volcanoes up at 15-9 with a try off a scrum at the 31st minute.
But with barely no time left, the Singaporeans managed to pound through the Phl defense and send Ghalib Bin Samari home to close in at 14-15. Viviyan Philip then made the conversion to give Singapore a one-point edge at intermission.
It was all-Singapore after restart as Austin Ng, Lucas Tay, and Umar Bin Abdul Aziz took turns grounding the ball while Philip converted twice more and Ruzaini Bin Mohammed converted once.
"It was a very good learning curve for our boys," said Philippine Rugby Football Union director for rugby Matt Cullen, noting the Filipinos need to improve on playing field position and attacking in the red zone next time.
"These boys are only 17 year olds competing in an U19 tournament, which means they can come back next year. If we could keep the core together again next year and compete in this division, which we intend on hosting again, I'm fairly confident we'll be competing for No. 1 in the Cup," he added.