NBA Wrap: Durant logs triple double as Thunder down Hawks
December 10, 2015 | 10:00pm
OKLAHOMA CITY — Kevin Durant had 25 points, 12 rebounds and 10 assists in his seventh career triple-double as the Oklahoma City Thunder beat the Atlanta Hawks 107-94 on Thursday, (Friday in Manila).
Russell Westbrook had 23 points and 10 assists. It was just the second time both Durant and Westbrook had at least 10 assists in the same game, and the first time it happened in a win.
Durant got his final assist on a pass to Westbrook for a 3-pointer with 1:14 remaining.
Serge Ibaka had a season-high 23 points and 10 rebounds for the Thunder, who won their third straight.
Kent Bazemore scored 22 points and Jeff Teague had 18 for the Hawks, who had won their previous two games. Kyle Korver added 12 and Thabo Sefolosha finished with 11.
The Thunder outrebounded the Hawks 52-34.
BULLS 83, CLIPPERS 80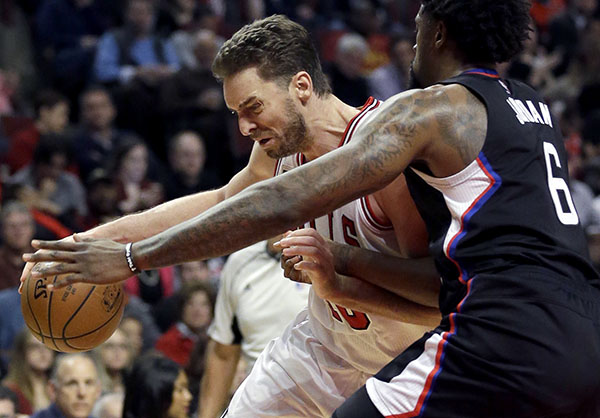 Chicago Bulls center Pau Gasol, left, drives against Los Angeles Clippers center DeAndre Jordan during an NBA game in Chicago. | AP Photo/Nam Y. Huh
CHICAGO — Pau Gasol scored 24 points as Chicago beat the Clippers to end a three-game losing streak.
The Bulls caught a big break midway through the third quarter when Clippers Al-Star Blake Griffin was ejected for a hard foul against Taj Gibson, and they came away with the win after blowing a 16-point lead.
Jimmy Butler finished with 14 points after pouring in a career-high 36 the previous night against Boston. Derrick Rose scored all of his 11 points in the second half, and Gibson finished with 12 points and eight rebounds.
Griffin led the Clippers with 18 points. Chris Paul scored 12 but missed the tying 3-point attempt, while DeAndre Jordan added 10 points and 14 rebounds. The Clippers hit 10 of 22 3-pointers but came up short after winning three straight and six of seven.
NETS 100, 76ERS 91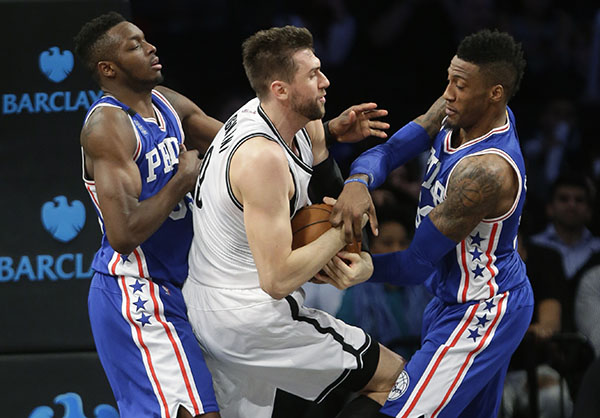 Philadelphia 76ers' Jerami Grant, left, and Robert Covington, right, fight for control of the ball with Brooklyn Nets' Andrea Bargnani during an NBA game in New York. The Nets won 100-91.| AP Photo/Frank Franklin II
NEW YORK – Andrea Bargnani scored a season-high 23 points, and Thaddeus Young had 18 points and 11 rebounds as Brooklyn beat Philadelphia.
Brooklyn won for the sixth time in its last seven home games. Philadelphia fell to 0-13 on the road.
Shane Larkin scored 14 points and Bojan Bogdanovic had 10 for the Nets.
Jahlil Okafor had 22 points and 10 rebounds, and TJ McConnell scored 17 points for the 76ers.