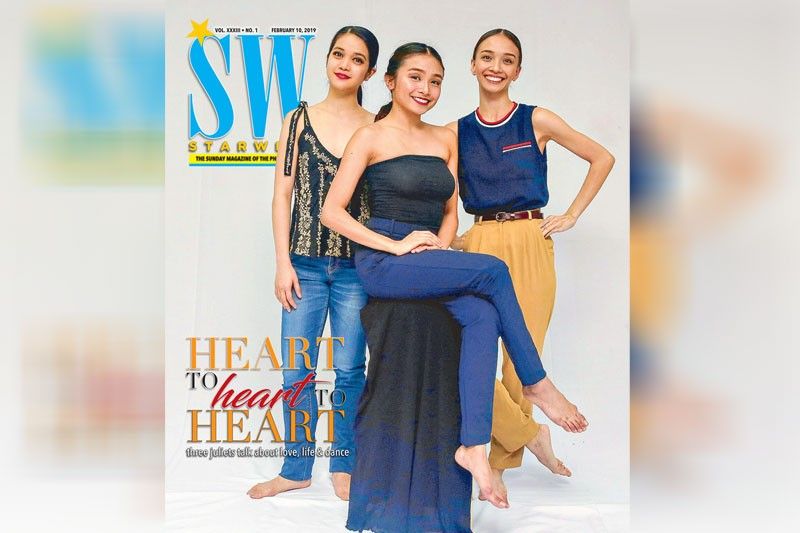 (The Philippine Star) - February 12, 2019 - 12:00am
Three Juliets talk about love, life & dance
With love and romance thick in the air, it's the perfect time to relive the immortal love story of Romeo and Juliet. Amid bitter family feuds and revenge for the death of a friend, love finds a young girl and a young man and binds them in a tragedy that transcends time.
Shakespeare's masterpiece comes to life anew in Ballet Philippines' production of Romeo and Juliet, on stage at the Cultural Center of the Philippines starting Friday, Feb. 15, until the following Sunday, Feb. 24.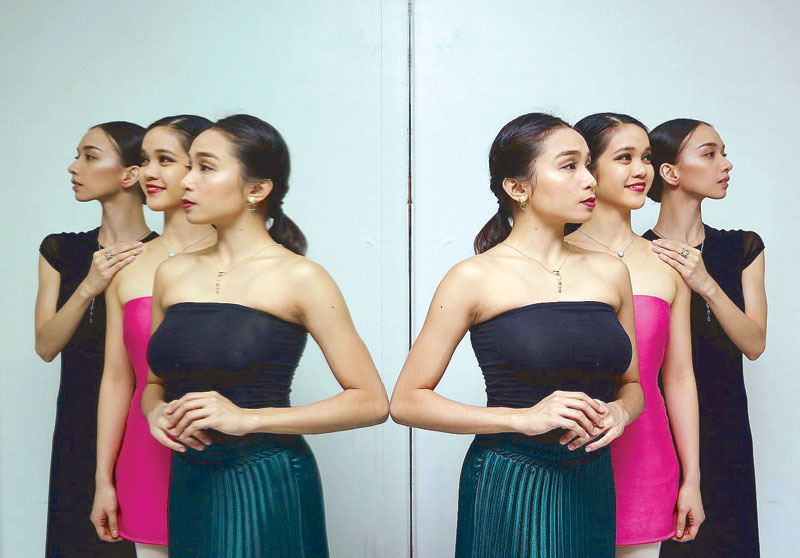 Denise Parungao, Monica Gana and Jemima Reyes alternate as Juliet in Ballet Philippines' Romeo and Juliet choreographed by National Artist for Dance Alice Reyes. STAR photos by Kriz John Rosales
This production is a masterpiece in itself, with the collaboration of two National Artists: the late Salvador Bernal for the stunning sets – he imagined a larger-than-life Verona – and Alice Reyes for the choreography. First staged in 1981, it was Reyes' first work in the classical ballet idiom, and it won critical and popular acclaim. The ballet was restaged in 1984 and 1988; now, three decades later, Reyes returns as artistic director of Ballet Philippines as it approaches its 50th year and breathes new life into R&J.
Three formidable pairs are cast as the star-crossed lovers: Denise Parungao and guest artist Joseph Gatti, Jemima Reyes and Victor Maguad, Monica Gana and Ronelson Yadao.
"It has been such a heady experience for all of us at rehearsals," says Reyes, "each pair with their own dynamic interpretation and dramatic portrayals of the roles of the two lovers… It leaves me breathless to watch them dance together!"
She adds, "I reworked my choreography, determined to match the grandness of this Shakespearean tale, the sublime Prokofiev music and Badong (Bernal)'s entire production, operatic in scale."
STARweek recently caught up with the three Juliets – Denise, Jemima and Monica – for a pictorial for some exquisite jewelry from All That Glitters. As the photos – and our Q&A with the three girls – on these pages will affirm, love and dance and beauty and life are priceless and timeless gifts.
What was your first reaction when Alice Reyes told you that you would be Juliet?
Denise: It's my dream role! I just got super excited and never stopped watching R&J videos on YouTube from then on.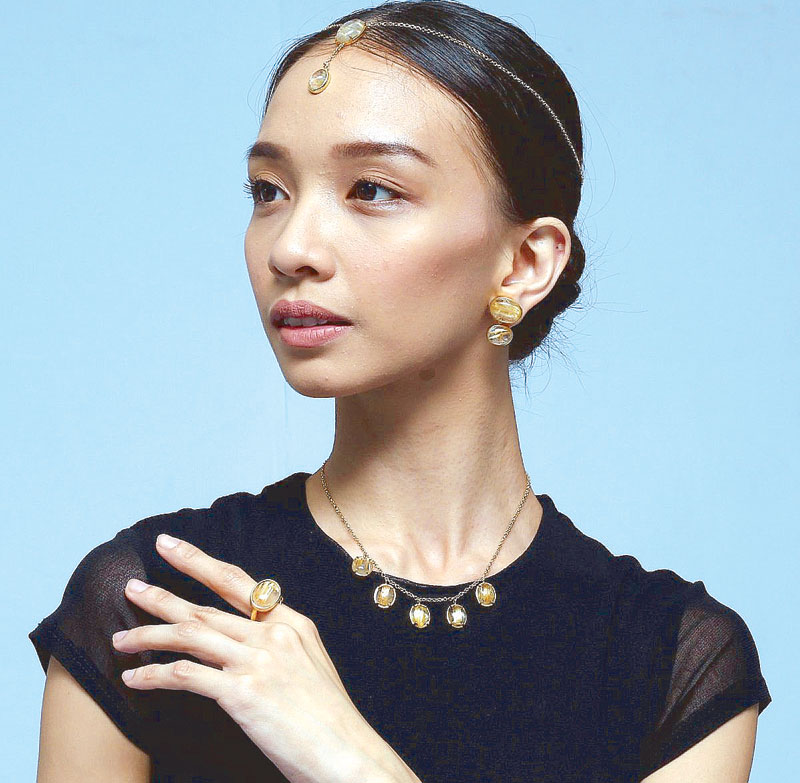 Denise wears pieces from the Kara collec- tion (above) and earrings and a necklace with green and black agate from the Isis collection by All That Glitters
Jemima: I was in denial at first. Juliet has always been my ultimate dream role. The role where I tell myself that I can already die if I ever do it in this lifetime. So when AR first mentioned I'm doing Juliet, I didn't react yet. I waited until the casting was out. It's true, I was there. But up until now, I still can't believe I'm doing it.
Monica: I was totally speechless. My eyes were about to pop out. I even remember having tears. Happy tears though. Never did I think that I would be given the role of Juliet.
Are you in love, the way Juliet is in love with Romeo? If yes, what will you bring to the role from your personal life? If not, how will you give life to the role?
D: I just got engaged, I'm definitely in love. I'm soon getting married just like Juliet. In other ballets like Giselle, there's acting but it is still "balletic acting," but when I act as Juliet, I react exactly the way how I would in real life. More theatrical, everything is exaggerated just so the audience could see. Everything is more human and natural.
J: I've fallen in love in a romantic kind of way. I'm lucky I have experienced it. I guess understanding the character and the story automatically draws out the emotions I've had from my personal life. The only difference is that Juliet's character was more intense and impulsive since she's young. That's how we're different from each other.
M: Yes, I am deeply in love – with dance. Kidding aside, I am not in love with anyone right now. I can relate to Juliet though in her journey to becoming a woman. At the beginning of the ballet, she is kind of naive. She has no voice, just following her parents. Juliet then meets Romeo, falling in love and willing to do anything for him. She becomes a woman as she makes a choice to be with this man. I can relate to Juliet's journey in my own towards maturity. I am at a stage where I am trying to find my voice in the world as well as learning to make my own decisions and stand by them. I hope to use my experiences to becoming a more mature person to be the courageous Juliet.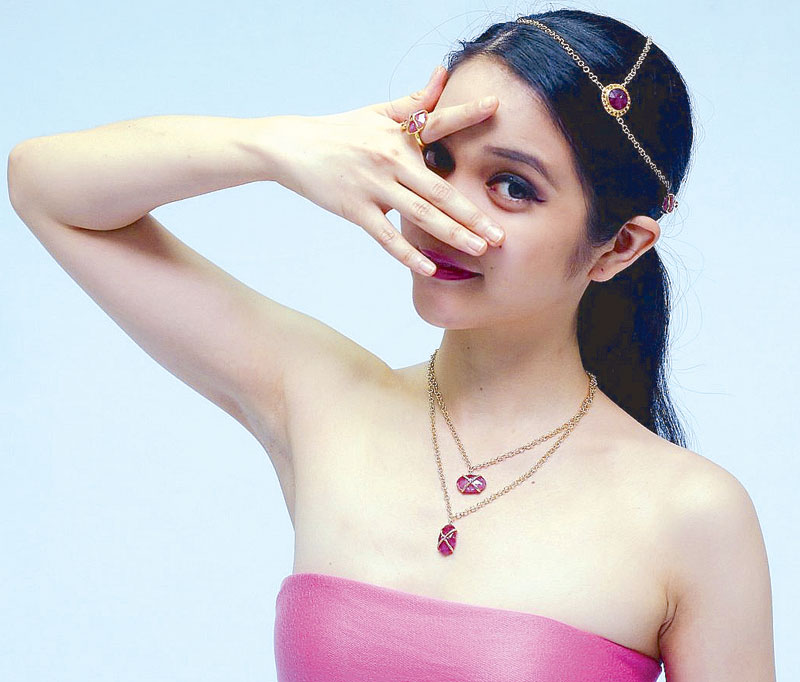 Monica embodies a warrior princess in pieces from the Themyscira collection, named after the home of Wonder Woman and the Amazons
Have you experienced forbidden love, or loved someone your family was against? What did you do?
D: No, never.
J: No. My family has always been supportive of who I love.
M: I guess I could say that dance is like my forbidden love. It's not a common career here in the Philippines. I've had to prove to many that it is possible.
Which scene in the ballet is more difficult – the balcony scene or the death scene? Why?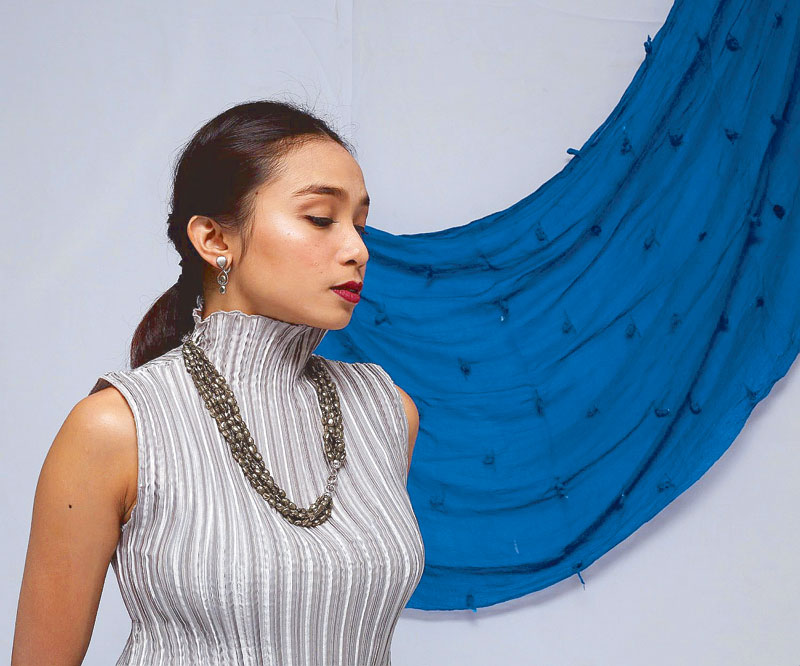 Jemima is elegant in unique pieces from the Outliers collection made of pyrite.
D: Technically, balcony is very difficult but the death scene is more pressure. It's pure acting and every move has to make sense so it will be effective. The death ends the ballet, we always want to have a strong ending!
J: Death scene. It's heavier and more dramatic. There's just so much emotion in there.
M: Both are difficult in different aspects. For me though, I find the balcony scene more difficult. There has to be a balance between the technical and artistic side. One has to find a way to express such deep emotions of love through movement while creating shapes and moving through space. The piece needs to be practiced diligently and smartly with your partner because of the musicality and timing of all the turns and lifts. Both you and your partner have to make the audience feel that this love you both feel is immense and real.
What emoji would you assign to Juliet? To Romeo? To yourself?
Denise:
????
Jemima:
Monica:
If you weren't a dancer, what would you be?
D: I don't know. I just can't imagine being anything else.
J: Someone in the entertainment world. Maybe in TV.
M: I would probably be a a psychologist, the human psyche is always interesting. Or I would probably be a chef. My mom loves to cook and bake. She got me into it, especially when I was younger.
If you were to turn another work of Shakespeare or literature into a ballet, what would it be?
D: Some greek mythology. They're great stories and ballet has no words, not all of them are very complicated so it's perfect for ballet.
J: A Midsummer Night's Dream.
M: I would love to make my own version of A Midsummer Night's Dream. It has a fun storyline and lots of characters to play with.
What is romance for you?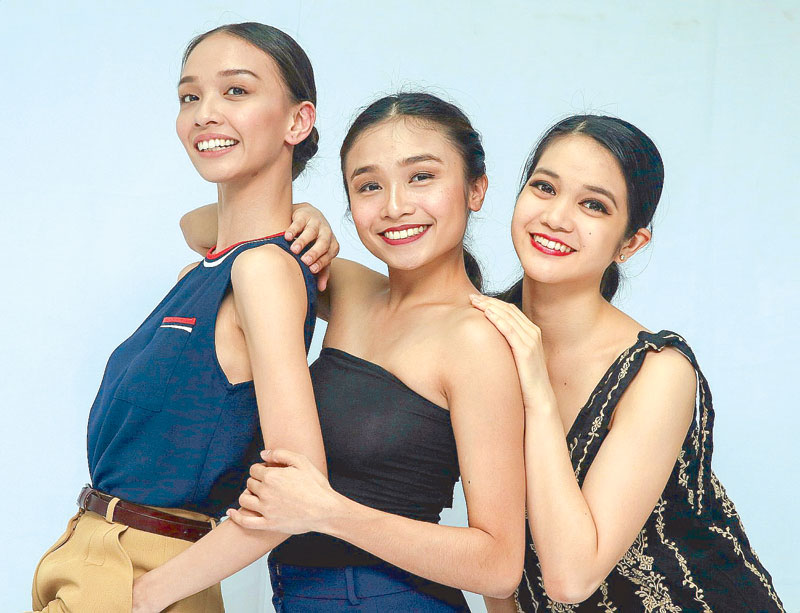 D: Romance for me is the excitement you feel when you see your love. It's the feeling of being light on your feet and you just can't stop smiling; it's like you're never tired and not needing to eat. It's basically what we feel in the balcony pas de deux.
J: A never-ending feeling of excitement and mystery in the game of love and relationship.
M: Romance is a blissful state before love. It's the spark you have to start before the flame grows.
For show schedules and tickets, call Ticketworld 891-9999 or Ballet Philippines 551-0221/551-1003 or visit ballet.ph.