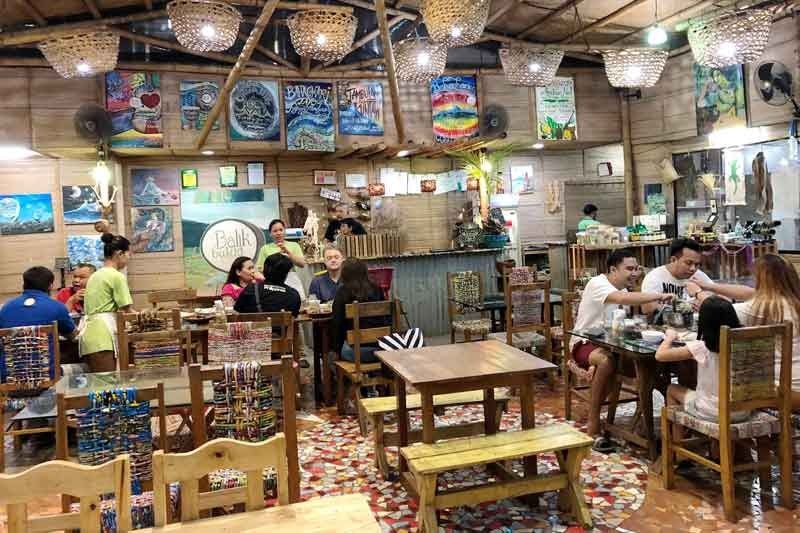 Chit U. Juan
(The Philippine Star) - November 18, 2018 - 12:00am
MANILA, Philippines — I enjoyed my meal of tinolang manok, adobong dilaw binalot style and grilled tuna accompanied by original music and some cover versions sung with so much passion by this quartet.
It is my first time at this kitschy place called Balik Bukid or, literally, Return to the Farm. And return I did.
It must be in our DNA to enjoy Pinoy folk or indigenous music with native percussion instruments like bamboo tubes imitating soft rainfall and acoustic guitars in melodious harmony. I was transported back to a farm setting with all the natural food like fresh organic vegetables with quail eggs and fresh tomatoes with a homemade pesto dressing. This place is aptly named, because that's exactly how you will feel – it's back to the farm!
Located in Davao City just past the night market, you won't miss it as it is the only place in the city with a two-story tree house. The tree house is a creative solution that the owner Paolo Garcia thought up so nobody would cut this huge century-old tree on his front yard.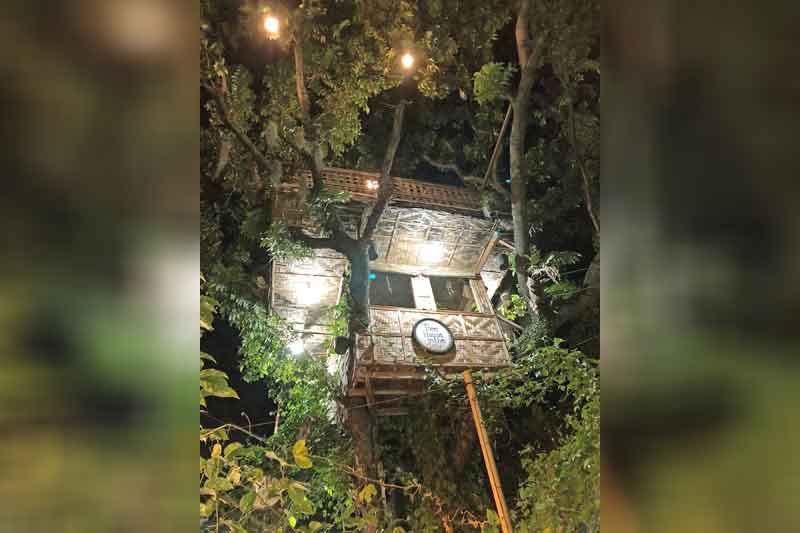 The Tree House is cradled by the branches of a century-old tree.You can even have a dinner party here.
Today the tree house has become a tourist destination, too, and one can even enjoy private dinners on the top floor overlooking the city or pay P10 if you just want to enjoy the view.
Now about the quartet. They sing with so much passion I thought the songs were all originals. They humbly admitted some were cover versions of recorded pieces, though they have a theme song which unmistakably is an original – a song called Balik Bukid. It's a cheerful piece which sounded so happy and an ode to their "home" as Paolo has given them a stage to perform.
In between sets they troop to their corner store within the restaurant which sells original art pieces, woven bead necklaces and bracelets all done in this tiniest of looms, among many other creations inspired by the cultural communities of Mindanao lumads.
Their art is also displayed on the restaurant walls, along with original recycled and upcycled chairs made by Paolo's sister Willie Garcia of the famous JunkNot interior design and art enterprise. The place is a recycler's heaven – from used liter plastic bottles repurposed to be walls, old rubber tires as housing for speakers, an old sewing machine which is now a dining table.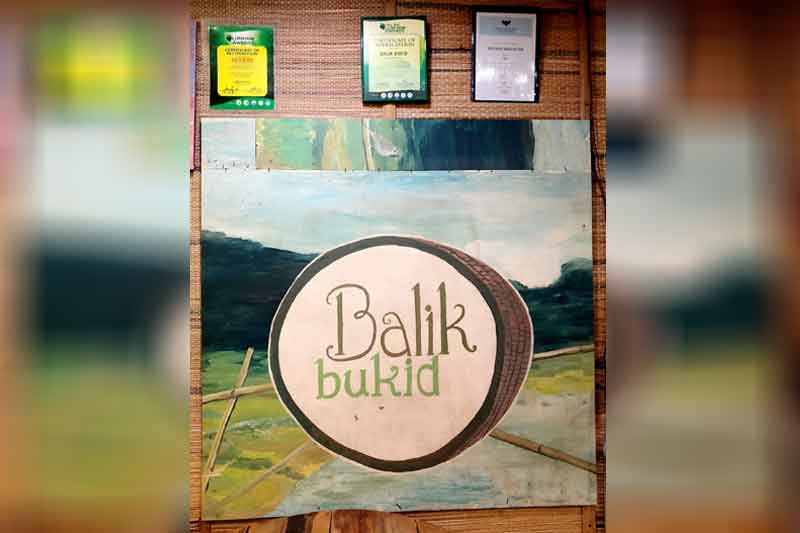 I asked Paolo why it seems their entire family is into everything eco-friendly and he replies, "That's what we grew up with – everything natural and many items reused, recycled or repurposed."
This 35-year-old entrepreneur is not originally from Davao but from Liliw, Laguna. Fate brought him and some siblings to Davao where they started a natural farm as taught by natural farmer Andry Lim and the rest is, as they say, history. "It's now been five years," Paolo says, and business seems to be doing well.
Another secret to success may be his social mission: he hires those who have not had much education and may not have a chance at getting a job, and others who did not even have the chance to go to school. "I train them personally," he says.
He is also a supporter of artists – he has adopted this community of artists who can paint, do crafts and sing and perform, too. "They rely on tips from customers," he says, "but they also get gigs from our customer network who have enjoyed their music."
You would be hard-pressed to find working arrangements like these anymore. And it is happy and good news that collaborations and networks work in such artistic pursuits and that it is also sustainable. Five years is nothing to scoff at.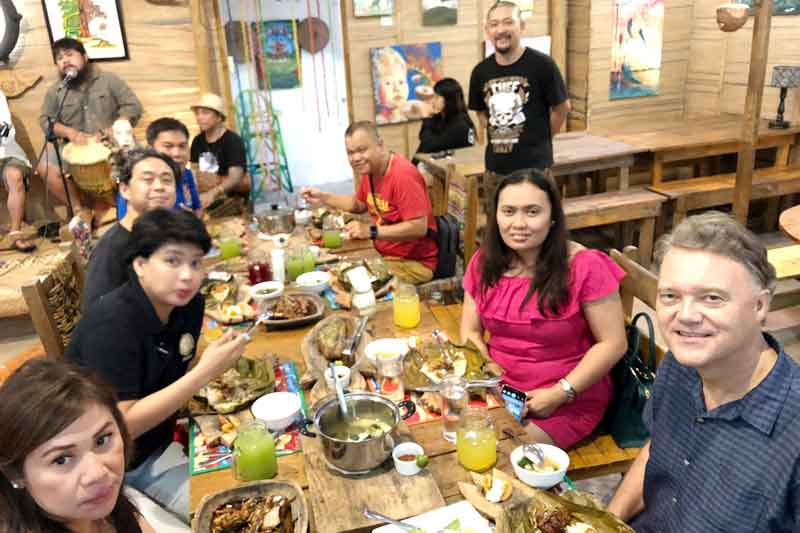 Sustainable tourism advocates (above left) enjoy a sumptuous meal at Balik Bukid.
The other secret of Paolo? He's a hands-on manager who is quick to note customer requests and what his market wants. He also has special treats like free tuba (coconut wine) and free music.
And a good menu of local dishes that really jumps from farm to table. The Garcias started in upland Calinan where they have a 3.5-hectare farm with vegetables and livestock. Native chickens from the farm appear in his adobo and tinola dishes.
This is quite a different place – perhaps a bit kitschy for some – but to our tourists and foreign visitors, and our eco-friendly lot of friends from the sustainable tourism sector, the place talked to us and it connected with what we have been advocating: Reduce, refuse, recycle, upcycle and still be sustainable as a business or tourist destination.
I admire entrepreneurs like Paolo, and indeed, you will meet them at the right time with the right company. The Department of Tourism officers from Region 11 took us to this wonderful place along with no less than the CEO of the Global Sustainable Tourism Council (GSTC) Randy Durband and its Philippine representative Susan Santos de Cardenas, who thoroughly enjoyed the evening and would definitely classify this as a sustainable enterprise. And a sustainable tourist destination in Davao City.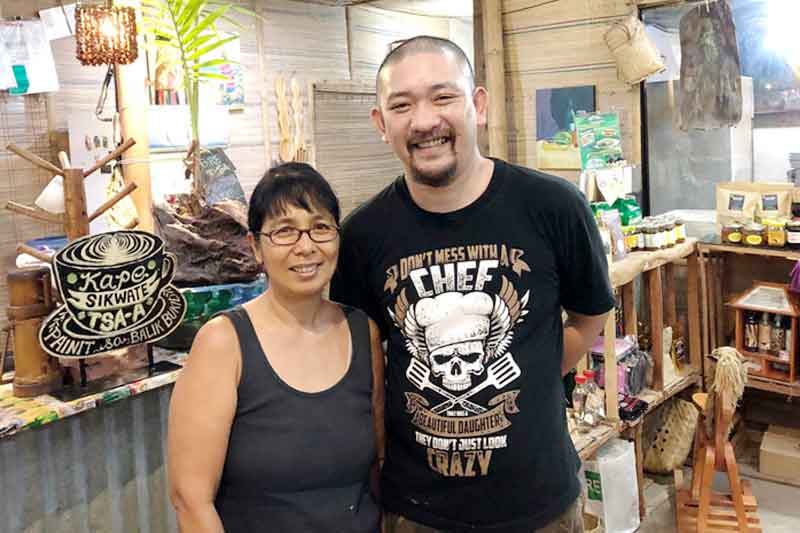 Owners Paolo Garcia and his sister Willie.
That was truly a good Pinoy meal and the music just makes everything complete. And if you feel like going back to the farm, this is about the closest you can get to one – right in the city!