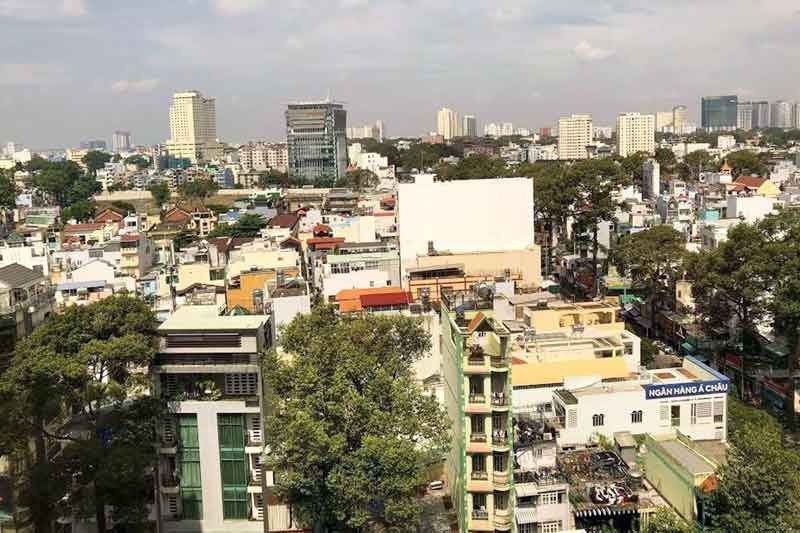 Ho Chi Minh city deserves another look.
Coffee, Pho or Chicken Joy
Chit U. Juan
(The Philippine Star) - August 12, 2018 - 12:00am
MANILA, Philippines — Take another look at Ho Chi Minh city – only a two-hour-plus flight from Manila. It's just a little bit farther than Hong Kong but way cheaper and not as crowded with tourists. ?It's also a good place to do R&R – like a long weekend – and just imbibe its culture through food and drink.
Though Hanoi has been top of my Vietnam destinations the past years especially during the cool season (December to February), I decided to give Ho Chi Minh another look. ?It helps to ask locals or expats who have lived there for some time. Anna Fernandez invited me to stay in quieter District 5 where Hotel Equatorial is.
Anna has been with this Malaysian-owned five-star hotel for a year now and I know why she chose this property. It's not in a very touristy area but is so accessible by taxi or the hotel shuttle, which makes frequent trips to downtown District 1 several times a day.
For just $60++ per night you could also upgrade to the club floor and enjoy the amenities of Equator Club like a quieter breakfast, tea time and cocktails. They also allow use of a meeting room just in case you have a little business squeezed into your schedule.
What's there to do in Ho Chi Minh? If like me you've already been to the musts like Reunification Palace, the Ben Thanh Market and the Opera House, it's time to discover the food and drinks of Saigon. ?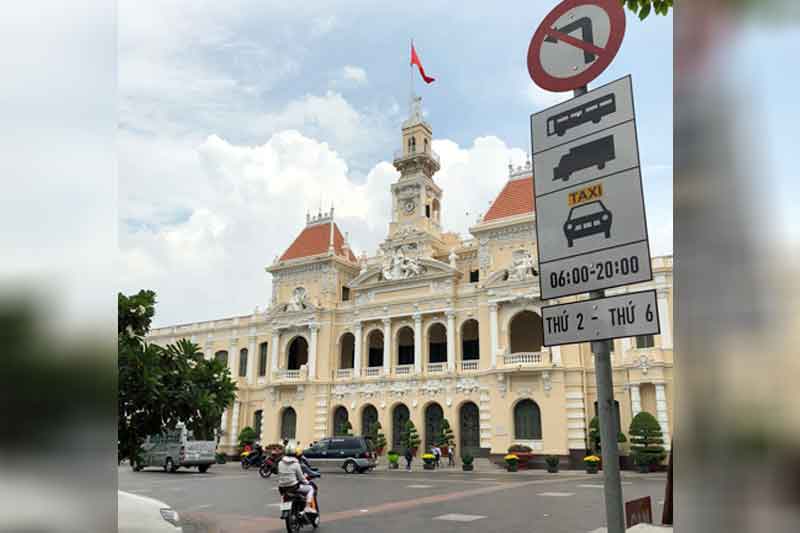 Nguyen Hue pedestrian street.
Why not? Wear your casual shorts and sneaks and line up for Bun Cha at 145 Bui Vien.
It's a 20-seat place that's on TripAdvisor so you can tell there are more tourists than locals. But it's a friendly place to learn how to eat a local favorite, bun cha. Portioned rice noodles, meatballs, grilled pork soaking in a mix of nuoc mam (fish sauce), a plate of assorted leaves and vegetables and a small plate of chopped garlic and chilies.
Mix it all together and slurp! You may order spring rolls as an extra treat. Since you want others to be able to sit too, you pay and leave right after eating. No sitting around due to the limited capacity of the place.
On the same street about 30 steps to the right is Cong Caphe, a local coffee chain famous for its coconut coffee, a cool blended drink of rich Vietnamese coffee and icy coconut milk and syrup.Very cool and very local. Lactose-free too.
Hang out and enjoy the free WiFi while taking your time in this cool cafe until you're ready to hit the road again.?Walk around the streets but remember to stay on the road as sidewalks are occupied by parked motorcycles.
If you need to cross the street, look straight ahead and allow the motorcycle drivers to avoid you. Do not ever stop in the middle of the road as that may cause a domino effect of one rider being bumped behind by the next rider if they stop for you.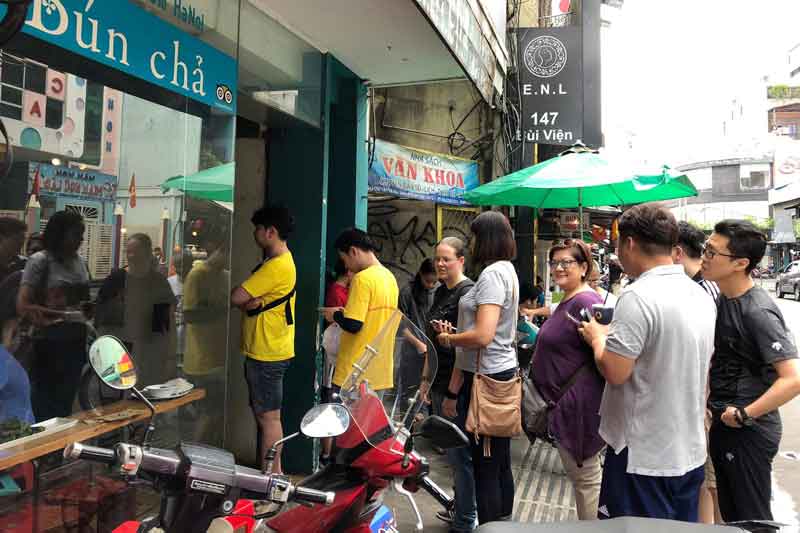 Hungry guests queue for bun cha.
To sample the best banh mi, take a cab to Bakery Huynh Hoa on Le Ti Rieng and from 3:30 p.m. they serve a queue of locals and tourists, for a standard price of VND38,000, a thick freshly baked baguette with all the fixins – pepper, onion, pork floss, four kinds of meat. There is another banh mi shop a few steps from it, but it's not the one locals go to.
Coffee, banh mi and bun cha done, you can now relax and probably go for a swim at the hotel. Before you know it, the sun has set and it's time for cocktails.
The next day you may want to visit another area and check out the Notre Dame Cathedral and walk along the tree-lined Dong Khoi for some local shopping. If you feel like having a treat after shopping, check out any of the foot spa or massage places. I found a spa right beside another food destination called Chaca La Vong on Ton That Thiep just off Nguyen Hue (say "Wing Way"), the main pedestrian street (closed to traffic on weekend nights).
Chaca la vong is another Hanoi specialty which now is also in Ho Chi Minh. It's turmeric flavored catfish cubes cooked with dill leaves, chives and eaten with a special fish sauce and lime. Instead of rice, you eat it with rice noodles. ?
Do the foot spa first before lunch. Then walk around the area for some local food specialties or shopping for handicrafts and souvenirs. Try the pho ga (chicken) or the beef pho. The hot soup will make you sweat and cool you down. Pho Hoa on Pasteur street is a famous destination. But Pho Hung is also tasty and is a good choice. It's a chain of pho shops like Pho 24, now a Jollibee company.
After trying the musts of Vietnamese cuisine, you may want to sit in the comforts of a rooftop restaurant for dinner with a view of the city. Make reservations at SH Garden on Nguyen Hue. You ride an antique elevator like those in small European hotels. An escort locks you in to make sure you get safely to the top floor. Another wait staff unlocks the car (it fits four adults comfortably) when you reach the top floor.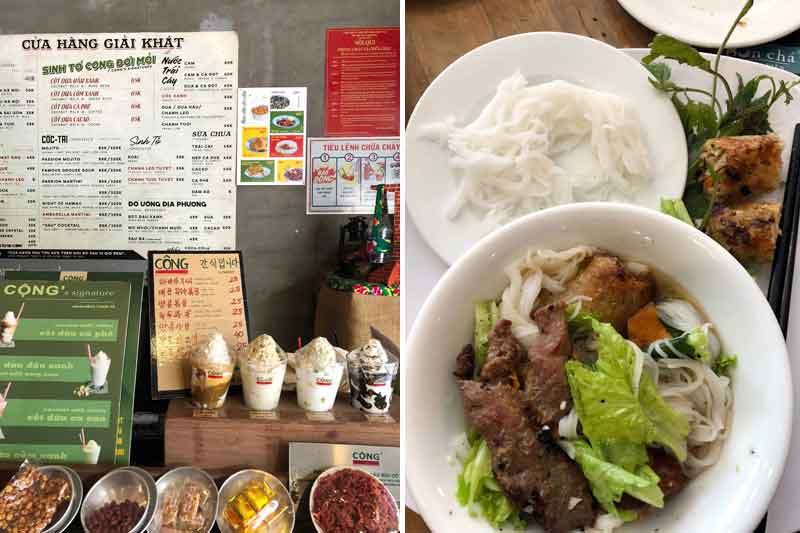 (Left) Local coffee chain Cong Caphe. (Right) An authentic bowl of bun cha.
SH Garden is an experience of sampling many kinds of regional cuisines, from soft shell crabs to the usual shrimps wrapped on sugar cane. It's also worth trying the ban xiao, a crepe with shrimps and pork which you wrap in vegetable leaves and dip in the fish sauce. It's also time to try Saigon Special, a local pale pilsen or pale beer. It's OK to ask for ice in your beer as it is always so warm in Ho Chi Minh.
Most tourists stay in the area around Nguyen Hue, and Dong Khoi and the area teem with many shops selling coffee beans, breads and souvenirs. But I personally like the quiet in District 5. It also is not crowded and gives one a good place for rest and relaxation. It's near District 3 or the French area and actually next door to District 1.
In Ho Chi Minh city it's OK to ride from one place to another. Walking is best done in the parks and along the pedestrian way in Nguyen Hue. Other than these places, sidewalks are hard to come by.
Check out this destination on your next weekend out. It's a warm place with good food and great coffee and lots of local fruits and vegetables.
On my last day I walked along Dong Du and found a surprise, a vegetarian haven called Hum. And they have good ways of introducing an all vegetarian menu.
Find time to eat at Hum, a nice experience even if you're not vegetarian. ?Ho Chi Minh is a good place to visit for a weekend or a foodie trip. And the weather is so like Manila, you won't miss home.
In fact, they also have Jollibee serving Chicken Joy in about a hundred locations – it'll bring out the Pinoy pride in you.