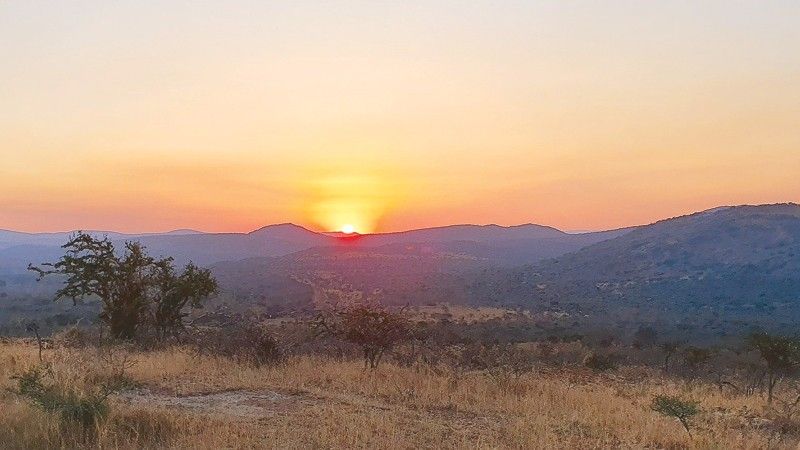 A beautiful African sunset.
Photos by Pepper Teehankee on a Leica C Digital Camera
THE PEPPER MILL
-
Pepper Teehankee
(The Philippine Star) - August 27, 2019 - 12:00am
A few weeks ago, I wrote about Durban July, the biggest horseracing event in Africa. Aside from the fabulous event, we explored more of Durban, the largest city in the South African province of KwaZulu-Natal, and the third largest city in South Africa.
A three-hour drive from Durban is Thanda Safari (www.thandasafari.co.za), a private game reserve where we stayed for two days. Upon arrival at Thanda, we were whisked to Villa iZulu, a private villa with its own living and dining area, kitchen, swimming pool and five suites, which comfortably accommodated our group. We had lunch and immediately went for our first game drive.
The aim of our game drives was to see the Big Five (lion, leopard, elephant, rhinoceros and Cape buffalo). We were lucky to see three of the five on our first game drive — a pair of white rhinoceros, the Cape buffalo and elephants (including some giraffes and zebras). After the game drive, we had a wonderful dinner in the bush, feasting on South African cuisine.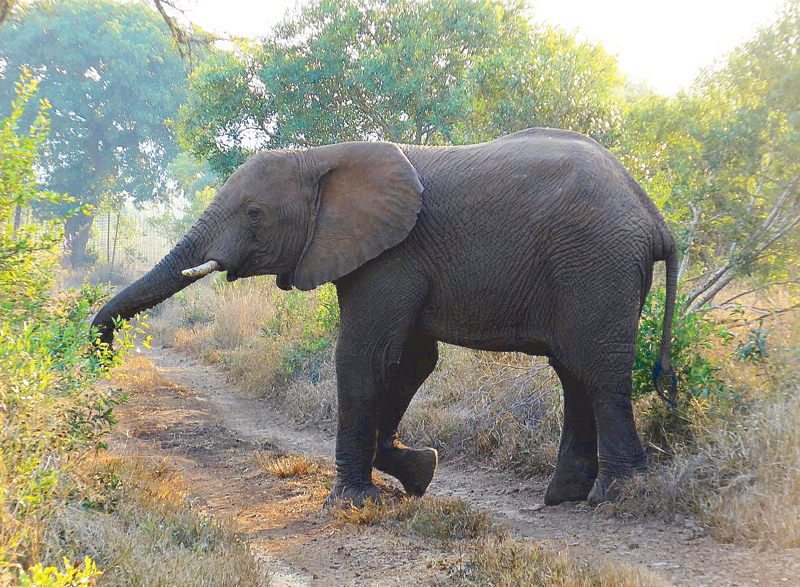 An African elephant crossing our vehicle's path.
At the next morning's game drive, we stumbled upon a pride of at least 12 lions! We followed them for about 45 minutes before they disappeared into the bushes. The lions were the fourth of our Big Five sightings. We didn't see the elusive leopard, though, which gives me another reason to go back to South Africa!
After two glorious days at Thanda, which also has a Tented Camp that has 15 luxury safari tents, we headed back to Durban, a great city for shopping and eating.
Durban has a huge Indian population so curry is hugely popular and delicious there. There's a well-known and sumptuous all-you-can-eat curry buffet at the beautiful Oyster Box Hotel. There's also Bunny Chow, a Durban specialty composed of a loaf of bread that is hollowed out to make a bowl to be filled with either lamb, chicken, beef or vegetables curry. This meal is very filling and is good for sharing. Don't leave Durban without trying this dish!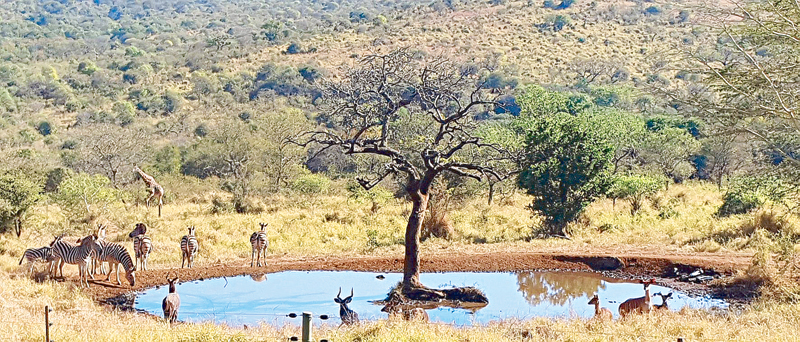 Giraffes, zebras, elands and springbok gather around a watering hole by our villa in Thanda.
I had an amazing time eating in Durban. Some of my favorites included deep-sea water fish kingklip, whose white, fleshy meat was tasty and delicious; and braai or the South African barbecue cooked on firewood. I also feasted on boerewors, a South African sausage made of lamb and pork or beef and pork.
Durban is a city of markets. There are morning markets for food, street markets along the "Golden Mile" (a long, white-sand beach), blocks of markets in the city center for clothes and my favorite — the Victoria Street Market for African crafts and spices.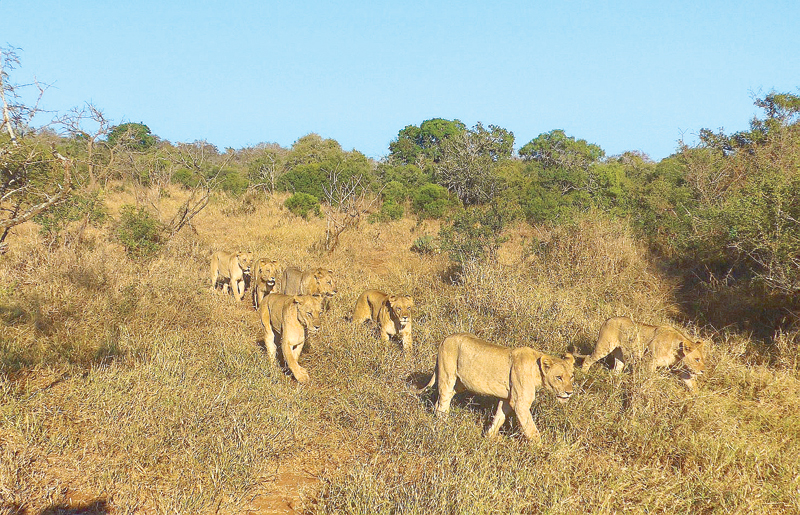 A pride of lions.
We also went to Inanda Township where John Dube, the first president of the African National Congress, lived and was buried. On April 27, 1994, Nelson Mandela cast his first vote in South Africa's first democratic election at Ohlange High School, next to the home of Dube. After casting his vote, Mandela walked to the grave of Dube, just a few meters away, and reportedly said, "I have come to report, Mr. President, that South Africa is now free."
Also in this coastal city are many activities to try, including shark-cage diving in the open sea. Unfortunately, we were not able to try this as all the slots were already filled! Instead, our group went to the uShaka Marine World (ushakamarineworld.co.za), a popular water park that offers shark-cage diving. Instead of diving and snorkeling, my favorite travel partner Tessa Prieto-Valdes and I opted to shop around the nearby shopping area.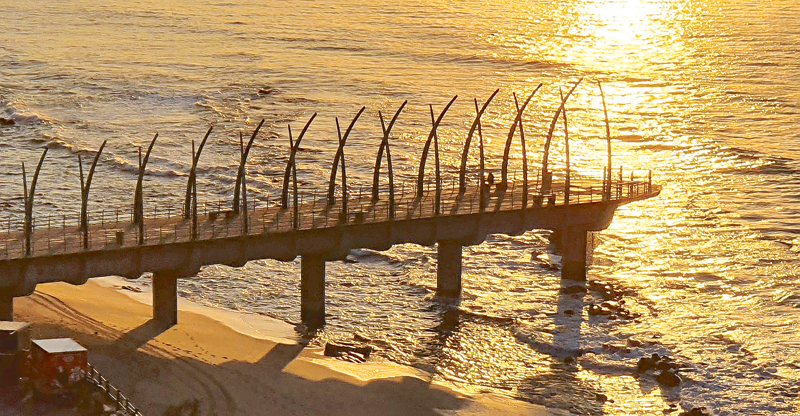 Umhlanga Pier, also known as 'The Whalebone Pier.'
I thoroughly enjoyed Durban, especially because I made new friends in this trip. I would definitely go back if I have the chance to do so again.
With my heart (and luggage) full, I took the long but comfortable flight back to Manila on Ethiopian Airlines. I need not worry about luggage weight from all the shopping I did in Durban as Ethiopian Airlines' baggage allowance is two bags of 23 kilos each for Economy Class, what a big difference from the 30-kilo combined luggage allowance offered by other airlines! (While at the Addis Ababa airport in Ethiopia, take advantage of buying Ethiopian coffee, reportedly one of the best in the world.)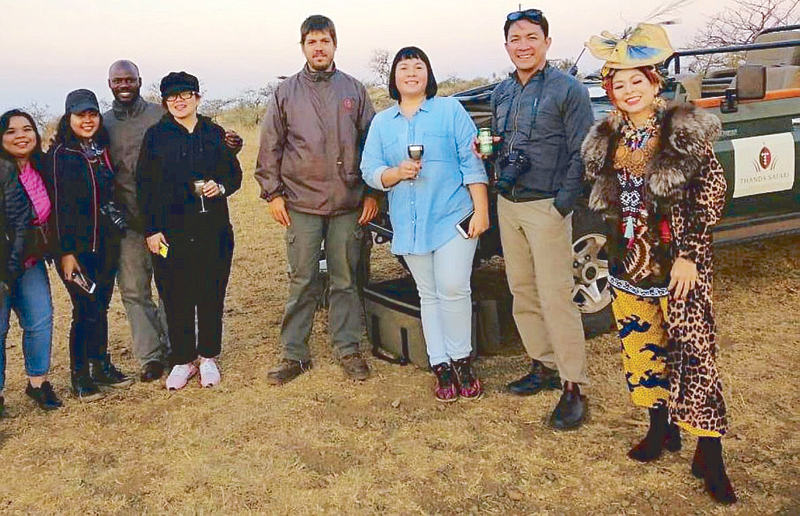 Afternoon drinks after a game drive. (From left) Clarisse Inao, Kat Llemit, tracker Derrick Myeni, Anne Jambora, guide Vince Hindson, Allure's Pinky Icamen, Buddy Cunanan and Tessa Prieto-Valdes.
A member of Star Alliance, Ethiopian Airlines has been flying from Manila since 2015, connecting to more than 120 international destinations in Africa, Europe, Middle East, North and South America, via its hub in Addis Ababa. It operates four flights a week using the state-of-the art Boeing 787 Dreamliner. It has been awarded by Skytrax with a 4-star rating and was also named Best Airline in Africa for three consecutive years as well as Best Business Class and Best Economy Class in Africa.
I enjoyed the excellent food (try the delicious Ethiopian chicken stew called doro wat when on board) and impeccable service of Ethiopian Airlines. Taking the technologically advance Boeing 787 Dreamliner allowed me to rest well during the flight, I didn't even suffer jetlag when I got back in Manila.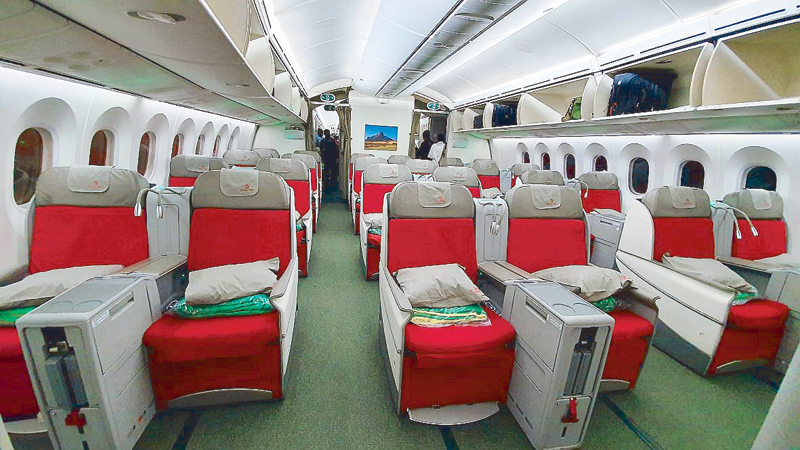 The spacious Business Class section of the Ethiopian Airlines Boeing 787 Dreamliner.
I miss Africa already. I cannot wait to return.
(For more information, visit www.ethiopianairlines.com or call its Makati office at 848-0978 or its Manila office at 522-4869.)
(Follow me on Instagram @pepperteehankee.)