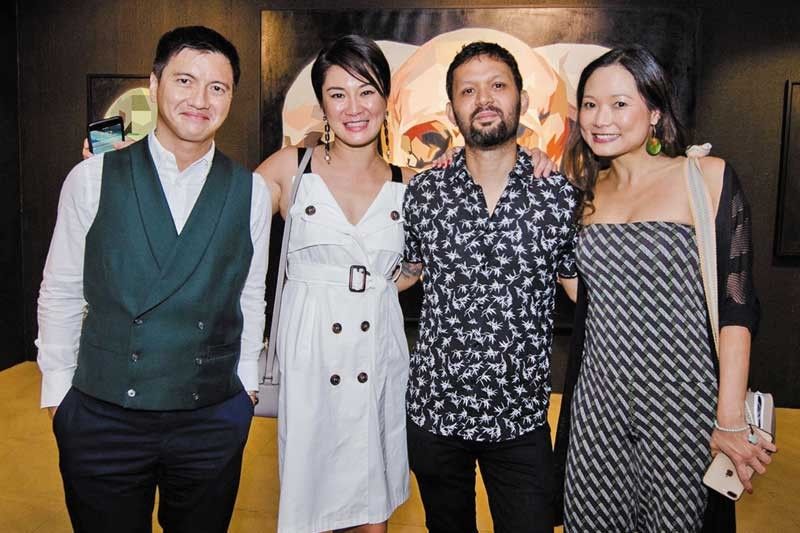 (From left) Ipe Cruz, Jane Dee, Chico Cristobal and Joyce Lo.
Sydney-based Filipino artist Chico Cristobal recently held an exhibit titled Calaveras: A Cristobal Skull Series at Secret Fresh Sky Gallery in RONAC Lifestyle Center, Makati City.
Calavera is a representation of the human skull, and it refers to any artistic representation of skulls. This new series centers on Chico's own understanding of skulls through his personal experiences, life lessons both poignant and joyous, and ever changing perspectives gleaned at various stages of his life.
Chico took almost half a year of shuttling between Manila and Sydney to work on these skull paintings. The artist was happy that his viewers got to appreciate other perspectives of the Calavera, rather than view the skull as a symbol of death.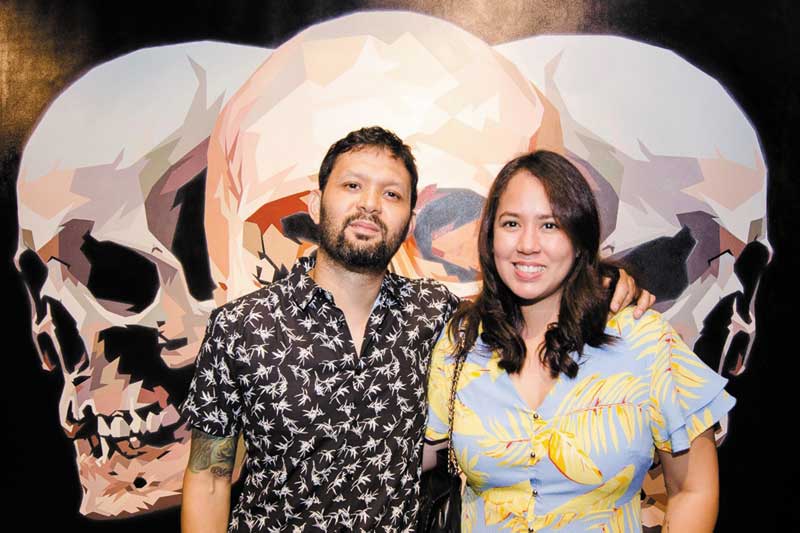 Chico Cristobal and Sabrina Cristobal-Go.
"Skulls are a fascinating, timeless icon; they have maintained their position as a fundamental element of artistic representation. These skull paintings I've created represent transformation and change. The important subject of my paintings is the expression and the sincerity of my soul understanding that I am a human being just like any other human being on earth, but that I came to this world to give something impactful that I believe can be meaningful and everlasting," he said.
Chico has big plans for next year as he has exhibitions in Sydney in early 2019 and in London in mid-2019.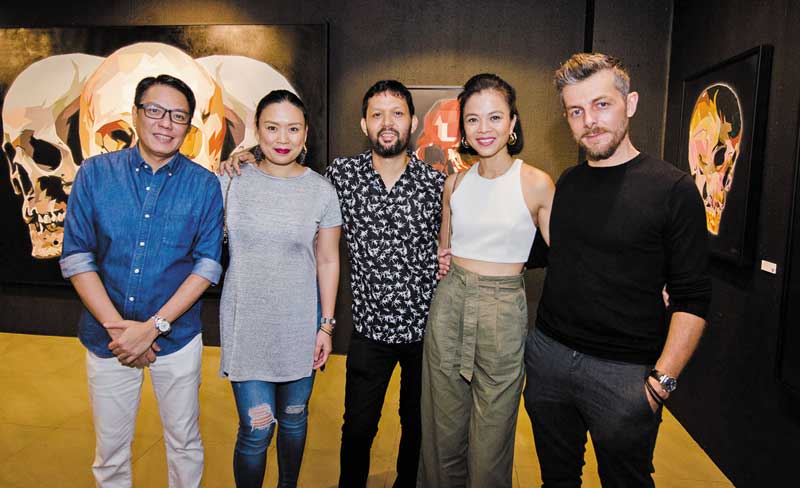 (From left) Bombi Balquiedra, Bing Reyes, Chico Cristobal, Bubbles Bermudez and Riccardo Corsini.
(Secret Fresh Sky Gallery is at the sixth floor, RONAC Lifestyle Center, Paseo de Magallanes, Makati City. For more information, e-mail secretfreshinfo@gmail.com or check out www.secretfresh.ph. Visit
www.chicocristobal.com and @cristobal_art on Instagram.)
* * *
A taste of Hilton
The Hilton Manila in Newport City, Pasay.
The newest hotel in the metro, Hilton Manila, recently treated select members of the media to a special food crawl to three of its five main dining outlets: Hua Ting, Kusina and Madison Lounge & Bar. The other two dining outlets are the Port Bar and Freestyle Pool Bar.
At the helm of the hotel's various F&B outlets is Filipino-Australian executive chef Dennis Leslie, who also served as our gracious host for this food crawl along with Hilton Manila director of business development Joanne Gomez.
With over 21 years of experience in five-star and luxury branded hotels and restaurants around Asia, Europe and Australia, Chef Dennis is finally coming back to his roots to serve as the culinary leader of Hilton Manila. We were also given a brief overview of the hotel by Hilton Manila general manager Simon McGrath.
The food crawl began at Hua Ting, a restaurant that specializes in authentic Shanghainese cuisine. After a lovely demonstration of the delicious fried Shanghai pork buns cooked by the hotel's chefs from Shanghai, we tried some of the restaurant's signature dishes. I loved the rice cakes with scallops, marinated chicken and the fried pork buns. Its food has no MSG and its ingredients are sourced sustainably.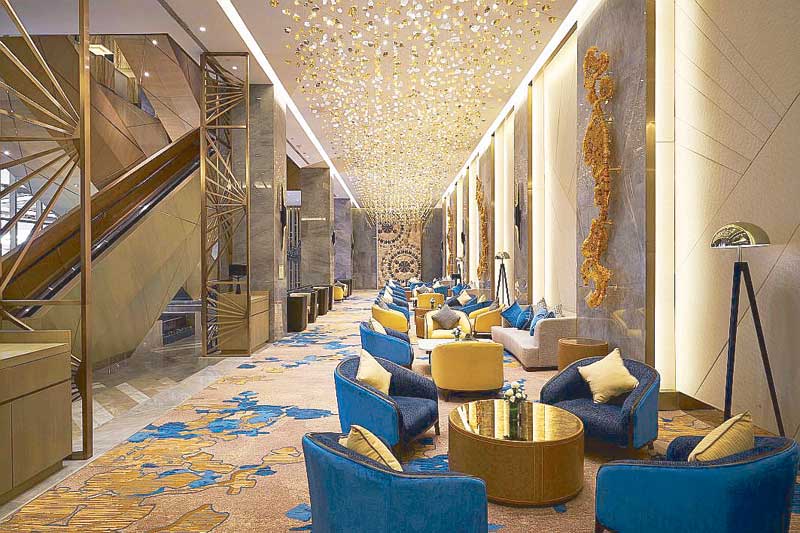 Madison Lounge & Bar.
Our next stop was Kusina, a massive Filipino kitchen with an array of different food stations, such as a samalamigan station, a salad bar, and at night, it even offers dampa-style seafood selections. This is probably the only hotel coffee shop where majority of its food is Filipino.
For the final leg of the food crawl, we visited the Madison Lounge & Bar at the first floor of the hotel. This modern cafe lounge captures the urban view of New York City. It serves as a café during the day, and transforms into a bar at night. Its very own rendition of everyone's favorite corned beef, the Grilled Corned Silver Side, was amazing. I never thought that corned beef, caper berries, anchovies, pomegranate and Mornay sauce would be heaven in my mouth!
Most of the appetizers and desserts in Madison are quirky and original. The fried baby shrimps with hummus, smoked salmon macarons, and the signature dessert of apple pie in white chocolate called "The Big Apple" are excellent. Its food offerings have complex flavors that's why Madison is probably my favorite dining outlet in the hotel.
Watch out for more of Hilton Manila's official opening in this column soon!
(Hilton Manila is located at 1 Newport Boulevard, Newport City, Pasay. For inquiries or reservations, visit www.hiltonmanila.com or call 239-7788.)
* * *
Rémy Martin x Matt Moore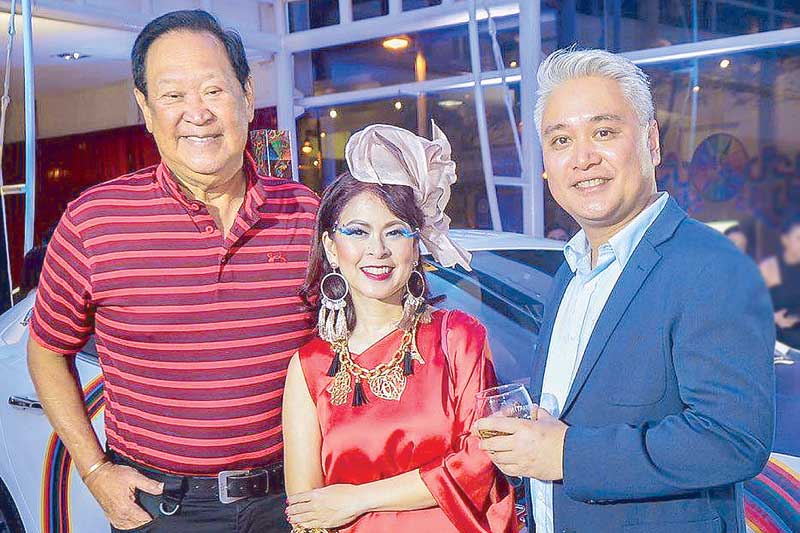 Autostrada Motore's Wellington Soong, Tessa Prieto-Valdes and Remy Cointreau's Joey Pineda.
Rémy Martin recently collaborated with visual artist Matt W. Moore, who is known for his stylish signature art called Vectorfunk. The artist's work appears in the Matt Moore Limited Edition VSOP bottles.
The collaboration was meant to give fresher perspective to a liquor brand that has been around for years, a brand that is willing to try exciting things to bring something new to the table.
Rémy Martin's global executive director Augustin Depardon said, "Matt has created a visual narrative that underscores movement and brings new energy to our brand. His work reaches out to a wide audience and tells our brand story from a novel point of view."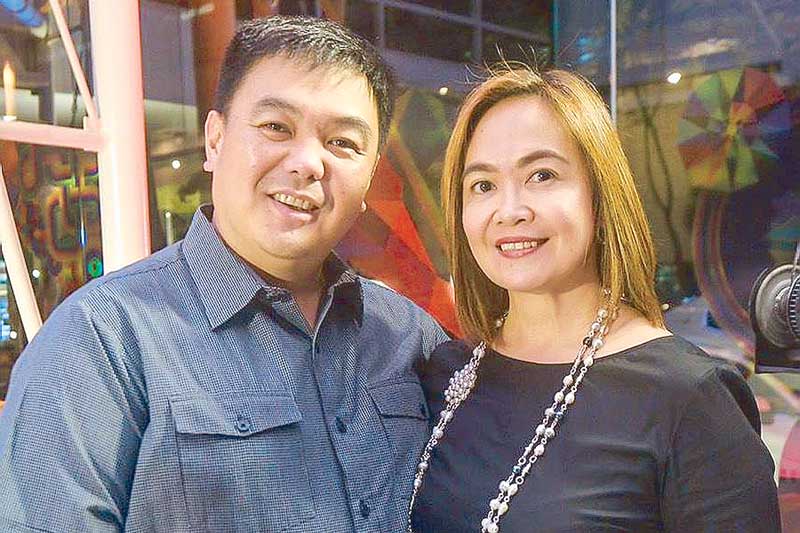 Abet and Pinky Antonio.
Rémy Martin VSOP embodies the perfect harmony of powerful and elegant aromas. It is composed of eaux-de-vie coming from the highest-quality vineyards of Cognac, the Grande Champagne and Petite Champagne.
Rémy Martin also launched the Augmented Reality Tour or ARt (available on iOS), which lets users redesign the environment and create their own unique vision of the world by playing with a vast palette of 3D graphical elements inspired by Matt's new visual universe. It's the world's first brand activation that leverages ARKit technology through an art perspective. *
(Rémy Martin x Matt Moore Limited Edition bottles are exclusively available in all S&R stores.)
* * *
(Follow me on Instagram @pepperteehankee.)