Stylish, relaxed & elegant
Yosi Samra was destined to be a shoemaker. His father owned a shoe factory in New York where Samra worked as his apprentice. This was where he learned not only how to design shoes, but more importantly, how to make them.
Samra dropped out of college in his senior year when his father became ill and took over the family business. Years later, he would see women walking around barefoot in the club, carrying their stilettos in one hand and their tiny clutch bag in the other. He began to realize that there was a need that wasn't being met. Women needed classy, stylish, yet comfortable shoes that would fit in a tiny purse. This was what gave him the idea for his most iconic fold-up ballet flats, the Samara.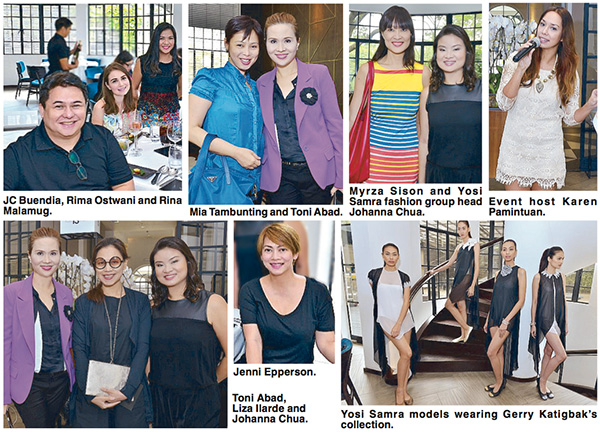 The brand Yosi Samra was conceptualized in Samra's basement. The plan was simply to launch the website yosisamra.com where he and his business partner would sell his shoes. After a year of careful planning, the website was finally launched. It didn't take long before the craze for the brand caught on.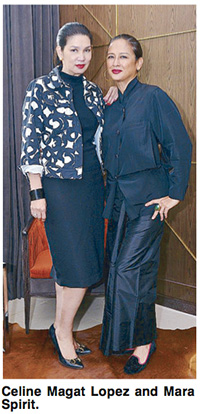 The brand has seen tremendous growth since its launch in 2009. To date, over 1,000 boutiques carry Yosi Samra shoes and accessories across the US and 85 other countries, including 15 brand shops in Asia and the Middle East.
It continues to expand in the Philippines as well with branches in Alabang Town Center, GAS Greenbelt 3, Rockwell Power Plant Mall, TriNoma, SM Mall of Asia, SM Aura Premier, Glorietta 4, SM Megamall, Ayala Center Cebu, SM City Cebu and Abreeza Mall Davao.
Famous for smooth, clean lines, the Yosi Samra 2014 Holiday Collection was unveiled at Blackbird at the Ayala Triangle in Makati City recently. Hosted by Karen Pamintuan, the exclusive event featured a fashion show directed by Gerry Katigbak.
Bold animal prints, gold studs, metallic finish, suede and patent leather dominate the collection. The shoes are available in a wide array of colors, from soft hues like Nude and Rose Cloud to bold ones like Chili Red and Empress Teal.
Guests were treated to a lunch of roast salmon and grilled grass-fed Australian beef tenderloin. They were also each given a pair of Yosi Samra shoes. Everyone left with a smile, thrilled at seeing the latest collection from one of the most sought-after shoe designers in the world today.
Whiplash
Writer-director Damien Chazelle's highly-acclaimed drama Whiplash became one of this year's best films. It raised the bar in all the major 2014 film festivals. In fact, the film bagged the top honors at the recent Sundance Film Festival.
Whiplash is set in the life of a promising 19-year-old drummer at a cutthroat music conservatory, who ratchets into high gear after being picked to join the school band under the tutelage of the terror music teacher Terence Fletcher.
The critically lauded film premiered in the Philippines, sending the world of social media in a buzz.
Present during the premiere was the Hollywood celebrities' favorite coconut water drink, Vita Coco. This most famous coconut water in the US quenched the thirst of moviegoers watching Whiplash.
Select people from the media graced the movie premiere. Also spotted in the crowd were Iza Calzado, Rajo Laurel, Mia Ayesa and Filipino rock icon Pepe Smith.
A taste of France
It was a perfect Sunday afternoon filled with French music and great food as restaurant La Creperie celebrated the opening of its newest branch, the La Creperie Moderne in Salcedo Village, Makati City recently. It was an intimate gathering for friends and family to enjoy good music, cozy ambiance and sumptuous dishes of the restaurant's sixth branch.
La Creperie's story began in the early '90s, when one of its co-founders, Christine Laman, spent a year in Paris as a student. Fifteen years after founding The Big Chill chain of juice bars with her best friend Cheese Ledesma-Ong, these women had a new dream: to bring the French creperie experience to Manila with an expanded menu that will include crepes, galettes, comfort food and beverages suitable from morning to night.
The restaurant serves French galettes, which are open-faced crepes made with 100-percent buckwheat flour, golden brown in color, made thin and crisp on the edges. Recreated regional flavors can also be enjoyed — from Parisian and Breton creperies, including the popular "Salidou" made with creamy salted butter caramel. Concoctions of inspired crepe combinations such as Apple Crisp a la Mode, Double Chocolate Fudge Brownie and Strawberry Mango Jubilee are also available for French food lovers to enjoy.
Cheese and Christine also created their own proprietary line of hot chocolate that includes their version of the Paris-based Café Angelina's famous Le Chocolat chaud l'Africain. La Creperie has a choice selection of home-style French food, including heirloom family recipes such as coq au vin (chicken in red wine) and blanquette de boeuf, a savory beef stew simmered for hours in white wine, carrots, onions, fresh thyme and cream.
(Visit its branches at Shangri-La Mall, Robinsons Galleria, Calderon Street in Little Baguio, San Juan, Abada Street in Loyola Heights, Quezon City, and La Creperie Moderne at V Corporate Center, 125 L.P. Leviste Street, Salcedo Village, Makati City.)
Healthcare option Filipinos deserve
It's an undeniable reality that a lot of Filipino families have to put their health in the backseat because of monetary reasons. To help more Filipinos meet their most essential needs — medicines and supplements — top pharmacy Watsons launched its own generics line, Watsons Generics.
Health business unit director of Watsons Danilo Chiong says, "We recognize that each family will have specific needs when it comes to health. However, with the rising cost of not just medicines but all commodities, families may have difficulty meeting each specific need. With the launch of Watsons Generics, we aim to help families by giving them more healthcare options and the ability to purchase affordable, high-quality medicines. This will not just give them access to quality healthcare products, they will also be able to focus their finances on other important matters."
The generics line includes maintenance medicines for diabetes, hypertension and cholesterol, antibiotics for common bacteria, dietary supplements for skin enhancement, anti-aging and overall wellness, basic vitamins, oral analgesics, and other over-the-counter medicines. This is just the first phase, and Watsons aims to continuously launch generic medicines to provide wider healthcare solution.
Chiong also says Watsons Generics medicines have all passed the regulatory requirements of local and international quality assurance agencies. The medicines are registered with the Food and Drug Administration Philippines and passed bioequivalence test and manufactured by facilities with certificates of Good Manufacturing Practice. The generics line has all of these quality assurances while offering up to 80-percent savings vs. the leading brands.
Chiong adds, "For more than 170 years, Watsons has been providing health and wellness products to its customers worldwide. We are excited to do the same in the Philippines by allowing Filipino families to take charge of their health without the fear of financial burden."
Watsons Generics addresses health and financial concern of Filipino families by providing an alternative that gives them peace of mind and an assurance of high quality. (Follow me on Instagram @pepperteehankee.)