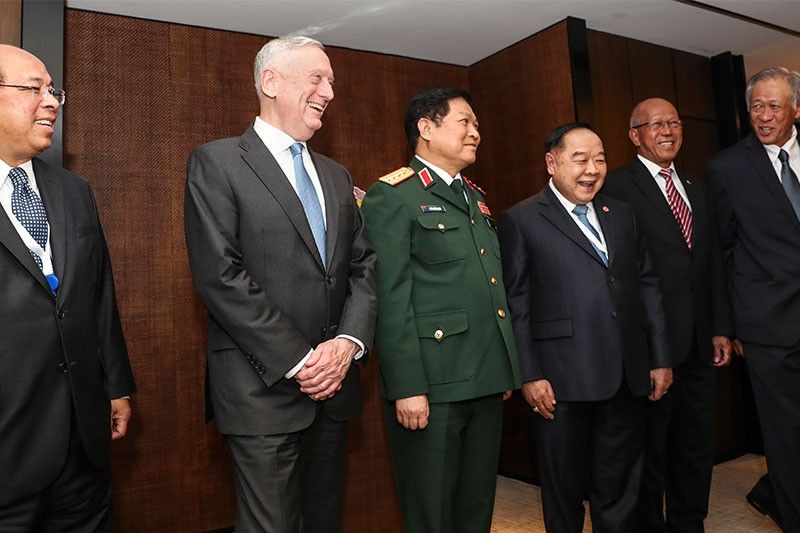 U.S. Defense Secretary Jim Mattis, second from left, laughs with Southeast Asian defense ministers after their meeting at the 17th International Institute for Strategic Studies (IISS) Shangri-la Dialogue, an annual defense and security forum in Asia, in Singapore, Friday, June 1, 2018. They are, from left, Laos' Defense Minister Chansamone Chanyalath, Mattis, Vietnam's Defense Minister Ngo Xuan Lich, Thailand's Defense Minister Prawit Wongsuwan, Philippines' Defense Secretary Delfin Lorenzana and Singapore's Defense Minister Ng Eng Hen.
AP/Yong Teck Lim
The Shangri-La Dialogue 2018: What's next?
MANILA, Philippines — The Shangri-La Dialogue is an annual intergovernmental defense forum hosted by the International Institute for Strategic Studies (IISS), an independent think tank, and attended by ministers and delegates from over 50 countries.
It aims to "buil[d] confidence and foster… practical security cooperation, by facilitating easy communication and fruitful contact among the region's most importance defense and security policymakers".
This year, the event took place on June 1-3, 2018. Its highlights included a keynote address from Indian Prime Minister Narendra Modi and a plenary session by US Leadership and Challenges of Indo-Pacific Security with Gen. James Mattis, US Secretary of Defense.
As an avenue, the 2018 Shangri-La Dialogue was widely hailed for highlighting the role of the "Indo-Pacific," welcoming the emergence of India as a strong strategic actor in the world stage and recognizing the challenges that plague the Asia-Pacific especially concerning the unilateral actions of China.
In hindsight, however, the event was only a reiteration of each country's perspectives and observable strategies over the years. What has been rife with interpretation are the topics and terms officials chose to conceal with their words, and the evident precautions they employed upon using the terms such as the "Quad" and the "Indo-Pacific."
The revival of the Quad, which is a security coalition formed by the United States, India, Japan and Australia, could be an effective counterbalance against China's belligerence.
India's Prime Minister Narendra Modi's keynote address showed much promise, as it reassured the world of its principles to uphold a rules-based regime, sovereignty and the freedom of navigation and commerce.
However, it was bereft of tangible efforts to boast of or plans to actualize, making the future of India as a global actor seem bleak.
Meanwhile, Mattis' speech was an evident nod to its allies present, as he had stated his country's goal of maintaining centrality within the ASEAN, promoting unity within its allies and ridding them of the obligation to choose between the US or China should a confrontation happen.
Despite this, his words showed little enlightenment concerning the specific direction that the United States wishes to undertake against China. This was particularly urgent considering that the US' strategy of deploying freedom-of-navigation operations (FONOPS) was not enough to tame a belligerent China and thus may be in fact counterintuitive to its assumed role of being an ally to the countries that China wishes to disadvantage.
Besides this, sentiments in the security summit have also emphasized the importance of cooperation on the basis of international law and how rules-based order must evolve through open discussion and peaceful means.
What's next
This attitude of "playing safe" and abiding by courtesies begs the question of whether or not the Dialogue has fulfilled its goal of being the premier avenue of defense ministers to discuss, negotiate and compromise on military strategies and policies.
In its entirety, the Shangri-La Dialogue's agenda to remain committed to discussing issues of utmost relevance was fulfilled, as participants readily talked about pressing topics such as the South China Sea territorial disputes and the looming threat of North Korea.
However, despite the urgency of its nature for the fate of the world, the Dialogue might appear to be too diplomatic to a fault – as speakers tried best to be nonconfrontational. Tangible strategies and policies needed to be nitpicked and further analyzed by experts.
This holds many implications, as the tendency of countries to avoid facing the problem may further enable adversaries and contribute to the success of the difficulties they wished to quell in the first place.
Such an attitude – arguably stemming from a country's desire to protect itself – is also counterintuitive against the very values of cooperation they wished to herald. This would be nonstrategic against a powerful enemy that chooses to act on its own volition and at the same timemay render conferences such as this one insignificant.
What's in it for the Philippines
Stratbase ADR Institute has consistently stated that for the Philippines to promote a rules-based order, we must reach out to our allies and the ASEAN's partners so as to create political and economic structures that best secure our shared future.
The Philippines should attain maritime security by considering the potential benefits of cooperation among the US, Japan, Australia and India. Such cooperation should also extend beyond the four democratic countries and collaborate with like-minded democracies that believes the same idea of a rules-based order.
___
Claudette Guevara is Deputy Executive Director for Programs of the Stratbase ADR Institute. She was a delegate at the Southeast Asian Young Leaders Program of the International Institute for Strategic Studies also held during the Shangri-La Dialogue 2018.