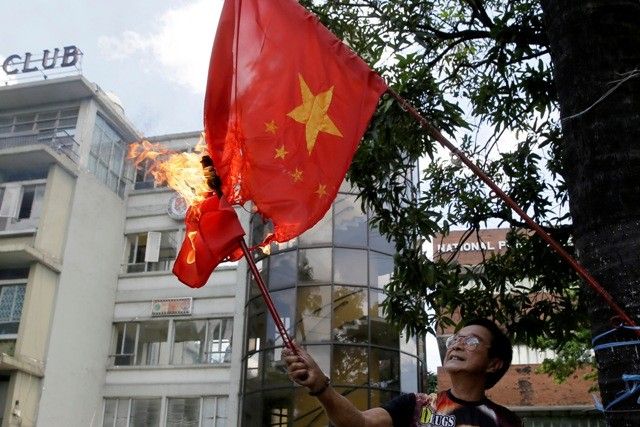 Former police officer and mayor Abner Afuang, sets on fire to a Chinese flags in protest against the recent reclamation activities by China in the contested group of islands known as the Spratlys in the South China Sea Thursday, April 23, 2015 in Manila, Philippines. The reclamation works by China drew protests both from the Government and civil society groups which they claim are well within the Philippines Exclusive Economic Zone.
AP/Bullit Marquez
Commentary: What should Duterte do with China?
(Originally published on March 2, 2018) "We lost because very early on we told ourselves we had lost," lamented one of Tolstoy's characters about the Battle of Austerlitz, which marked a definitive point in the Napoleonic Wars.
Tolstoy's main thesis in his voluminous "War and Peace" was straightforward: defeat and victory are fundamentally psychological in nature.
In short, our fates, as individuals and nations, are bound by the internal operations of our mind -- and willingness to fight for our beliefs and convictions -- rather than the mechanistic balance of material forces. In scripture, the David vs. Goliath story perfectly captures this dynamic.
Tolstoy's seemingly eloquent expression of eternal wisdom about the motions of history also finds a deep root in Chinese strategic culture. In "The Art of War," the legendary (and likely mythical) strategic thinker Sun Tzu wrote, "The supreme art of war is to subdue the enemy without fighting."
China's strategic success largely lies in its ability to intimidate its weaker counterparts into submission without firing a single shot. The Asian powerhouse's expanding footprint across adjacent waters, especially in the West Philippine Sea, clearly reflects the sophistication of China's psychological warfare.
Beijing has managed to build a sprawling network of military facilities at the heart of maritime Southeast Asia with virtual strategic impunity, precisely because it managed to convince some of its smaller neighbors that resistance isn't an option.
To up the ante, China has dangled mouthwatering economic deals to gain the goodwill of its anxious neighbors. The success of such strategy has been in clear display in the case of the Philippines, especially since the ascent of President Rodrigo Duterte to power.
Day after day, what we hear are unmistakably defeatist statements, which reflect the creeping grip of strategic fatalism among our leadership. Case in point is the false argument that our options in the West Philippine Sea, and increasingly in the Benham Rise, are a suicidal war or graceful accommodation.
This could be no farther from the truth, since, as Buddha would have counseled, there is always the third, more moderate path forward. And that is called "strategic resistance."
We see this approach in the case of other neighboring countries such as South Korea, Vietnam, Japan and Indonesia, which have managed to keep China's maritime ambitions at bay by, first and foremost, refusing to internalize defeat and succumb to Beijing's intimidation tactics.
Vietnam, a country far poorer than the Philippines and with no superpower ally, has gradually built up its own defensive capacity, knowing it only needs a minimum credible deterrence to protect its precious resources and territorial claims across the South China Sea.
Indonesia, on the other hand, has renamed the waters off the coast of Natuna islands as North Natuna Sea, an explicit rejection of China's vague but expanding claims beyond the South China Sea basin and well into the Southeast Asian country's exclusive economic zone.
Jakarta, which has similar per capita income as the Philippines and without any superpower ally, is also stepping up its crackdown on illegal fishing by Chinese elements within its waters, while deploying a larger share of its resources to maritime security.
Both Vietnam and Indonesia, two countries with fiercely nationalist ideologies, have stepped up their military cooperation with America in order to signal their unwillingness to accept Chinese hegemony in the area. Following the Chinese dictum, they are using 'far barbarians' to balance a 'near barbarian'.
Both Japan and South Korea, which happen to be top trading partners of China, have also resisted Beijing's maritime push into the East China and Yellow Seas, respectively. In several occasions, South Korea went so far as shooting to death illegal Chinese fishermen encroaching into the Yellow Sea.
All four countries mentioned, meanwhile, have maintained robust economic ties with China, despite resisting the latter's territorial assertiveness. In short, there has been minimal-to-nonexistent tradeoff between standing up to Beijing, on one hand, and maintaining robust trade ties with the world's second biggest economic power, on the other.
Throughout the decades, one Southeast Asian country after the other, ranging from Thailand to Vietnam and Indonesia, have realized that much of China's promised investment deals have either failed to materialize or/and were embroiled in corruption scandals and major quality, sustainability concerns.
The implications for the Duterte administration are increasingly clear. Throughout the past two years, Manila has refused to assert its rights in accordance to international law, as affirmed by a landmark arbitration ruling, while trying to downplay Beijing's expanding strategic footprint in adjacent waters.
As chairman of the Association of Southeast Asian Nations, we even told Western partners to back off from the disputes, asserting that the situation in the South China Sea is "generally stable."
But, in exchange, what have we received from China, so far?
Latest data shows that Japan is by far our largest source of Overseas Development Assistance. In the past year, Chinese investments in the Philippines went from a tiny P1.4 billion to P1.61 billion. In contrast, Japanese investment increased by 23.79 percent, from a whopping P25.43 billion in 2016 to P31.48 billion in 2017.
In the same period, Americans invested as much as P8.357 billion, while the South Koreans made P11.82 billion in investments in the previous year. In short, Chinese investments are extremely tiny compared to our traditional partners. Ad there are no assurances that Beijing will commit large-scale investments beyond rhetoric.
Meanwhile, what have we achieved in the South China Sea and Benham Rise? Our fishermen continue to face a blockade in accessing the fisheries-rich lagoon in the Scarborough Shoal, which serves as a refuge during stormy seasons, while China has virtually completed its military facilities in the West Philippine Sea.
In the Benham Rise, China has had the audacity to even give Chinese names to features without our exclusive economic zone. As one senator recently painfully remarked, "Damn us! Are we this helpless?"
Perhaps, it's time for our president to consider a new strategy with China.
Richard Javad Heydarian is a non-fellow resident of think thank Stratbase ADR Institute, a partner of Philstar.com.