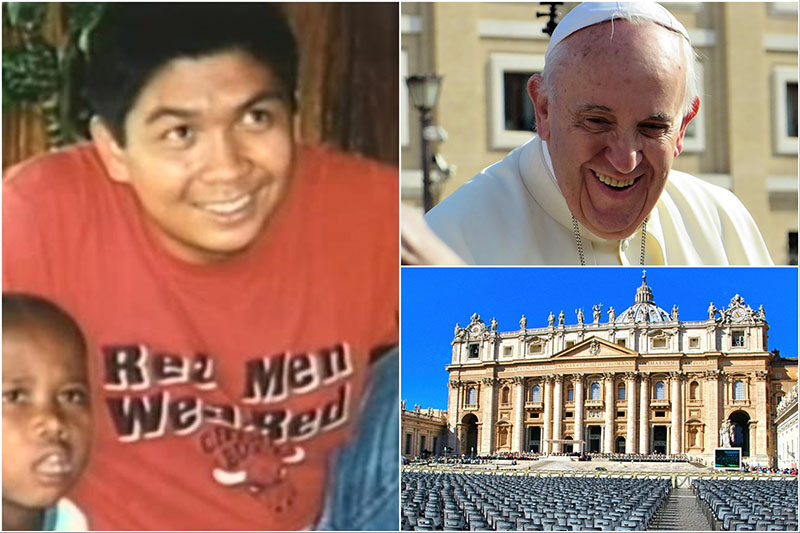 Pope Francis recently introduced a new path to sainthood. Admirers of a Filipino Jesuit brother, Richie Fernando (left), who died saving his students in Cambodia think he can fit in the category.
New path to sainthood sparks hope among admirers of Filipino hero
(Philstar.com) - July 14, 2017 - 8:02am
The new pathway to sainthood introduced recently by Pope Francis has given hope to admirers and former colleagues of a young Filipino Jesuit who died protecting his students in Cambodia in 1996.
Richie Fernando, a 26-year-old Jesuit brother, sacrificed his life to protect disabled children from a grenade held by a troubled student.
A student named Sarom, equipped with a grenade, entered a classroom of a Jesuit-run school for the handicapped on Oct. 17, 1996, causing panic among the children.
Fernando grabbed Sarom from behind and after some struggling, the troubled student dropped the grenade, which bounced back at the Jesuit brother before exploding. Fernando died of multiple wounds in the head, back and legs.
Almost 21 years after Fernando's death, Pope Francis, through an apostolic letter, introduced a new path for sainthood called oblatio vitae or "offering of life." According to the Catholic News Agency, the new category covers a person who "died prematurely through an offering of their life for love of God and neighbor."
"Those Christians who, following in the footsteps of Jesus Christ and nearest to what is pleasing to him, have offered their lives for others voluntarily and freely and in this resolution have persevered until their death, are worthy of a singular estimation and honor," Pope Francis wrote in the apostolic letter.
Before, there were only three ways by which a person can be recognized as a saint: martyrdom for those who were killed for the faith; a life of heroic virtue; and exceptional cases or "equivalent canonization" which involves an ancient tradition of venerating the holiness of a person.
Encouraged
Those who are inspired by Fernando's heroic act are convinced that the young Jesuit fits into the new pathway to sainthood. One of them is Mervyn Perez, a lay volunteer who started a social media group that supports the cause for Bro. Richie's beatification, a definitive step toward sainthood.
"I started this Facebook group to promote awareness on the cause of Bro. Richie and ask the Diocese of Novaliches to open the cause but until now, (it) is still on a standstill," Perez said.
"His (Fernando) story has inspired me during my younger years as an altar server and I consider him a kuya (big brother) in heaven since I do not have one myself," he added.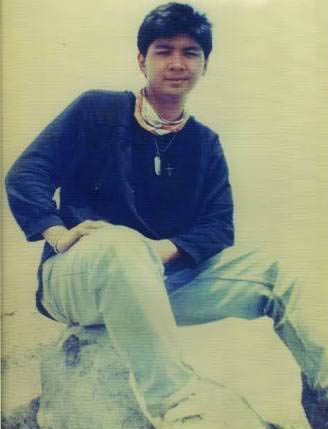 Filipino Richie Fernando, a Jesuit brother, died on Oct. 17, 1996 at the age of 26 when he tried to protect his handicapped students from a grenade.
While sainthood involves a long and tedious process—it requires a thorough background check and some miracles—members of the Facebook group "Friends of Bro. Richie R. Fernando SJ" are encouraged by the pope's introduction of the oblatio vitae.
"Praise God for this declaration. Bro Richie's case falls under this category," group member Juf Re said.
"Bro. Richie offered his life...We pray that he is qualified," Mhillet Arraz, another group member posted.
Some members of the group are also planning to discuss ways on how to move Fernando's cause for sainthood forward.
Despite calls to push for Richie's sainthood, his family chose to maintain a low profile and would rather focus on his deeds rather than on the saint-making process.
"I will just say that I want him to be remembered by the things he did," Richie's older brother Raymond said.
A model for the selfie generation
Fr. Totet Banaynal, a mentor and close friend of Fernando, also believes that the Jesuit brother fits into the new sainthood category. He also welcomed the introduction of the oblatio vitae, which may also apply to Church people who died serving marginalized sectors in volatile territories.
But Banaynal believes that Fernando, whom he described as a "very simple man," may not be comfortable being venerated as a saint.
"It's good if Richie (is) elevated to sainthood because that will be a good entry point in order to announce his good example to other people," the Jesuit priest said.
"(But) he will be very uncomfortable. He is not into those things, he does not want to be in the limelight as a person. He's a very simple man," he added.
Banaynal said Fernando was not the type who would aspire to be number one in class or seek praises from other people. But he believes the local Church should advance the cause for Fernando's sainthood if it would help the young people strengthen their faith.
"I will be happy but at the same time I will understand what a saint really means. I know Richie very well. He is not a perfect person (but) I know how he tries to be as faithful as possible to his vows, his prayer life, to his love for people," Banaynal said.
"But at the same time, alam mo naman na yung kaibigan mo, taong tao na naghahanap ng isaw, mga balut, niluto sa butter sa may Binondo, sa may Quiapo… yung naiinis kapag binangga siya ng mga pulis, yung mga ganon (you know him as a friend who craves for animal intestines, duck eggs, dishes cooked in butter in Binondo, in Quiapo, the one who gets irked whenever he figures in incidents involving policemen)," he added.
"Galit na galit minsan nagsusulat ng letter na walang ginawa kundi ano lang lines lang na galit na galit siya (He sometimes writes letters telling me how angry he was). Those kinds of weaknesses, shortcomings of a human person. It's just funny that you know a saint very well. I know he has deep love for his fellow men and for God but I know the kinks in his life."
Banaynal said Fernando would appeal to young people who need role models for the faith at a time when virtual relationships are taking over face-to-face interactions.
"I think that the appeal of Richie is to change that and to bring us back to the core of our relationship with one another which is not virtual. It's really a real relationship with each other and the relationship where one loves in the real sense and gives his life for the other person," he said.
"It brings us to the real meaning of how it is to live especially for us in the internet generation."
Long process
The Roman Catholic Church, the religious affiliation of more than 80 percent of Filipinos, follows a long, rigorous process of declaring saints to ensure that only those who are good role models of the faith are recognized.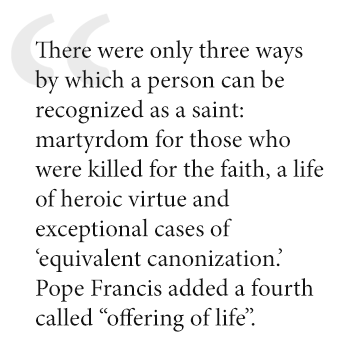 The process of documenting the life of a candidate can only start five years after his or her death but it can be waived by the pope just like in the case of St. John Paul II and Mother Teresa of Calcutta.
The candidate is called a "servant of God" once the cause for sainthood has started. The Church gathers testimonies and scrutinizes the writings of the prospective saint to determine whether he or she demonstrated heroic virtues, a process that may take years or even decades to complete.
At least two miracles attributed to the intercession of the candidate are needed before he or she can be canonized or recognized as a saint. A miracle is approved if a group of scientists declare that there is no natural explanation for it.
Two Filipinos who died for the faith have been recognized as saints namely Lorenzo Ruiz of Manila and Pedro Calungsod of the Visayas. Filipinos who are candidates for sainthood include Ilocano bishop Alfredo Verzosa and Mother Ignacia del Espiritu Santo, foundress of the Religious of the Virgin Mary.
Banaynal said there have been testimonies about how prayers were answered through Fernando.
"I don't know if he's going to be the third Filipino saint but the (documentary) about his life story is being used by so many groups in school," the Jesuit priest said.
"Whether he is going to become a saint for me (is not that important). What is important is that Richie provides a good model for the youth today."