Food taster to Noy, Cory feted at PSG
MANILA, Philippines – For most of the past 30 years, retired Senior Police Officer 3 Jaime Castro has been performing one of the toughest jobs at Malacañang: tasting food before these are served to the president.
As Malacañang's official food taster, Castro – known as Caster around the Palace – goes to great lengths to scrutinize the source and preparation of food to be served to President Aquino and ensure that it is not tampered with.
"It's a big responsibility because if something happens to the President, I'll be answerable to the Filipino people," Castro, who retired from the police service last year, said in an interview.
"President Aquino is like a brother to me," Castro told The STAR yesterday before he received an award for being an outstanding public servant during the 30th anniversary of the Presidential Security Group (PSG).
Like Aquino, the 57-year-old Castro is still a bachelor but has a girlfriend.
With only a flashlight, his nose and his taste buds, Castro checks an array of dishes two to three hours before these are served to the President.
"You cannot only assassinate a president by means of a bullet but also through food," he said.
Castro also conducts "intelligence and background checks" on waiters and chefs, especially when presidential engagements are outside the Palace, like hotels and restaurants.
"So far, there has been no instance of food poisoning because I make a thorough inspection of everything – from water to drink to food ingredients and seasonings… plus we have some chemicals to check poison," he said.
"We were trained at the National Bureau of Investigation's toxicology section to taste, analyze and detect poison in food," Castro added.
He said at one of the meetings of the Association of Southeast Asian Nations in Manila during former president Corazon Aquino's term, his foreign counterparts asked him his secret to keeping the chief executive's food safe.
He made them laugh by saying that he utters a mantra – a few lines from Yoyoy Villame's novelty song, "Butse Kik" – and "make my nose and ears move. If they move, the food is safe."
Asked about the President's favorite dish, Castro said "pork adobo."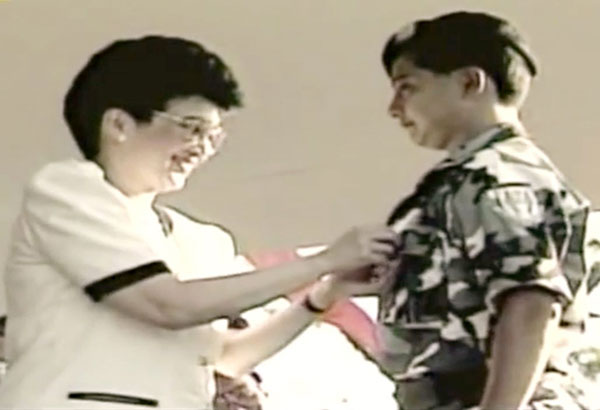 Photo shows Senior Police Officer 3 Jaime Castro receiving an award from Corazon Aquino when she was president.
From intel to toxicology
Castro joined the Philippine Constabulary (PC), then under the Armed Forces of the Philippines, in 1983. He had the rank of Constable First Class and was assigned at Camp Olivas, Pampanga to do intelligence work.
In 1986, he was among those taken as members of the PSG and was assigned as Mrs. Aquino's close-in security.
By March 1986, he was tasked to escort Mrs. Aquino at her official functions. The following month, he was one of eight people sent by Malacañang to the NBI's toxicology (food and beverages) class.
Since then, his work has been to check if food and drinks are safe for the president, visiting heads of state and other important people.
In 1991, when the PC was abolished, all its members were absorbed by the Philippine National Police. Castro then served as an intelligence operative in the government's campaign against terrorism when former president Fidel Ramos started his term.
Counterterrorist
Castro was among the operatives from the combined teams of the Armed Forces of the Philippines, Philippine National Police Intelligence Command and Western Police District who uncovered a plot by an international terrorist group to bomb 11 US commercial planes in 1996.
They raided an apartment in Ermita, Manila rented by Pakistani terrorist leader Ramzi Ahmed Yousef in 1995 and seized a computer with a disc that detailed "Oplan Bojinka," a plot to bomb US embassies and planes as well as the assassination of Pope John Paul II during his visit to Manila in January 1995.
On Feb. 7, 1995, Yousef and two others were arrested by agents of the US Federal Bureau of Investigation in Islamabad, Pakistan and charged with conspiracy to bomb aircraft.
Ramos cited Philippine operatives for their success in neutralizing terrorism in the country with Yousef's arrest.
By the end of 1996, Ramos called Castro at Malacañang to again head the food and beverages security section. He worked as the chief executive's "close-in food taster" for two and a half years.
While Ramos traveled a lot, Castro gave his men a chance to accompany the president abroad.
"I want everyone to join the presidential trip and see for themselves other countries. With that, they will be happy," he said.
Bond with Cory
It was Cory, the President's mother, who first took Castro to the Palace. She trusted Castro so much that he served as her food tester until the end of her term in 1992.
He was like a member of the presidential family, being with Cory almost all the time, even when she prayed the rosary or visited priests, monks and the Pink Sisters in Tagaytay. Because of this, he became not only closer to Cory but also to God.
"Mrs. Aquino was like a mother to me… I value their trust in me. It's an honor to be trusted (by the Aquinos)," he said.
"Mrs. Aquino inspired me to pray and read the Bible."
In 1990, Mrs. Aquino awarded Castro a military merit medal during the fourth PSG anniversary at Malacañang for his excellent service.
When Cory was stricken with colon cancer, Castro was one of those who took care of her at the hospital.
"I never wanted to leave Mrs. Aquino. For two weeks, I was at the hospital watching over her," he said.
When she died, he was among those at her bedside.
When Aquino came to power, he brought Castro back to Malacañang as chief of the food and beverages security section. However, in March last year, he retired from the police service.
The President reappointed Castro as a civilian agent, still doing the same job.
Castro said he is proud of his work, being able to serve two presidents – Mrs. Aquino and her son – not to mention visiting heads of state and foreign dignitaries.
When Pope Francis visited the country early last year, the President called him in and introduced him to the pontiff.
"The pope gave me a rosary and blessed me. I was so happy. Never before has that happened in my life, and I am so honored."
Asked what he would do when Aquino steps down from office in June, Castro said: "I plan to be a hermit or a monk."
Lt. Col. Francis Coronel, head of the PSG close-in security, said they wanted the awarding of Castro to coincide with the 30th anniversary of the elite group.
Coronel cited Castro for serving the President as food taster without pay.
"He now serves the President on a voluntary basis," Coronel said.
Special Action Force commander Chief Supt. Moro Virgilio said the award given to Castro was long overdue.